Keith Richards thinks Mick Jagger should get a vasectomy

Wonderwall
28/02/2018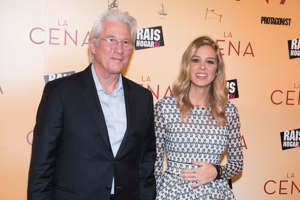 In pictures: Celebrities who had children after age 40
Keith Richards thinks his pal Mick Jagger needs to get a vasectomy and realize that he's 73 years old.
In an interview with WSJ. Magazine, Keith said the Rolling Stones frontman is "randy."
"It's time for the snip—you can't be a father at that age," the legendary guitarist said. "Those poor kids!"
In December 2016, Mick welcomed Deveraux Octavian Basil Jagger with girlfriend Melanie Hamrick. It was his eighth child. His children now range in age from 16 months old, in Deveraux's case, to 47 years old, in the case of his eldest child Karis Hunt. He is also a great grandfather.
Around the time of Deveraux's birth, The Sun said Mick had mixed emotions about becoming a father again, especially considering his age.
"Family is extremely important to him, and he is unhappy at the thought that when he should be teaching his kid to play catch, he'll be 80 years old," the source said.
The Daily Mail reported that Mick and Melanie plan to co-parent the child, but don't plan on marrying. The duo already worked out a financial arrangement.
"Mick wanted to make sure that the deals and money aspects were in place before Christmas and the birth of their child," a source said. "Mick insists that he will be stand by Melanie throughout the child's first 18 years. After that they will make sure that the child's future is provided for too whether it be a career or seeking further education. This is a very amicable deal which has been agreed between a couple, who are not married, but are devoted to doing the right thing for the child."
For Keith to open up about Mick isn't anything new. The two have had a up-and-down relationship for decades, some of which was documented in Keith's memoir "Life."
"Mick and I would have spats anyway, no matter what I said in the book, and I left a lot out," he said. "Mick and I live off of this fire between us."
He continued, "It's been up and downhill, but if I'm talking about the Rolling Stones, there ain't a frontman like Jagger. Don't matter how many bones you want to pick out of him, he's amazing to work with."