Roseanne Barr blames Michelle Obama for Roseanne firing

Cover Media
11/03/2019
Roseanne Barr has boldly claimed that Michelle Obama is responsible for getting her fired from her ABC sitcom Roseanne.
The actress was rendered jobless after the reboot of her much-loved show was cancelled in May (18), after she tweeted that Valerie Jarrett, an adviser to former U.S. President Barack Obama, looked like the result of the "Muslim brotherhood" and "planet of the apes having a baby".
While the 66-year-old quickly deleted the tweet and later apologised, blaming the sleeping pill Ambien for the ill-judged remarks, she has since accused the former First Lady of playing a fundamental role in having her removed from the network.
"She (Michelle) said, 'This tweet is unforgivable'," the disgraced actress said in an interview with The Sunday Times Magazine. "That's what I was told and I tend to believe it because the woman who fired me is now working with the Obamas at Netflix."
Barr appeared to be referring to former ABC Entertainment president, Channing Dungey, who has since been hired by Netflix to work on original programming, including content from the Obamas' Higher Ground Productions.
It's not the first time that Barr has referenced the family in relation to the incident.
During the time of her firing, the star retweeted a fan who claimed that the Obamas were behind the axing, though she never said so herself. She replied to the tweet at the time, "Is this true?"
The claim has never been substantiated.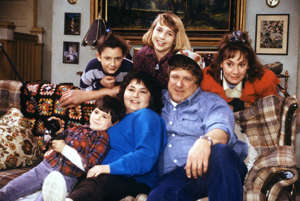 RELATED: Roseanne stars - Where are they now?