No one told us we've been singing the Friends theme song wrong, and could we BE any more shocked?

Hello Giggles
9/04/2018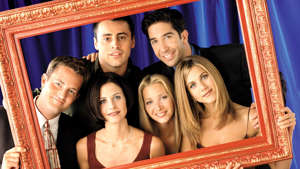 © Warner/NBC Friends. You might need to sit down for this one. Thanks to ITV's Saturday Night Takeaway, we just learned that we've been singing the wrong lyrics to the Friends theme song for *years.*
We're beyond shook. It's time for us to relocate in shame. Please write us at 15 Yemen Road, Yemen.
Saturday Night Takeaway hosts Declan Donnelly, Stephen Mulhern, and Scarlett Moffatt took a trip to Universal Resort in Florida for the show's season finale on Saturday, April 7th, and musical guests The Rembrandts performed their famous song, "I'll Be There For You" (aka the Friends theme song). Obviously, this is great. We've all heard it. We all know it. We love it.
However, during the show's Singalong Live segment, one unlucky woman made the shocking discovery that apparently *none* of us know the right lyrics to the song's chorus. She sang the words, "When the rain starts to fall," but apparently, the lyrics actually are, "When the rain starts to pour."
The internet is in shock, of course, but having rewatched Friends' opening credits, we're honestly a bit surprised we didn't hear it before. After all, the lyrics make it kind of obvious: "I'll be there for you, when the rain starts to pour. I'll be there for you, like I've been there before."
Pour, before. Totally makes sense. But "fall" doesn't exactly rhyme, does it? 
Give another listen to the Friends theme song in the opening credits, and you'll totally catch it. 
To be perfectly honest, now we can't *unhear* it. But that doesn't mean our heads aren't spinning. 
Naturally, Twitter weighed in on the shocking reveal. It seems users are equally split in their reactions to the Friends theme song lyrics.
I can't believe I've been singing the theme tune to Friends wrong for the past 20 years! Who knew it was Pour and not FALL??! @antanddec@itvtakeaway#SaturdayNightTakeaway

— Nadine Erskine (@NadineErskine) April 7, 2018
I LITERALLY WATCHED FRIENDS FOR THE 1ST TIME LAST YEAR AND KNEW IT WAS POUR NOT FALL???????? #SaturdayNightTakeaway

— Emily???? (@emily_wright29) April 7, 2018
The whole of England said " When the rain starts to FALL" no one has ever said "pour " I swear ???? #conspiracytheory#SaturdayNightTakeawaypic.twitter.com/07ro9gtufq

— Sam Dyer (@sam_dyer1) April 7, 2018
Pour rhymes with before people! #saturdaynighttakeaway#friends#snt#friends

— Gillian Sutherland (@SutherlandGill) April 7, 2018
Retweet if you too have always sang "rain begins to fall" that's just made a mockery of my life haha #SaturdayNightTakeaway#AntAndDecSaturdayNightTakeaway#snta#snt#Takeaway#Friends

— Carl Johnson (@Carljayjohnson) April 7, 2018
Smh to all the people who thought that the friends theme song is "when the rain starts to fall" and not 'pour' #SNT

— ? (@gvbriela0x) April 8, 2018
Are you #TeamFall or #TeamPour? Regardless, we think it might be time to binge-watch Friends again. 
Related slideshow: 'Friends' -- where are they now? (via Photo Services)