Top Gun: Maverick to start shooting this summer

BANG Showbiz
6/03/2018
Video provided by Wochit
The highly-anticipated sequel - which will see Tom Cruise reprise his role as fighter pilot Pete 'Maverick' Mitchell - has signed Joseph Kosinski up as director and will be hitting cinemas 33 years after the original movie was released.

Last year, it was announced that the movie is slated for a 2019 release with producer Jerry Bruckheimer writing on Twitter: "Excited to make it official. Joe Kosinski is on board to direct. And Top Gun is coming to theatres July 12, 2019. #TopGun #Maverick (sic)"
Now, ScreenRant report that the sequel is set to start shooting this summer and Cruise previously explained the movie will be similar in tone to the first 'Top Gun' film.
He said: "Aviators are back, the need for speed. We're going to have big, fast machines. It's going to be a competition film, like the first one ... but a progression for Maverick."
The original 'Top Gun' movie was directed by the late Tony Scott - who died in 2012 - and also starred Kelly McGillis, Val Kilmer, Anthony Edwards, and Tom Skerritt.
Although Cruise is the only cast member to be announced, Kilmer recently revealed he is keen to reprise his role as cocky fighter pilot Tom 'Iceman' Kazanski.
Kilmer shared a photo of himself on Instagram, in which he was wearing a t-shirt featuring an illustration of his character and the slogan 'Cool As Ice' and wrote: "Friends said it's official - #TOPGUN2 was announced today. I'm ready Tom - still got my top gun plaque! Still got the moves! Still got it! (sic)"
I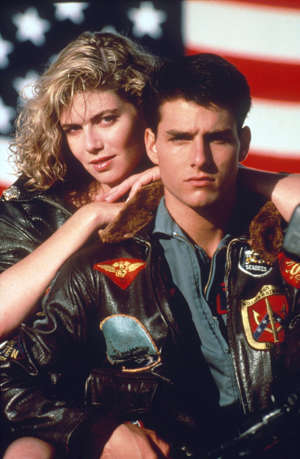 © REX/Shutterstock Tom Cruise and Kelly McGillis in Top Gun n the movie, Cruise played a cocky aspiring pilot who falls in love with the beautiful instructor Charlie Blackwood, played by McGillis. 
Kosinski - who previously worked with Cruise on the 2013 action movie 'Oblivion' - was favourite to take the director's job after he recently met with the actor and impressed him with his vision for the film.
Speculation about a follow-up to the classic movie has been circulating since 2008 when it was reported Hollywood bosses were keen to resurrect the feature.
A source said at the time: "The idea is Maverick is at the 'Top Gun' school as an instructor - and this time it is he who has to deal with a cocky new female pilot."