Designers out of pocket after fabric wholesaler folds

Radio New Zealand
10/07/2018
Local fashion designers have been left out of pocket in the wake of the closure of one New Zealand's largest fabric wholesalers.

Cooper Watkinson Textiles (CWT) announced it would be closing its doors a few months ago.
Wellington designer Desiree Turner, owner of clothing label 'Désirée', only found out they were closing when her fabric order did not show up.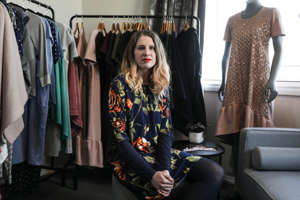 "They had an idea they were closing down - didn't say anything - but it meant that I had sampled in a lot of fabrics, some very distinct and hard to replace, and it wasn't until I asked where my order was that they said 'we can't provide it, we haven't ordered it in," she said.
Mrs Turner said she had to cancel or negotiate orders that had already been promised to retailers.
"There were about three retailers that I had to talk with, which may not sound like much but for a small label like myself I've only got six or seven retailers."
"Some ended up being cancelled, some I was able to find an alternative fabric but it was very stressful and very messy."
She said she lost months of work and lots of money.

"To have it fall apart for something I can't control is just so difficult."
"I took a hit from losing orders for this current season and now I'm having to buy a whole heap of fabric upfront which means the money is going out before it's coming in and it won't be coming in again for about a year - so it's been quite a hit."
Another Wellington designer Jessica Matthews also was not told by Cooper Watkinson they were closing until she went to confirm her order.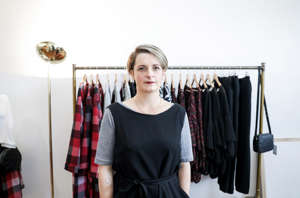 She was told she would have to buy what fabric they had in stock outright that day, if she wanted it.
"At that point I didn't know if anyone would buy it, or how much I would make or how much fabric I would need. I ended up buying about a third more than I needed.
"It was a massive outlay of money so I really would have preferred not to spend thousands of dollars on fabric that I didn't know if I wanted, but it was that or not get it at all."
Mrs Matthews, who runs local label 'Aida Maeby' said now with the large wholesalers out of the picture, it was unclear what working with smaller wholesalers would be like.
"We have amazing smaller wholesalers that are really careful to keep you in the loop and being a small business I'd much rather support a small business."
"Smaller designers are quite up the queue with smaller wholesalers so now I wonder, because people can't buy really large quantities of fabric through a New Zealand wholesaler, chances are the larger labels are going to have to go overseas.
"So if the smaller wholesalers lose their major accounts, can they stay open for people like me or does all of that volume now push on to these smaller wholesalers and then I get bumped back down into the gutter again?"
Cooper Watkinson Textiles did not respond to RNZ's request for comment.
[audio_play] http://www.radionz.co.nz/national/programmes/checkpoint/audio/2018652873/fashion-designers-out-of-pocket-after-wholesaler-closes Listen to the report on Checkpoint