Hold Onto Your Fascinators Because It's Windy AF at the Royal Wedding and the Pics Are Hilarious

Cosmopolitan
12/10/2018
Today is the day, Princess Eugenie is getting married in Windsor Castle and the weather is *not* cooperating. It's not raining, but it's hella windy, and these Brits are hanging onto their fancy hats for dear life. The pics are hilarious.
Someone even called it a "hazard," which makes it sound VERY serious.
It's so windy, in fact, that a tree literally fell down and these poor mans had to pick if back up.
This poor lady had her hat blown off!
This woman's face is a perpetual mood, TBH.
Prince Harry's ex Chelsy Davy is like "I don't have time for this today, @wind."
These spectators are holding on for dear life.
Hold on to those hats ladies - the wind is getting the better of some #RoyalWedding guests, including Ayda Field's mum Gwen! 👒 pic.twitter.com/nPPs0iEiBL

— This Morning (@thismorning) October 12, 2018
Naomi Campbell, however, didn't have any trouble with her hat because she is a pro who has trained her whole life for this very moment.
#RoyalWedding: Supermodel Naomi Campbell is among the celebrities arriving at Princess Eugenie and Jack Brooksbank's wedding in Windsor

Watch live: https://t.co/PO90j11H7C pic.twitter.com/oUxtuKNBUq

— ITV News (@itvnews) October 12, 2018
Happy wedding day, Eugenie! At least there's no rain!
Pictures: Royal wedding kisses through the years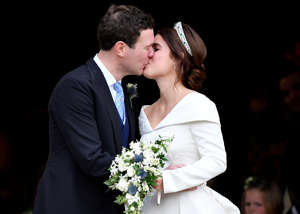 Follow Emma on Instagram.