Sangeeta Bahl, 53, becomes oldest Indian woman to scale Mount Everest

Hindustan Times
5/28/2018
Sangeeta Bahl, a 53-year-old former model and entrepreneur from Jammu and Kashmir, has become the oldest Indian woman to conquer Mount Everest.
Bahl, who currently resides in Gurugram, was felicitated on Sunday at the Indian embassy in Kathmandu. She scaled the peak on May 19 with the help of two Sherpas. Her husband Ankur Bahl, who climbed Mt Everest in 2016, was also welcomed at the Indian embassy in Kathmandu.
Sangeeta Bahl has already conquered six out of the seven highest peaks of the world. She broke the record of Premlata Agarwal, 48, who scaled Everest on May 20, 2011. The couple had pledged to scale seven summits in seven continents, which they clinched, some of them together.
"I just returned to Kathmandu after my epic climb to Mount Everest," she wrote on Facebook. "Wish to thank each one of you who have supported me through your prayers, wishes and constant goodwill."
Bahl's mission also had a message: she carried a banner to the peak advocating early detection of breast cancer in women, and funding for the same.
This was her second attempt to scale the mountain. She abandoned the first expedition after suffering from high-altitude sickness.
Her husband scaled Mt Everest two years ago to the date, on May 19, 2016.
According to officials, six dozen Indian nationals have scaled Mt Everest this year, becoming the second nation of mountaineers to do so after climbers from the US.
Shivangi Pathak, 16, from Haryana became India's youngest woman to climb the Everest from Nepali side.
ALSO IN PICS: 24 things you need to know before climbing Mount Everest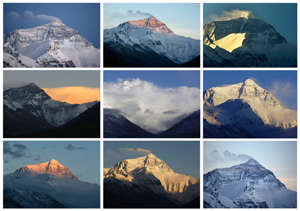 ALSO WATCH: PM Modi inaugurates Delhi-Meerut Expressway
(Provided by The Times of India)
More From Hindustan Times

Hindustan Times