China Leaves Interest Rates Unchanged Amid Yuan Weakness

ph.investing.com
20/09/2022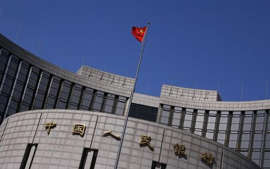 By Ambar Warrick 
Investing.com-- The People's Bank of China (PBoC) held interest rates on Tuesday, as it seeks to strike a balance between loosening monetary policy and curbing further losses in an already weakened yuan. 
The bank maintained its one-year loan prime rate, which dictates the interest rates the country's biggest banks charge their customers, at 3.65%, while the five-year rate, which factors into mortgages, was held at 4.30%.
The move comes after the central bank unexpectedly cut lending rates in August, in a bid to shore up economic growth that has been severely impacted by COVID-related lockdowns this year.
But the move dented the yuan, which sank below the key 7 level against the U.S. dollar this month. Further depreciation in the yuan could potentially have far-reaching consequences for the Chinese economy, given its high volume of overseas trade.
The yuan fell 0.1% to 7.0125 after the decision. The currency has lost over 10% of its value so far this year. 
The PBoC now has to maintain a delicate balancing act of loosening policy to stimulate economic growth, while ensuring no further depreciation in the yuan. This saw the PBoC fix its daily yuan midpoints at extremely bullish levels in recent weeks, although the move did little to deter losses in the yuan.
The bank on Monday cut a repo rate, and injected more liquidity into the economy to shore up growth. 
But the yuan is also under pressure from an increasing gulf with lending rates abroad, amid a flurry of rate hikes by global central banks to offset rising inflation. 
The U.S. Federal Reserve is set to hike rates further this week. Interest rates in the country are already at their highest level since the 2008 financial crisis. Other central banks in Europe and Asia are also expected to raise rates.