Energy Stocks Tumble as Crude Plunges Below $100 a Barrel

ph.investing.com
05/07/2022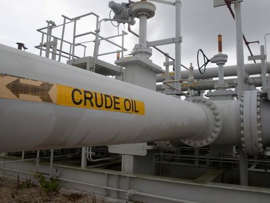 By Liz Moyer
Investing.com -- Energy shares sold off sharply on Tuesday after crude oil prices plunged 10%, with WTI falling below $100 a barrel.
Oil majors felt the hit, with shares of Shell PLC ADR (NYSE:SHEL) dropping 7%, while Exxon Mobil Corp (NYSE:XOM) shares fell 4% and Chevron Corp (NYSE:CVX) fell 3.5%. Marathon Oil Corporation (NYSE:MRO) shares fell 4%.
Energy stocks are reeling as fears about a global recession return, weighing on sectors that benefit from economic growth. The drop in the price of crude oil may also be a positive sign for American consumers, who have been struggling with high prices at the pump. The national average price of gasoline per gallon is $4.80, according to AAA, but that is down from north of $5 a gallon a few weeks ago.
The pressure was also being felt by alternative and clean energy stocks. Enphase Energy Inc (NASDAQ:ENPH) fell 3%, while SolarEdge Technologies Inc (NASDAQ:SEDG) fell 3.4%. NextEra Energy Inc (NYSE:NEE) fell 3%.