Why the boys freed from the Thai cave are not allowed to touch their parents.

Mamamia
7/10/2018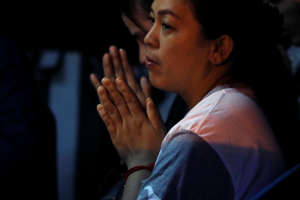 The first eight boys rescued from a Thai cave complex are in good health overall and some asked for chocolate bread for breakfast, officials said.

Rescuers prepared to free the remaining five in a race against time and bad weather.
Two of the boys had suspected lung infections but the four boys from the first group rescued were all walking around their beds.
"The kids are footballers, are strong and have high immunity," Jesada said when asked why they survived so long.
The boys had a good appetite but were mainly being given bland, easily digestible foods. However, doctors later relented after some of the boys asked for bread with chocolate topping.
They are still being quarantined from their parents because of the risk of infection and would likely be kept in hospital for a week to undergo tests, officials said.
In a statement to Mamamia, Professor Peter Collignon, the Director of Infectious Diseases and Microbiology at The Australian National University, explained this is because "caves can present a danger for a relatively rare fungal infection called Histoplasmosis."
"It mainly infects the lungs but it can spread throughout the body," Prof Collignon said. "It is much more common in some areas of the world especially in parts of the USA (Ohio Valley), but also in parts of Canada and India many people seem to be exposed."
It's understood Histoplasmosis, also known as cave disease, is incredibly rare in Australia.
"Caves with large numbers of bats or birds and their droppings seem to be a higher risk for histo. Presumably the droppings allow the fungus to grow better in the dirt/soil and then people inhale the fungal spores."
Another concern regarding the boys' health would be waterborne diseases, Prof Collignon said.
"Water is a risk for many infections," he said. "Meliodiosis is also common bacterial infection in Thailand with water a common source for infection.
"If water is contaminated with human waste, then that can be a risk for viral and bacterial infections for example typhoid, if people are carrying this bacteria."
Four more of the boys were carried on stretchers out of the labyrinthine Tham Luang cave on the Myanmar border at dusk on Monday, bringing to eight the number brought out so far after two rescue pushes on successive days.
The head of the operation, Narongsak Osottanakorn, said rescuers had learned from experience and were two hours faster in bringing the second batch of survivors out. Scattered monsoon rains continued to risk percolating through the limestone cave walls to flood the tunnels with water.
People across Thailand cheered the rescue operation, including at the Mae Sai Prasitsart school where six of the trapped boys are students.
"I am very happy about those who already made it out and I think everyone will be out today," said Waranchit Karnkaew, 14, who also said the football-mad boys had been closely following games at the World Cup in Russia before they were trapped.
"I want to take my friends to lunch and we will play football together," he told Reuters.
Soccer's governing body, FIFA, has invited the boys to the World Cup final in Moscow on Sunday. This seems less likely now given the need for the boys to undergo further tests.
Rescue organisers said they need 20 hours to replan and replenish oxygen supplies, with the next rescue mission expected to come some time on Tuesday afternoon, weather permitting.
However, organisers declined to confirm whether they would attempt to bring all five out in the third push, with the plan so far being to bring out four at a time.
"It is up to the environment. If the rain god helps us, then we may be able to work fast. But if the rain god doesn't help, then it could be challenging," Narongsak said.
The plight of the boys and their coach has drawn international attention since they became trapped when they went into the cave after soccer practice on June 23.
Divers, engineers, medics and others have flown in from around the world to assist.
With AAP.