Your Grandma Used These 12 Kitchen Ingredients As Cures And So Should You

Polka Café
12/2/2018
Grandma knows best! With hectic lifestyles taking its toll on our skin, hair and bodies, the need for natural remedies is gathering steam. Mother Nature or rather Grandmother Nature has provided ready answers for a host of problems ranging from acne to BO (body odour), constipation to delayed menses, acidity to low immunity. Stop the daily grind, relax and take a look at some of these natural remedies we have collated for you. Its time to jog your memories and revisit some of Naani's time tested nuskes!
1. Gulkhand (Rose Petals) – Pretty AND useful too
Image credit: sbs 
1. Is persistent body odour embarassing you? Banish social embarrassment forever...consume gulkhand with milk every day.
2. A runny nose is problematic enough, a nose bleed is catastrophic! The bitter and pungent property present in Gulkhand helps arrest those pesky nose bleeds.
3. Acidity is a mood killer! To perk up, gulp Gulkhand with milk. Prick that acidity bubble in your gut and heart with this time-tested method. 
4. Clear, luminous skin is a rarity in today's times. Gulkhand works wonders on acne and other skin ailments. Smells pretty too!
5. When consumed directly or with milk, once or twice a day, Gulkhand helps reduce constipation, mouth ulcers (apply directly on the affected area) and painful periods! 
2. Sesame Seeds – Black or white, the wonder seed
Image credit: nutraingredients
1. Black or white, become Iron Woman with this wonder seed! Soak some sesame seeds in a quarter cup of water overnight. Consume this mixture first thing in the morning. Black sesame is rich in iron and hence can be used as an effective iron supplement.
2. Banish the jitters caused by delayed menses! Just fry some sesame seeds in ghee, add jaggery to this concoction and voila! Let Mother Nature take its natural course.
3. Are painful periods making your life hell? Combat dysmenorrhea (painful periods) by consuming sesame seeds with 1 tsp honey.
4. Don't be an archaic princess prone to fainting at the slightest noise! Low blood pressure can be a real dampener. Lift your spirits and indulge in a relaxing massage with sesame oil. 
5. Does your blocked nose emit weird sounding, wheezy noises? Instil sesame oil/til taila into the nasal stream to reduce sinusitis. Sesame oil/ til taila is readily available in the market as anu tailam.
3. Honey and Lemon – Time-tested goldmine
Image credit: babydigezt 
Do you start your day with the honey lemon routine? No!!? Its not a grandma gimmick guys, the stuff actually works! So, mix 1 tsp honey and 1 tsp of honey in a glass of warm water and gulp down the concoction to get the following benefits:
1. Purify your toxins filled blood 
2. Soothe a sore throat
3. Reduce that irritating cough
4. Get your digestive juices in order and avoid constipation
5. A natural bleach. Just rub lemon peel mixed with honey on the skin and wash off after some time.
4. Coriander – So much more than just a garnish

Image credit: greennfreshbasket 
1. So the chicken steak feels like a block of lead in your tummy huh? Get rid of the uncomfortable feeling. Just boil 1 tsp coriander seeds in 2 cups of water, reduce the concoction to one cup, add salt and drink this mix 2-3 times a day. Say goodbye to acidity and indigestion!
2. Is your kid a picky eater? Are you alarmed by the tiny portions your kid eats? Trust grandma, give the child 1-2 tsps of the juice of coriander leaves to increase appetite.
3. Show some love for the blood coursing through your veins. Drink coriander juice. It contains acetylcholine which relaxes and therefore reduces blood pressure. 
4. Are you an allergy bunny? Do you own the runny nose, red eyes look? Enter coriander juice. Coriander contains anti histamines which helps reduce allergic conditions. So drink up!  
5. A mixture of coriander juice and jeera reduces abdominal ailments like digestion, loss of appetite and diarrhoea. A paste of coriander leaves can also be applied on mouth ulcers.
5. Cumin Seeds – Earthy pungent goodness
Image credit: geewinexim 
1. Stop turning green with morning sickness. Just add roasted cumin seeds (jeera) to yoghurt and cure the uneasiness! Grandma says so! 
2. Nothing cripples your social life like bad breath! Jeera to the rescue. Just chew some jeera after each meal and remain minty fresh.
3. Are you growing a moustache? A beard perhaps? Horrendous mood swings? To combat hormonal imbalance, boil 1 tsp of jeera with 2 cups of water and drink this concoction early in the morning on an empty stomach.
4. Did you buy a new empire line dress only to not wear it as your stomach ballooned unnaturally? Reduce the bloating. Drink jeera mixed with buttermilk. You can also add coriander leaves and slices of ginger to this mix.
 5. Improve the quality of nutrition you provide to your new born. Mix 1 tsp jeera to 1 cup milk with sugar to increase the milk in lactating mothers. 
6. Methi – Handy herb cum spice delight
Image credit: cooklikemom 
1. Are your insides burning up? Turn to methi to combat serious heartburn. Eat methi seeds soaked in water or methi leaves (boiled or raw). 
2. Temper your glucose levels. Soak 1 tsp methi in water overnight and have this concoction early in the morning on an empty stomach. This helps reduce sugar levels in the blood.
3. Naani always said hair fall is usually precipitated by dandruff! Banish both problems by applying a paste of methi mixed with yoghurt to reduce hair fall and dandruff.
4. Ugly, festering mouth sores are a nightmare! Gargle with methi infusion to reduce those pesky sores.
5. Phlegm! The word itself reads icky and slimy! To relieve phlegm, make a concoction of methi leaves with ginger and honey.
7. Garlic – A culinary medicinal marvel
Image credit: crownnational 
1. Don't judge this wonder food by the smell it leaves on your breath! Eat one garlic clove every day on an empty stomach to reduce bad cholesterol in the blood.
2. Did you irritate a red ant? Swat a mosquito? Try to buzz around a bee? Rub a garlic clove on the insect bite to reduce irritation and inflammation. Garlic has anti bacterial, anti inflammatory properties. 
3. Is an acne outbreak breaking your mirror? If you are prone to regular acne, eat two cloves of garlic every day, as it has blood purifying properties. It is ama nivarana and therefore helps in the removal of toxins from the body.
4. Stubborn corns, ugly bunions,smelly feet, painful warts... fungal infections can play havoc with your hands and feet. Garlic comes to the rescue as it has anti bacterial, anti viral and anti fungal properties and can be used to remove plain warts and fungal infections. 
5. Deworm yourself the natural way! Garlic can be used as an emergency natural wormicide. Burn 2 to 3 cloves of garlic with hot water for immediate relief in the itchy anal area.
6. Toothaches can make you want to kill yourself! For such a situation, just keep a clove of garlic on the affected tooth/area for relief, until you get yourself to a dentist! 
8. Cinnamon – Sweet smelling spice
Image credit: rushnews 
1. Irregular menstrual cycles can throw life off the rails! Take 1 tsp cinnamon with lemon juice once, every day, before meal time to reduce painful periods and irregular cycles. 
2. Does your head feel like Medusa's? Make that pounding stop! Mix cinnamon powder with sesame oil and apply on the forehead to reduce that unbearable headache.
3. Stop spraying and stop sniffling! Reach out for one stick of cinnamon or 1/2 tsp of cinnamon powder, mix it in hot water and inhale the vapour. An effective remedy for cough and cold!
4. Arrest the uncontrollable motions of your stomach! Add 1/2 tsp of cinnamon powder to 1 pomegranate mixed with curd and control your diarrhoea. 
5. Get your gut functioning smoothly. Mix 1/2 tsp cinnamon powder with a pinch of nutmeg powder and half a cup of yogurt to combat indigestion. Ayurveda advises that this mix is best suited for kapha prakruthi people so it can be also be used in weight loss processes.
9. Amla – Vitamin C amrit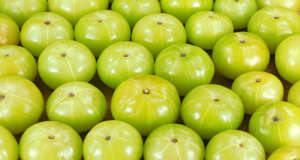 Image credit: mudraa 
1. Grandma suggests, get a amla boost of antioxidants and vitamins!  Drink amla or Indian gooseberry juice early in the morning to improve digestion assimilation and to increase the metabolic rate of the body.
2. Amla is a potent soldier when it comes to combating The two D-Devils, Diarrhoea and Dandruff! Mix amla powder with yogurt to reduce the symptoms of diarrhoea. Apply the same to the scalp to reduce dandruff.
3. Constipation, fistula, indigestion, piles, eye problems...many problems, one solution! Amla combined with vibhtaki and haritaki, also known as triphala.
4. Get a tasty fix of vitamin C! Dried amla boiled with sugar is a yummy candy and cures vitamin C  deficiency, bleeding gums, bad breath and acidity. 
5. Chuck Hajmola! Instead, mix amla with jeera powder, coriander powder, a pinch of hing and pepper powder, dry this mixture and voila! it works as an antacid and reduces bloating and heaviness after a heavy meal.
10. Ginger – Spreads its roots
Image credit: higherperspective 
1. Breathe easy, all you asthmatics! A concoction of 1 tsp ginger juice and honey reduces asthma and also acts as an emergency drug for suffocation and breathlessness, experienced during an asthma attack. This mix is also effective for cough and cold.
2. Don't panic if you have a lice infestation. Just apply ginger paste for 10-15 mins on your hair, and wash off with normal water. This treatment effectively reduces lice on your head. 
3. Crush a piece of ginger and boil it in cup of water, have it before breakfast and just as easily, crush painful periods out of your life!
4. Don't get blue in the face! Control those nausea bouts, new moms to be! Simply keep a piece of ginger mixed with pepper and salt, under the tongue or teeth! 
5. Protect yourself with your own Patronus Charm or rather Patronus Jar! Fill a jar with  2-3 lemons, 10 small pieces of ginger and honey. Consume this mix daily to boost your immunity levels!
11. Betal Leaves – Chew on this!
Image credit: joysthaifood 
1. Stab that cold in the bud! Grind some betel leaves into a fine paste, mix this with 1 tsp of warm water. Consuming this mix effectively reduces cold.
2. Give a heave ho! to your child's constipation problems! Insert a betel leaf stalk dipped in Castor oil into the anal canal to ease your child's agony.
3. Stem the bleed! Give some love to your gums. Boil 4 betel leaves in 2 cups of water and gargle with this mix to cure bleeding gums.
4. Feeling uncomfortable and bloated? Is your PMS torturing everyone around you? Prepone your menses, just wrap a pea-sized camphor in a betel leaf and pop it in your mouth to ease the discomfort! 
5. Did you rub your dry, itchy eyes? If you are left with Satanic red eyes, boil 5 to 6 betel leaves in 5 cups of water and wash your eyes. This mix instantly cools and reduces the redness.
12. Yoghurt – Whisk up a health(y) storm
Image credit: farmlinkafrica 
1. Ease your stomach problems! Mix yoghurt with amla powder. This is a powerful natural cure for dysentery.
2. Don't ignore the power of yoghurt to heal the linings of your stomach and intestines! A mixture of yoghurt and pomegranate cures a burning stomach, indigestion and nausea.
3. Do you want to postpone your menses for a day? Though not recommended, if you MUST, eating a mix of yoghurt and chia seeds early in the morning on an empty stomach helps. 
4. Help improve your kid's appetite, the natural way! Mix mint leaves, yoghurt and pepper. Give this mixture to your child  3 to 4 times a day, to increase appetite.  
5. Beat the blazing summer sun and quench your ever growing thirst with a mixture of yoghurt and sugar! Yummy! This mix also reduces dryness in the throat.
Which of these cures made you think of your grandma? Have you used any of these cures? Tell us in the comments!