2016 Acura RDX: What You Need to Know

US News & World Report - Cars
4/18/2018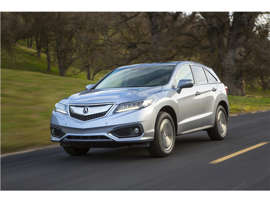 The 2016 Acura RDX provides a great balance of interior practicality, engine power, and handling composure. It sits near the top of our luxury compact SUV rankings, though some competitors are more fun to drive and offer more user-friendly tech.
The 2016 Acura RDX is ranked:
Is the 2016 Acura RDX a Good Used SUV?
Overall, the Acura RDX offers an excellent value in the luxury compact SUV class. It has exemplary crash test scores, and few rivals are as well-rounded.
Why You Can Trust Us
Our Acura RDX review includes far more than just one person's opinion. We collected professional evaluations from more than 40 sources and combined them with concrete data like fuel economy estimates, safety features, and performance specs to help you make an informed buying decision.
At U.S. News & World Report, we rank the Best Jobs, Best Hospitals, and Best Colleges to guide readers through some of life's most complicated decisions. We've been ranking and reviewing the Best Cars since 2007, backed by a team with more than 75 years of combined automotive experience. To keep favoritism out of the picture, we maintain a separate advertising team and decline expensive gifts and trips from car companies.
How Much Is the 2016 Acura RDX?
With an average price of $29,100, the 2016 RDX is one of the least expensive models in its class. According to our used car listings, only the Lincoln MKC and Infiniti QX50 have lower average price tags. Our estimates are based on almost 300 RDX listings on our site, with prices ranging from $24,900 to $33,900. Each used vehicle's condition, mileage, and options, as well as your ZIP code, can sway the price.
See the Best Used Car Deals »
How Much Does the 2016 Acura RDX Cost to Own?
The 2016 RDX has relatively low ownership costs for its class. Over five years, you'll pay around $24,800 for things such as insurance, fuel, repairs, and maintenance. In comparison, the 2016 BMW X3 will cost you almost $5,000 more. 
Is It Better to Buy a Used or New RDX?
The 2016 and 2018 RDX are nearly indistinguishable: their scores, crash test ratings, fuel economy estimates, and lists of standard and available features are identical. However, their prices are drastically different. You'll pay at least $36,000 for a new 2018 RDX (the base MSRP). That's a $6,900 price increase over the average price of a used 2016 model. Even though a brand-new model will come with a new car warranty, the 2016 RDX is the smarter buy.   
Read about the new Acura RDX »
Given the used RDX's below-average price, you won't find many other new SUVs that can compete with its value. If you are truly set on buying new – and want to stay close to the price of a used RDX – you'll need to look outside of the luxury category. You'll find some brilliant SUVs that cost around $25,000, like the Honda CR-V and GMC Terrain. Even though they aren't from luxury brands, both are praised for having upscale cabins and lengthy options lists that allow you to add in some premium-grade treats.  
See the Best New Car Deals »
See the Best New Car Lease Deals »
How Reliable Is the 2016 Acura RDX?
The 2016 Acura RDX has a predicted reliability rating of three out of five from J.D. Power. That's average for a used vehicle, though a number of other luxury 2-row SUVs (including the Lexus RX and Lexus NX) are expected to be more dependable.
Read more about RDX reliability »
2016 Acura RDX Recalls
The 2016 RDX is part of the massive Takata air bag recall. This is a serious problem: if the driver's air bag deploys, small pieces of metal can act like shrapnel. Before you buy a used RDX, make sure the air bag inflator has been replaced. Do not drive the car until it has been fixed. No other recalls have been issued on the 2016 RDX at the time of this writing.
See more information on Acura RDX safety recalls »
Which Model Year of the Acura RDX Is Best?  
The 2016 RDX belongs to a generation that began with the 2013 model year and includes the 2018 Acura RDX. A few updates make the 2016 model year more appealing than its predecessors, like its boost in power and fuel economy and array of available driver assistance features. Still, if you want to save a little dough, consider buying a 2014 or 2015 model instead. Aside from the updates above, they are very similar to the 2016 model. Skip the lower scoring, less reliable 2013 RDX, though.
Compare the 2014, 2015, and 2016 RDX »
Which Used Acura RDX Is Right for Me?
There are only two configurations of the RDX. The FWD model has front-wheel drive, and the Acura RDX AWD trim has all-wheel drive. With each model, three packages are available. The AcuraWatch Plus package adds an assortment of advanced safety features. The Technology package adds features like a 10-speaker audio system, leather upholstery, navigation, GPS-monitored climate controls, and a couple more safety features. However, the Advance package is the one to look for; it includes all features from the AcuraWatch Plus and Technology packages, plus ventilated front seats, remote start, and front and rear parking sensors.
See 2016 Acura RDX trims and specs »
Certified Pre-Owned Acura RDX Warranty
A certified pre-owned RDX is also worth checking out. With Acura's CPO program, there is a one-year/12,000-mile limited warranty, and the original new-car powertrain warranty is extended to seven years or 100,000 miles. Acura CPO models must pass a 182-point inspection. The model's original sale date determines whether it is eligible for the CPO program. Additional benefits may be available (read Acura's warranty page carefully to learn more), but note that programs from luxury brands like Lexus and Infiniti offer more comprehensive coverage.
See the best CPO programs »
How Safe Is the RDX?
The 2016 Acura RDX has one of the highest safety scores in its class. The Insurance Institute for Highway Safety named it a Top Safety Pick+, the agency's highest honor. The RDX also received a perfect five-star overall rating from the National Highway Traffic Safety Administration.
A multiangle rearview camera comes standard in the RDX. Models with the AcuraWatch Plus package come with a healthy assortment of driver assistance features, including forward collision warning, automatic emergency braking, lane keep assist, lane departure warning, and adaptive cruise control. Models with the Advance package include those features, plus blind spot monitoring, rear cross traffic alert, and front and rear parking sensors.
See RDX safety scores »
2016 Acura RDX Versus the Competition
Which Is Better: 2016 Acura RDX or 2016 Lexus NX?
If you're looking for a luxury compact SUV with a good predicted reliability rating, it's tough to beat the Lexus NX. With its modern style, comfortable interior, and sporty handling, the NX gives the RDX a run for its money. The NX gets better gas mileage in its base model, and the Lexus NX Hybrid takes those fuel savings to a higher level. However, neither the NX nor the NX Hybrid is as powerful as the RDX, which may be a deal breaker for some folks.
Which Is Better: 2016 Acura RDX or 2016 Audi Q5?
The Audi Q5 offers a range of powerful engines, standard all-wheel drive, sharp handling, and plenty of seating space. However, the Q5 comes up short of the RDX in other areas. It has a comfortable ride most of the time, but ride quality worsens considerably over broken pavement. While the RDX has infotainment issues of its own, the Q5's controls are a bit hard to reach and difficult to use. Also, the Audi Q5 does not offer the wealth of driver assistance features that the RDX does.
Which Is Better: 2016 Acura RDX or 2016 Acura MDX?
The Acura MDX offers 3-row seating and more cargo space than the smaller RDX. However, the RDX is a better value. It's more fuel-efficient and has a higher predicted reliability rating. Since the MDX is a luxury midsize SUV and comes with more standard features – like a moonroof and leather upholstery – it has a higher average price than the RDX. Luckily, you should be able to find a used RDX with those features added on – and it'll still cost less than an MDX.
Compare the RDX, NX, and Q5 »
2016 RDX Performance
How Does the 2016 Acura RDX Drive?
The RDX's standard V6 engine makes 279 horsepower and provides eager acceleration from a stop. Highway passing is effortless, with smooth power delivery. A six-speed automatic transmission comes standard. It generally shifts smoothly, but it can sometimes be slow to downshift. Though the RDX isn't the sportiest SUV in the luxury market, it has precise steering and remains unruffled through sharp turns. Front-wheel drive comes standard, and all-wheel drive is available.
Does the 2016 Acura RDX Get Good Gas Mileage?
The fuel economy ratings for the RDX are on par with the rest of the class, at 19-20 mpg in the city and 27-28 mpg on the highway.
2016 Acura RDX Towing Capacity
When properly equipped, the 2016 RDX can tow up to 1,500 pounds.
Read more about RDX performance »
2016 RDX Interior
How Many People Does the 2016 RDX Seat?
The Acura RDX seats four adults comfortably. Five can fit in a pinch, especially if the back-seat passengers are children. Standard leatherette upholstery complements the RDX's high-quality cabin. Available seating comforts include heated and ventilated front seats and leather upholstery.
How Many Car Seats Fit in the 2016 Acura RDX?
The RDX's LATCH hardware, which includes two complete sets of anchors on the rear outboard seats and a tether-only connection on the middle seat, receives the second-highest rating of Acceptable from the Insurance Institute for Highway Safety for ease of use.
2016 Acura RDX Features
Standard features in the 2016 Acura RDX include dual-zone automatic climate control, push-button start, a seven-speaker stereo, satellite radio, Bluetooth, a USB port, and Siri Eyes Free. The standard infotainment system, which shows information on two different screens, can be confusing at first. However, there are plenty of physical controls to make it a little easier to use. The standard audio system has great sound, but a 10-speaker premium audio system is available for an even better listening experience. An available GPS-linked climate control system uses the sun's position and intensity to keep the cabin at an optimum temperature.
See 2016 Acura RDX specs »
Read more about RDX interior »
2016 Acura RDX Dimensions
Acura RDX Cargo Space
The RDX offers an appealing amount of cargo space, with 26.1 cubic feet located behind the back seats and 61.3 cubic feet overall.
Acura RDX Length and Weight
A base RDX is 15.4 feet long and has a 3,737-pound curb weight. It tops out at 3,946 pounds as optional equipment is added. 
Where Was the 2016 Acura RDX Built?
The 2016 RDX was built in Marysville, Ohio.
Read the full 2016 Acura RDX reviewon U.S. News & World Report for more details, photos, specs and prices.
More from U.S. News & World Report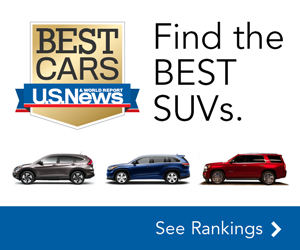 US News & World Report - Cars