2018 Nissan Versa Note – Fuel Economy and Driving Range

Car and Driver
10/10/2018
Fuel Economy and Driving Range Rating:

The Nissan Versa Note and its fellow hatchbacks are all economical options with lofty fuel-economy ratings. While the Nissan has the highest EPA estimate in highway driving at 39 mpg, it failed to meet that number during our real-world highway test. Likewise, most of its competitors proved to be more fuel efficient on the highway.
We've devised our own fuel-economy test in an attempt to replicate how most people drive on the highway. Our procedure entails a 200-mile out-and-back loop on Michigan's I-94 highway. We maintain a GPS-verified 75 mph and use the cruise control as much as possible to mimic the way many drivers behave during long trips.
Despite having the highest EPA ratings in this competitive set, the Versa Note had the second-lowest result in our real-world testing. While its 37 mpg is still respectable-and better than the sedan version we tested-rivals such as the Kia Rio and the Honda Fit Sport were more fuel efficient in the real world.
Research the Versa Note on MSN Autos | Find a Nissan Versa Note near you
Economy Ratings Compared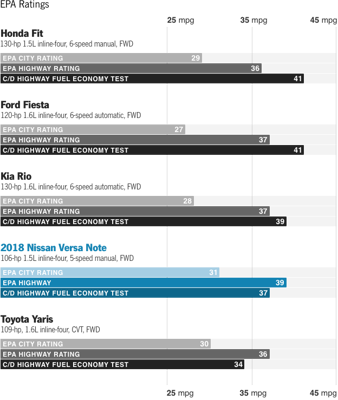 Fuel Tank Size and Highway Range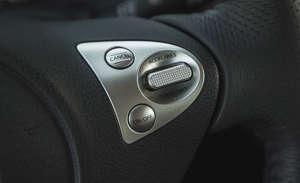 Continue Reading:
• 2018 Nissan Versa Note – Overview and Pricing
• Engine and Transmission
• Fuel Economy and Driving Range
• Performance and Driving Impressions
• Exterior Design and Dimensions
• Audio and Infotainment
• Interior and Passenger Space
• Cargo Space and Storage

Read more auto reviews on MSN Autos