2018 Nissan Versa Note – Interior and Passenger Space

Car and Driver
10/10/2018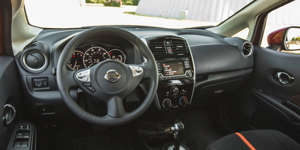 Interior and Passenger Space Rating:

© Car and Driver Interior and Passenger Space

The Nissan Versa Note has an outdated interior design that utilizes too much hard plastic. At least several subtle differences give it more character than the austere sedan version. The hatchback's huge back seat is a boon to adults, with as much legroom as some bigger sedans.
Research the Versa Note on MSN Autos | Find a Nissan Versa Note near you
Interior Space Comparisons
A pair of comfortable seats and considerable passenger space up front are complemented by equally pleasing rear-seat accommodations. While three adults can fit back there, they won't have much elbow room.
Front-Seat Passenger Space
Back-Seat Passenger Space
Interior Features
All these economical hatchbacks rely heavily on hard plastics, but the materials Nissan uses look and feel cheaper than most. While the Versa Note shares its dashboard design with the regular Versa sedan, only the hatchback is available with a steering wheel "inspired" by the Nissan 370Z sports car and a more attractive gauge cluster. Too bad its shift lever sticks out of the center console like a snow cone and clunks through the gear selections. Those choosing the top-tier SR model receive suede-like accents on the door panels and orange stripes and contrast stitching on the seats.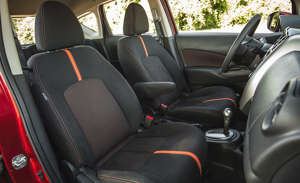 Seating and Step-In Heights
The Versa Note has a high seating height and large door openings that make entering and exiting the hatchback an easy process. To accurately measure seating height-the distance from the road to the driver's hip-we use an H-Point Machine (HPM), a precisely engineered device marketed by SAE International. This versatile tool, in conjunction with a laser device, reveals the width and location of roof-pillar visibility obstructions (blind spots). Our HPM and laser measurement tools determine the length of road obscured by the hood as well as the road obscured by the trunk or hatch (as seen through the rearview mirror).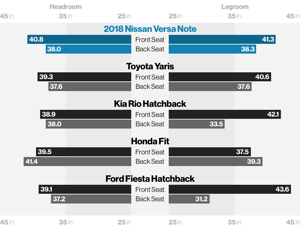 Blind Spots, Visibility, and Obscured Roadway
Roof pillars protect occupants in a rollover crash, but they also create blind spots. We determine visibility by measuring the location and width of each pillar using an H-Point Machine and a laser beam (surrogates for a driver and eyeball, respectively). Front and rear visibility are calculated by subtracting the viewable area blocked by the pillars from a perfect 180-degree score.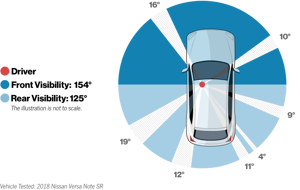 Continue Reading:
• 2018 Nissan Versa Note – Overview and Pricing
• Engine and Transmission
• Fuel Economy and Driving Range
• Performance and Driving Impressions
• Exterior Design and Dimensions
• Audio and Infotainment
• Interior and Passenger Space
• Cargo Space and Storage

Read more auto reviews on MSN Autos