2019 Chevrolet Bolt EV

Car and Driver
10/12/2018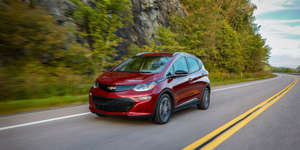 Overall Rating:
The Chevy Bolt EV is the benchmark for mainstream electric vehicles (EVs), with an impressive 238 miles of range for a relatively inexpensive price. While the hatchback lacks the visual panache of many eco-friendly alternatives, its immense practicality and cutting-edge technology outweigh any superfluous aesthetics. Still, the Chevy's cheap-quality interior materials and mostly minimalistic features are at odds with its $30,000-plus starting price. But the Bolt doubles down on its electric powertrain, which provides immediate acceleration and nearly double the range of similarly priced EVs. What's more, it also drives and rides exceptionally well for what it is-we'd even call it fun. Until another EV emerges that checks all the same boxes, the Bolt remains the best everyday electric car on the market today.
What's New for 2019?
Research the Chevrolet Bolt EV on MSN Autos | Find a Chevrolet Bolt near you
The Bolt receives minor updates for 2019 that improve the user experience. The charge-termination feature now has more selectable levels at which you can choose to stop charging. This helps reduce charging costs when only a small amount of range is required. Chevy also revised its Low driving mode to keep the Bolt from moving when stopped and the seatbelt is unbuckled. And, as in previous model years, if the door is opened in this scenario, the car will shift into park. The touchscreen adds separate buttons for air conditioning and heat. New paint colors include Green Mist, Slate Gray, and the eye-popping Shock-which looks like lime-green alien acid. Inflating the tires is easier with a tire-fill alert that announces when the correct pressure is reached.
Trims and Options We'd Choose
The Bolt's affordability is a paramount part of its appeal, so we'd keep it simple by sticking with the base LT model rather than the ritzier Premier. The LT comes standard with features such as:
• 10.2-inch touchscreen with Apple CarPlay and Android Auto
• Proximity-key entry and push-button start
• 4G LTE with mobile Wi-Fi

The LT model offers two affordable option packages that we'd choose: the $555 Comfort and Convenience package (includes heated front seats and steering wheel) and the $495 Driver Confidence package (blind-spot warning, rear cross-traffic alert, rear parking sensors). We'd also add DC fast-charging capability for $750. All in, our well-equipped Bolt stickers for $39,295-a number that can be offset by the federal tax credit of $7500 available to electric-vehicle buyers. Some states offer additional rebates, tax credits, and other incentives to EV buyers as well. Here's our explanation of how the EV tax credit works.
For details about the 2018 Chevrolet Bolt EV, see our in-depth review.
Continue Reading:
• 2019 Chevrolet Bolt EV – Overview and Pricing
• Powertrain and Charging
• Fuel Economy and Driving Range
• Performance and Driving Impressions
• Audio and Infotainment
• Cargo Space and Storage
• Exterior Design and Dimensions
• Interior and Passenger Space
• Safety, Driver Assistance, and Warranty
• Video Overview: Interior, Infotainment, Cargo Space

Read more reviews of the latest EVs and hybrids on MSN Autos