2019 Chevrolet Bolt EV – Audio and Infotainment

Car and Driver
10/12/2018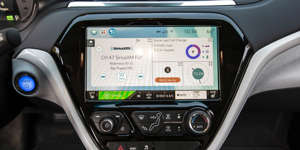 Audio and Infotainment Rating:

The Chevy Bolt EV's large central touchscreen is well organized and easy to operate, but it isn't as quick to respond as we'd like. Still, every model has the same set of features, including Apple CarPlay and Android Auto.
What's New for 2019?
Research the Chevrolet Bolt EV on MSN Autos | Find a Chevrolet Bolt near you
The Bolt's infotainment system isn't perfect, but it has enough standard features to satisfy buyers. Likewise, its expansive screen and easy-to-understand controls are simple to operate. While virtually nothing has changed on the infotainment front, a closer inspection reveals that the controls for heat and air conditioning have been separated so they are now individual buttons.
Infotainment Features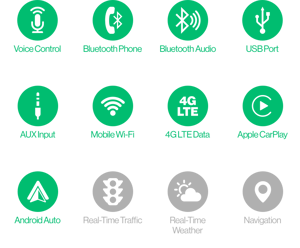 Infotainment Performance
We measure the electrical current that each USB port provides. All USB ports found in a vehicle provide 5.0 volts, per the USB standard. Current, measured in amps, varies and dictates the charge times of devices. The higher the amps, the quicker a device's charge time. Not all USB devices are created equal. Most modern smartphones can charge at 2.0 amps, while slow or stagnant charging can result from using current at 1.0 amp or lower when the device is in use.
Test Results: USB Performance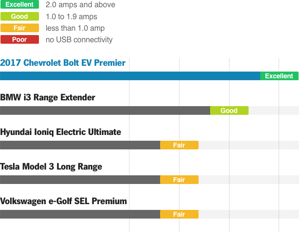 Since its infotainment features are essentially the same for 2019, read our in-depth review of the 2018 Chevrolet Bolt EV for more details.

Continue Reading:
• 2019 Chevrolet Bolt EV – Overview and Pricing
• Powertrain and Charging
• Fuel Economy and Driving Range
• Performance and Driving Impressions
• Audio and Infotainment
• Cargo Space and Storage
• Exterior Design and Dimensions
• Interior and Passenger Space
• Safety, Driver Assistance, and Warranty
• Video Overview: Interior, Infotainment, Cargo Space

Read more reviews of the latest EVs and hybrids on MSN Autos