2019 Chevrolet Bolt EV – Fuel Economy and Driving Range

Car and Driver
10/12/2018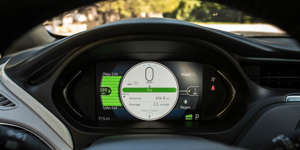 Fuel Economy and Driving Range Rating:

The Chevy Bolt EV boasts an EPA-rated range of 238 miles on a full charge-more than twice the range of other similarly priced electric vehicles. While the Tesla Model 3 Long Range can travel up to 310 miles on one charge, it costs considerably more. Still, the more affordable Chevy is quite efficient, with EPA ratings of up to 128 MPGe (miles per gallon equivalent). It's rated at 110 MPGe on the highway, but we fell short of that number in our testing. The Bolt's regenerative braking system means it does best in stop-and-go city driving.
What's New for 2019?
Research the Chevrolet Bolt EV on MSN Autos | Find a Chevrolet Bolt near you
The Bolt carries over its electric motor and 60-kWh battery pack for 2019, and the EPA lists the same MPGe rating and driving range as advertised in 2018. While we don't expect its real-world fuel economy to differ from our test numbers, we did experiment with how cold weather affects EV range. The test revealed that when the temperature drops below freezing, the Bolt can lose 50 miles or more of range.
EPA Fuel Economy Ratings Compared
We've devised our own fuel-economy test in an attempt to replicate how most people drive on the highway. Our procedure entails a 200-mile out-and-back loop on Michigan's I-94 highway. We maintain a GPS-verified 75 mph and use the cruise control as much as possible to mimic the way many drivers behave during long trips.
Test Results: Highway Range

Test Results: Highway Fuel Economy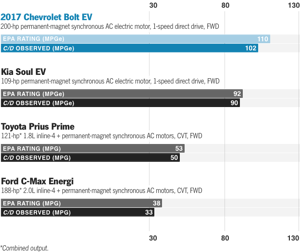 For more information on the Bolt's fuel economy and driving range, read our in-depth review of the 2018 Chevy Bolt EV.

Continue Reading:
• 2019 Chevrolet Bolt EV – Overview and Pricing
• Powertrain and Charging
• Fuel Economy and Driving Range
• Performance and Driving Impressions
• Audio and Infotainment
• Cargo Space and Storage
• Exterior Design and Dimensions
• Interior and Passenger Space
• Safety, Driver Assistance, and Warranty
• Video Overview: Interior, Infotainment, Cargo Space

Read more reviews of the latest EVs and hybrids on MSN Autos