2019 Chevrolet Bolt EV – Performance and Driving Impressions

Car and Driver
10/12/2018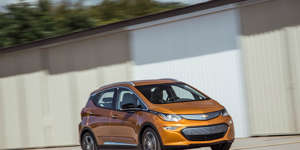 Performance and Driving Impressions Rating:

With a composed ride and plenty of power, the Chevy Bolt EV will challenge whatever negative preconceptions you might have of electric cars. It's fast, responsive, and comfortable, measuring up well against its all-electric competitors when it comes to how it feels when you're behind the wheel.
What's New for 2019?
Research the Chevrolet Bolt EV on MSN Autos | Find a Chevrolet Bolt near you
Despite its upright demeanor and relatively dowdy appearance, the Bolt rides and drives better than one would initially expect. Since there are no powertrain or suspension alterations for 2019, we expect it to behave on the road just as well as before. This includes immediate accelerator responses and quick steering reactions. As with most hybrids, the Bolt provides a different kind of experience with its regenerative braking system. Likewise, its one-pedal operation is enhanced by a paddle on the back of the steering wheel that can function like a brake.
Test Results: Acceleration
Test Results: Maximum Braking Capability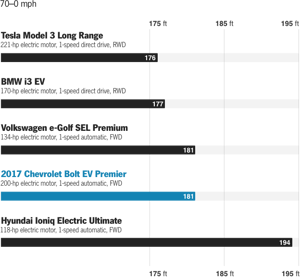 Since this model is unchanged for 2019, we don't expect the performance numbers to differ. To see how it performed, read our in-depth review of the 2018 Bolt EV.

Continue Reading:
• 2019 Chevrolet Bolt EV – Overview and Pricing
• Powertrain and Charging
• Fuel Economy and Driving Range
• Performance and Driving Impressions
• Audio and Infotainment
• Cargo Space and Storage
• Exterior Design and Dimensions
• Interior and Passenger Space
• Safety, Driver Assistance, and Warranty
• Video Overview: Interior, Infotainment, Cargo Space

Read more reviews of the latest EVs and hybrids on MSN Autos