2019 Chevrolet Bolt EV – Powertrain and Charging

Car and Driver
10/12/2018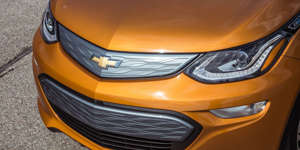 Powertrain and Charging Rating:

The Chevy Bolt EV's electric motor provides power smoothly and quietly. Unlike many of its rivals, however, this Chevy is responsive and impressively quick in our testing. While it takes about nine hours to fully charge the Bolt's battery using a 240-volt outlet, the $750 fast-charging option can add roughly 90 miles of range every 30 minutes-provided a Level 3 charging station is nearby or installed at home.
What's New for 2019?
Research the Chevrolet Bolt EV on MSN Autos | Find a Chevrolet Bolt near you
The Bolt has had the same powertrain and charging equipment since it arrived for 2017, and that carry-over trend continues for 2019. It does have improved selectable charge termination, which can now be set to stop charging in 5 percent intervals between 40 and 100 percent. Previously, this function only allowed charging to cease at 90 percent. This is handy with public chargers when you need to pay for only enough range to get home. While the Bolt remains one of the quickest electric vehicles for the money, pricier alternatives such as the Tesla Model 3 prove how quick a small EV can be.
Test Results: Acceleration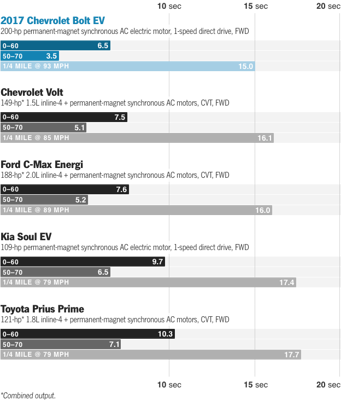 For more information on the Bolt EV's engines and transmissions, read our in-depth review of the 2018 Chevrolet Bolt EV.

Continue Reading:
• 2019 Chevrolet Bolt EV – Overview and Pricing
• Powertrain and Charging
• Fuel Economy and Driving Range
• Performance and Driving Impressions
• Audio and Infotainment
• Cargo Space and Storage
• Exterior Design and Dimensions
• Interior and Passenger Space
• Safety, Driver Assistance, and Warranty
• Video Overview: Interior, Infotainment, Cargo Space

Read more reviews of the latest EVs and hybrids on MSN Autos