500-HP Face-off: All-New Aston Martin Vantage Takes On Mercedes-AMG GT and Porsche 911 GT3

Car and Driver
10/25/2018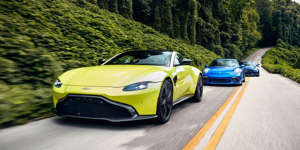 © Provided by Hearst Communications, Inc We head to Kentucky with a trio of 500-hp troublemakers to determine how the Aston Martin Vantage squares up against the Mercedes-AMG GT and Porsche 911 GT3. Like all good mountain roads, the byways squirming through the Appalachian foothills southeast of Richmond, Kentucky, look as if they were laid out by someone trying to scribble over something else. They barrel helter-skelter across the region's topography, following meandering rivers and tap-dancing along ridgelines. They thread their way past the occasional derelict car, the sort a goat would be proud to stand atop, but otherwise blissfully few domiciles. They are, in other words, the perfect place to put three 500-hp sports cars to the test.
We were not surprised by how much we liked the new Aston Martin Vantage at first contact. We liked the last V-8–powered one so much that we ranked it ahead of a Porsche 911 in its first comparison test. But then Aston let it wither on the vine, then let the vine wither, then, when the whole vineyard was nothing but memories of dust, the Brits bolted a dogleg seven-speed manual behind a 565-hp V-12 and charged more than $200,000 for it.
This, then, is a refreshing change of pace. The Vantage is all-new for 2019, riding on a bonded-aluminum structure that relies more on stamped panels than the blocky extrusions that formed the VH architecture of the past for a more space-efficient design. (Though there's no glovebox.) Its old naturally aspirated engine lineup woefully outdated in the age of turbocharging, wee independent Aston Martin took the easy-and smart-way out and bought a 503-hp twin-turbo 4.0-liter V-8 from Mercedes-Benz. Its 505 pound-feet of torque constitutes a 46 percent increase from the old V-8 Vantages. The car starts at $153,081, but this one's options bill carries it to $186,086.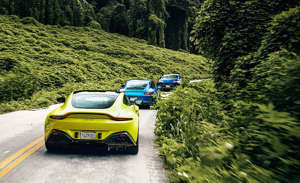 Context for this Aston starts with its heart donor. Mercedes plugs the 4.0-liter into many of its vehicles, including the Mercedes-AMG GT, which it offers in four different strengths. The GT grouping is tight, spanning just 108 horsepower and some $45,000 in base price. The closest analogue to the Vantage is the third step, the GT C, which has a 47-hp advantage on the Aston but is $6086 cheaper to start. With a healthy option load of its own, this GT C lands at $167,765. Where the Aston routes its torque to a rear-mounted conventional ZF eight-speed automatic, the AMG's goes to a seven-speed dual-clutch, also bolted to the rear axle.
It would be unfair to say that Porsche is champing at the bit for a rematch, since after that first meeting in 2006, 911s dispatched Vantages in two subsequent comparison tests. But if you're looking at $150,000 sports cars with 500 horsepower-really, if you're looking at any price between $90,000 and $300,000 and any output between 370 and 700 horsepower-there's a 911 to suit your needs.
In this case, it's a GT3, which also uses a 4.0-liter engine to make 500 horsepower, except this one has only six pistons breathing atmospheric pressure, laid flat, and spinning to 9000 rpm. Porsche's PDK dual-clutch transmission would have been the more congruous choice, but any opportunity to pull a Porsche stick is one worth taking. Opting for a manual in the GT3 also unlocks the new-for-2018 Touring package, which deletes the GT3's rear wing at no additional cost. It retains the aggressive front fascia, double-barrel exhaust, and center-lock wheels, but it still blends stealth and speed in equal measure. A prudent list of extras also means the GT3 has the lowest price in the test, at $151,200.
There are a couple of other base runners in the $150,000, 500-hp ballpark. Acura's NSX is getting a mild refresh for 2019, but the new one wasn't available yet. A 540-hp Audi R8 V10 RWS (for Rear Wheel Series) would have been a delightful way to even the teams between rpm and psi, but Audi wouldn't loan us one. Boohoo.
After returning from Kentucky, we steered west, to GingerMan Raceway in South Haven, Michigan, for an open track night. We didn't get a chance to time laps, but it was an illuminating frolic nonetheless. Here's how it all shook out.
Third Place: 2019 Aston Martin Vantage
Second Place: 2018 Mercedes-AMG GT C
First Place: 2018 Porsche 911 GT3
From the November 2018 issue