2019 Volvo XC40

Car and Driver
5/31/2018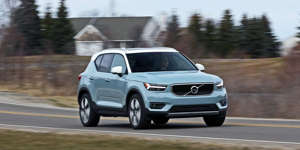 Overall Rating:
Volvo is courting youthful, premium-minded buyers with the XC40, a stylish subcompact crossover drowning in charm and packed with tech. This quirky little Swede imparts a carefree feeling so real that you can practically hear it humming ABBA's "Dancing Queen" as it hustles through traffic. Inside its stylish cabin, much effort went into making the XC40 as functional as possible while maintaining the comfort, spaciousness, and upscale ambience we expect from modern Volvos. Driving delight is also a part of the equation; the XC40 is a sprightly and nimble partner that feels as at home on twisty back roads as it does on long-distance highway cruises. The littlest Volvo crossover brings a funky element to the lineup while adding to the brand's cachet, style, and spirit.
What's New for 2019?
Research the Volvo XC40 on MSN Autos | Find a Volvo XC40 near you
The XC40 is an all-new entry into the subcompact luxury crossover segment, echoing the brand's contemporary styling and adding a dash of whimsy. At launch, the only powertrain offered is the T5, which consists of a 248-hp turbocharged four-cylinder, an eight-speed automatic transmission, and all-wheel drive. A less powerful front-wheel-drive T4 model will go on sale in summer 2018.
Explore the Volvo XC40 inside and out below. Click, drag and scroll to discover more.

Trims and Options We'd Choose
Of the XC40's three trim levels, we'd choose the sporty R-Design model which adds navigation, 19-inch diamond-cut aluminum wheels, paddle shifters, upgraded suspension components, and a more dynamic wardrobe of interior and exterior flourishes. We'd also pay $750 for a heated steering wheel and front seats, and we'd select the $900 Premium package that includes:
• Adaptive cruise control with a semi-autonomous driving mode
• Folding cargo floor with hooks for shopping bags
• Wireless smartphone charging pad
• Power-folding rear-seat backrest
Our chosen XC40 wears a price tag of $40,345, but we think the upgrades are well worth the cost. Be advised: Any color other than black will add $595 to the bottom line. Volvo also offers a buying alternative for XC40 customers, a subscription service that it calls Care by Volvo. It includes use of a new XC40 Momentum ($600 per month) or R-Design ($700 per month) for a maximum of 15,000 miles per year; insurance, maintenance, and road-hazard protection; and the opportunity for the lessee to upgrade to a new XC40 each year for the same all-inclusive monthly payment. A subscription lasts for 24 months. We think this option has questionable value, but it may be convenient and flexible enough to attract some indecisive buyers.
Base Price Comparison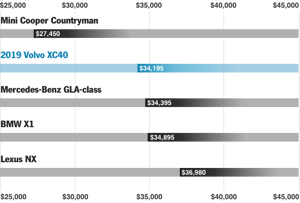 Continue Reading: 
• 2019 Volvo XC40 – Overview and Pricing 
• Exterior Design and Dimensions
• Fuel Economy and Driving Range
• Safety and Driver Assistance
• Engine and Transmission
• Performance and Driving Impressions
• Warranty and Maintenance Coverage

Read more auto reviews on MSN Autos