2019 BMW i3: What You Need to Know

US News & World Report - Cars
4/29/2019
The 2019 BMW i3 ranks in the bottom half of the luxury small car segment. Aside from all-electric operation, it offers few advantages over the rest of the class.
The 2019 BMW i3 is ranked:
Is the BMW i3 a Good Car?
The BMW i3 is an OK luxury small car, but it's not as much fun to drive as many class rivals. Its eco-friendly interior is high quality and distinctive, but it may not appeal to all luxury-car shoppers. The i3 has a decent driving range, though many EV rivals best it.
Should I Buy the BMW i3?
The i3 starts at around $44,500. A decade ago, it might have been easy to justify spending that much on an electric vehicle from BMW that lets you go more than 150 miles on a single charge. But the EV game has greatly improved over the years, and there are now tons of attractive – and less expensive – electric car options. With the new Model 3, Tesla has shown it's possible to make an engaging and upscale electric car with near industry-leading range for mainstream prices. The Nissan Leaf has similar driving capacities as the i3 and carries a friendly price tag of less than $30,000.
Should I Buy a New or Used BMW i3?
The 2019 i3 is part of the car's first generation, which began with its introduction for the 2014 model year. The latest model receives a bigger battery, bumping its range up to 153 miles in the standard electric version and 200 miles in range-extender models. The 2018 BMW i3 has a range of 114 miles and up to 180 miles with the extender. You're probably better off buying a new i3 with its longer range. The $7,500 federal tax credit for electric cars, which is only available for new vehicles, can help offset the thousands of dollars you might save by buying a used car.
If you're considering an older model, be sure to read our 2017 i3 and 2018 i3 reviews to help make your decision. Also, check out our Used Car Deals page to learn about savings and discounts you can find on used cars.
We Did the Research for You: 31 Reviews Analyzed
We analyzed 31 BMW i3 reviews – along with reliability ratings, fuel economy estimates, and more – to help you decide if the 2019 i3 is the right new car for you. This 2019 BMW i3 review incorporates applicable research for all model years in this generation, which spans the 2014 through 2019 model years.
Why You Can Trust Us
U.S. News & World Report has been ranking cars, trucks, and SUVs since 2007, and our team has more than 75 years of combined automotive industry experience. To remain objective, we don't accept expensive gifts or trips from car companies, and an outside team manages the advertising on our site.
How Much Does the BMW i3 Cost?
The 2019 BMW i3 starts at $44,450. That's one of the highest starting prices among luxury small cars, though most classmates are not electric vehicles so it's not an apples-to-apples comparison. There are three other configurations of the i3 that add a more powerful motor and/or a range-extending small gasoline engine. These variants range from $47,650 to $51,500. A fully loaded i3 tops $59,000.
Check out our U.S. News Best Price Program for great deals at your local BMW dealer. You can also find excellent manufacturer incentives on our BMW deals page.
BMW i3 Versus the Competition
Which Is Better: BMW i3 or Tesla Model 3?
The Tesla Model 3 is one of the best luxury small cars available. It has perhaps the best combination of luxury, performance, and affordability in an all-electric car. All configurations of the Model 3 are quicker off the line than the i3: This Tesla can do zero to 60 mph in as little as 3.2 seconds. The Model 3 handles with much more vigor, and unlike the i3, you can get it with all-wheel drive. Inside, both cars have unique styling. The i3's interior is filled with sustainable materials, while the Model 3 has a mock-spaceship design centered around its 15-inch touch-screen command center.
From a price consideration, the Model 3 is the clear winner. After much delay and anticipation, Tesla is finally offering base models at the $35,000 price point originally promised when the car was unveiled. The i3's starting price is almost $10,000 more than that. The BMW gets up to 153 miles of all-electric driving, and you must supplement it with a gas engine to hit 200. The standard Model 3 can get you 220 miles, with long-range versions capable of getting up to 325 miles available. It's no question – buy a Model 3 instead of an i3.
Which Is Better: BMW i3 or Nissan Leaf?
The Nissan Leaf is a lot cheaper than the i3, and it's a better pick for budget-conscious shoppers who want to get into an electric vehicle. For just under $30,000, you can get the base Leaf with 150 miles of range. For 2019, Nissan equips Leaf Plus models with a larger battery capable of 226 miles of range. Those models start at around $36,500. You can get a fully loaded Leaf SL Plus, with features like leather seats, a Bose stereo, and a long list of active safety features, for $42,550 – still $1,900 less than a base i3. Both cars are similar in performance, boasting quick acceleration and composed handling. The Leaf's interior contains some noticeable hard plastics, so you'll have to weigh that against the price difference between these two cars.
i3 Interior
How Many People Does the i3 Seat?
The BMW i3 seats four people. The front seats are wide and flat, and there's not a lot of lateral support. Though the seats aren't thickly padded, they remain comfortable for long drives. This four-seat car's high roofline creates a good amount of headroom throughout the cabin. The back seats are spacious enough for average-size adults to get comfortable. Entering and exiting the second row is easy thanks to the rear-hinged back doors. However, they can only open once you pop the front doors.
i3 and Car Seats
The BMW i3 has two complete sets of rear-seat LATCH connections. The Insurance Institute for Highway Safety gave the system the second-highest rating of Acceptable for ease of use. It's easy to find the lower anchors behind plastic covers at the base of the rear seats. However, it can be difficult to move your hands around the anchors, and you might confuse other hardware for the upper tether anchors.
i3 Interior Quality
The i3 has no qualms about its eco-friendly mission, and that translates to the cabin as well. The dashboard and door panels are made of plant fibers and recycled plastics form other surfaces. Optional eucalyptus wood trim is sustainably sourced.
This is still a car from a luxury brand, though, so everything feels well put-together. The coarse fabric seat upholstery may not be everyone's cup of tea, but you can opt for BMW's impressive SensaTec leatherette or genuine leather seats.
i3 Cargo Space
With 15.1 cubic feet of trunk space, the BMW i3 hatchback has more room than most other luxury small cars. The back seats fold down completely flat to open up an impressive 36.9 cubic feet of space. The i3's load floor is a little high because of electrical components underneath, so it may take some extra effort to lift in heavy cargo.
i3 Infotainment, Bluetooth, and Navigation
The i3's standard iDrive infotainment system isn't the latest one from BMW, but it still works great and features an intuitive rotary knob controller mounted on the center console. A 6.5-inch display screen is mounted on top of the dashboard in a manner that looks like it's floating. There are plenty of physical buttons for climate controls, audio volume, and preset media functions, all within easy reach of the driver. In lieu of a traditional gauge cluster, there's a second display screen behind the steering wheel that gives you the car's vital information.
Apple CarPlay compatibility is standard, and you get one free year of access via BMW. After that, you'll pay $80 annually for a subscription. Before BMW moved to this business model, the brand offered it as an optional feature for a one-time fee of a few hundred dollars. Regardless, BMW still stands in contrast to most brands that offer CarPlay (and Android Auto, not found in the i3) as no-limit features.
The i3's standard equipment also includes automatic climate control, proximity keyless entry, push-button start, HD Radio, and satellite radio. Optional features include a moonroof, wireless device charging, a built-in Wi-Fi hot spot, a 16-speaker Harman Kardon surround-sound system, and navigation with real-time traffic.
i3 Performance
i3 Engine: Spry and Sparky
The BMW i3 comes standard with a 170-horsepower drivetrain. The i3s models come with a 181-horsepower version. Thanks to instantly available torque from the electric motor, all models take off quickly from a stop. The i3s and its 11 extra horses costs $3,200 more than the base model, so it may not be worth shelling out that cash for a negligible difference in performance.
i3 Mileage, Range, and Charging: Good on All Accounts
For 2019, BMW increased the i3's range to better compete with the growing number of electric cars that offer more than 200 miles of driving range. With just the electric motor, the i3 gives you 153 miles of range. The i3 is also available in a range-extended version, which adds a small gasoline-powered engine. That gives you up to 200 miles of range and allows you the flexibility of filling up at a gas station in between charges, essentially turning the i3 into a plug-in hybrid. However, it also reduces your all-electric range to only 126 miles.
Range is likely the most important factor to EV shoppers, but the i3 also impresses with its efficiency rating. It gets a combined rating of 113 MPGe city/highway, which is above average for all new electric and plug-in cars. BMW i3 models with the range extender return a combined 100 MPGe.
To learn more, check out What is MPGe?
You can charge the i3 from a standard 120-volt household outlet, but you'll only get 3-4 miles of range for every hour it's plugged in. For better results consider having a 240-volt Level 2 charger installed in your home, or use a Level 2 public charger. This method gets you up to 26 miles of range per hour of charging. You can charge the battery to 80 percent in just under five hours, or charge it fully in 6.5 hours. At a Level 3 public charger, you can charge the i3 to 80 percent capacity in just 40 minutes, or to 100 percent in under 1.5 hours.
i3 Ride and Handling: Lacking BMW Athleticism
The BMW i3's small stature and tight turning radius make it a great city car and perfectly at home in heavy traffic. It doesn't feel as athletic as many other BMWs, though. At high speeds, you may need to routinely correct steering to keep the i3 from darting all over the place. It has a generally complacent ride quality over most surfaces, and the cabin is mostly free of road and wind noise.
If you've never driven an alternative-fuel vehicle before, brace yourself for the regenerative braking system in the i3. You can slow the car by simply letting off the throttle, but the response from the brakes sometimes feels aggressive. It may take some getting used to.
i3 Reliability
Is the BMW i3 Reliable?
J.D. Power gives the 2019 BMW i3 a slightly above-average predicted reliability rating of 3.5 out of five.
BMW i3 Warranty
BMW covers the i3 with a four-year/50,000-mile new-car warranty and an eight-year/100,000-mile battery warranty.
i3 Safety
i3 Crash Test Results
The Insurance Institute for Highway Safety gave the 2019 BMW i3 the highest rating of Good in four crash tests and the second-highest rating of Acceptable in the head restraints and seats test. Properly equipped models received an Advanced rating for front crash prevention. The National Highway Traffic Safety Administration has not tested the 2019 i3.
i3 Safety Features
The BMW i3 comes standard with a rearview camera, front and rear parking sensors, and rain-sensing windshield wipers. Most optional driver assistance features are found in one reasonably priced package. For $2,350, you get adaptive headlights, stop-and-go adaptive cruise control, automatic high beams, forward collision warning, pedestrian detection, and automatic emergency braking. Buy that package, and you can opt for automatic parking assist for just $200 more. This feature scopes out parking spaces as you slowly drive around, and it steers you into the parking spot while you operate the gas and brake.
Which BMW i3 Model Is Right for Me?
BMW offers the i3 in four configurations. Choosing one is pretty simple, as all models have the same list of standard features and a limited number of options. We go into more detail below, but here are the basics of each model's performance: The standard BMW i3 has a 170-horsepower electric motor and a range of 153 miles. The BMW i3s has the same range but a 181-horsepower electric motor. Both are available as Range Extender models, which come with a gas engine that turns the car into a plug-in hybrid and lets you fill up at gas stations. Those models have a total range of 200 miles.
Once you pick the car's capabilities, you choose a design package. These dictate the kind of seat upholstery you'll get – cloth or variants of synthetic and genuine leather – as well as interior trim design. The standard Deka World includes cloth upholstery, and Mega World adds combination synthetic leather and cloth seats. Giga World and Tera World give you your choice of interior wood trim. Go with Giga for genuine leather and cloth seats and Tera World for full leather upholstery.
Standard and optional features, along with their prices, are nearly identical for every model. The only exception is automatic parking assistant, which isn't available in i3s models.
The 2019 BMW i3 retails for $44,450. It comes with a 170-horsepower electric motor and 153 miles of range from a 42-kilowatt-hour lithium-ion battery pack. Standard features include cloth upholstery, heated front seats, automatic climate control, proximity keyless entry, push-button start, an auto-dimming rearview mirror, LED headlights, heated and power-folding outside mirrors, a rearview camera, front and rear parking sensors, and rain-sensing windshield wipers. The standard iDrive infotainment system includes a 6.5-inch display screen, HD Radio, satellite radio, Apple CarPlay, a USB port, and Bluetooth.
Add $1,400 to the base price to get synthetic leather seat trim from one of the design packages. Another design outfits the car with genuine leather for an additional $2,600. The Technology and Driving Assistant package costs $2,350 and adds adaptive headlights, stop-and-go adaptive cruise control, automatic high beams, forward collision warning, pedestrian detection, automatic emergency braking, a universal garage door opener, and navigation with real-time traffic. Individual options include a moonroof ($1,000), wireless device charging and a built-in Wi-Fi hot spot ($500), a 16-speaker Harman Kardon surround-sound system ($800), and automatic parking assistant ($200).
Starting at $47,650, the BMW i3s features a 181-horsepower engine, a sport suspension, and upgraded exterior styling. It has the same range as the base model.
The BMW i3 with Range Extender costs $48,300. It has the same electric motor as the base model, as well as a gasoline engine for a total range of 200 miles.
The BMW i3s with Range Extender starts at $51,500 and combines the upgrades of the i3s with a gasoline engine.
Check out our U.S. News Best Price Program for great savings at your local BMW dealer. You can also find excellent manufacturer incentives on our BMW deals page.
The Final Call
If you approve of its quirky styling, the BMW i3 is an intriguing choice for an eco-friendly luxury small car. It boasts spry acceleration, straightforward features, and lots of cargo room. However, some EV rivals offer those positives along with a longer driving range – and in most cases, they do it for a lot less money.
Don't just take our word for it. Check out comments from some of the reviews that drive our rankings and analysis.
Read the full 2019 BMW i3 review on U.S. News & World Report for more details, photos, specs and prices.
More from U.S. News & World Report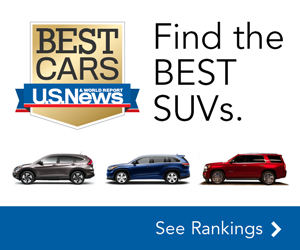 US News & World Report - Cars