What Is a Good Credit Score to Buy a Car?

US News & World Report - Cars
11/15/2018
Your credit score is one of the critical factors lenders look at when considering whether to finance your next auto loan and what interest rate to charge you. While some car buyers can pay cash for their new or pre-owned vehicles, most will need to apply for an auto loan to finance their purchase. Knowing your credit score and the information that factors into that score will give you a good idea of your chances of getting a car loan and the price you should pay for the financing.
Many buyers never look past their monthly car payment, but if you look more deeply into your financing by understanding credit scores, you can save a tremendous amount of money.
Car Loan Credit Score Topics We'll Cover in this Guide
What Is a Credit Score?

A credit score is a number between 300 and 850 that lenders use to predict your creditworthiness. It draws on the information in your credit reports to classify you into a category of borrowers and forecasts your likelihood to pay back any debt you take on. A high score is good, while a low score is bad – and will likely end up costing you money since lenders will charge you more interest than someone with a good score.
A common myth is that you have just one credit score. In fact, you have several scores, as the three major credit reporting agencies – Equifax, TransUnion, and Experian – all have slightly different scoring models and various scoring products that they provide to different types of lenders. The most common is your FICO score, named after the company that developed it: Fair, Isaac and Company. For a car loan, your lender might use your FICO Auto Score, VantageScore, or any of a number of variations.
Many of the free credit scores advertised as a benefit of a credit card or other financial service use the VantageScore model, as it is less expensive to provide than a proprietary FICO score.
For the most part, the scoring models will be within several points of one another, and the forces that move them up and down are the same. A credit score is developed using information from consumer credit reports about the credit you have, how much debt you're carrying, and your bill payment history. While each model weighs the different factors a bit differently, here's an example using the FICO model showing the category and weight:
Payment History (35%): The most critical factor affecting any credit score is your history of making on-time payments to lenders and others who report to the credit reporting bureaus. That includes credit card companies, mortgage lenders, and student loan providers. Most utilities do not send your payment info to reporting agencies unless you fall so far behind that your accounts are turned over to debt collectors. A history of on-time payments doesn't mean that you have to pay off your entire credit card balance every month. Paying the minimum goes down as making an on-time payment.
You have a bit of leeway with payments, as many lenders won't report them as overdue until they are 30 days late. The impact of making a late payment on your score is huge, though, so it's best to honor your commitments with on-time payments.
If you have become so delinquent in your payments that a lender was forced to repossess one of your previous vehicles, it will show up in this section and have a major detrimental effect on your score.
Credit Capacity (30%): Three related components play a role in this factor. The scoring models look at the amount of credit that has been extended to you (your credit limits and loan balances), the amount of the credit you are allowed that you are using, and the percentage of your available credit you are using. In most cases, the amount of credit card debt reported is the balance on your monthly statement.
That percentage is called your credit utilization, and it is generally considered best if you keep it at 30 percent or less. In general, a lower number is better, but a credit utilization of zero percent won't show lenders that you have experience managing debt.
Length of Credit (15%): Your credit report doesn't just reflect how much credit you have, but how long you have been trusted with it. The longer you have been responsibly managing credit, the better your score will be. If much of your available credit is on credit cards you recently opened, your credit score will take a dip. When you buy a car, a house, or open a new account you will lose at least a few points on your score, but it will recover as you have a longer and longer track record of managing the debt.
New Credit Inquiries (10%): An indication that you are about to take on more debt will affect your score. The way that credit reporting agencies identify that you're about to borrow more money is by tracking the number of inquiries about your credit that they receive from potential lenders.
When you check your own credit or a company does it for marketing purposes (called a "soft pull"), it does not affect your score. It's only when potential lenders look at your scores that your score will take a hit.
Credit Mix (10%): Another factor that leads to a higher score is the mix of different types of credit available to you. The ideal blend that yields the best score isn't public and differs by scoring model. A combination of revolving credit (such as credit cards) and installment credit (such as auto loans or mortgages) tends to support a good credit score. 
What Isn't Included in a Credit Score
While there's a lot of information in your credit report, not all of it is used in the calculation of your credit score. Where you live, what you do for a living, your salary, your age, and some types of inquiries do not have any bearing on the score. Because your salary isn't included, your debt-to-income ratio isn't included in the credit score either. Financial institutions will get the information from your loan application and use it in their lending decision.
Demographic information also has no bearing on your score. Your race, age, gender, marital status, and many other details about you that are not financial in nature are not reflected in the score. By law, a credit score cannot factor in whether you receive public assistance of any kind.
Credit Score Ranges
Different reporting models use varying ranges and names to categorize credit scores. Some use phrases ranging from Poor to Exceptional while others use a scale from Deep Subprime to Super Prime. We'll look at the ranges used by Experian for their automotive finance market analysis to describe the categories.
Deep Subprime (300-500): Buyers with credit scores in the Deep Subprime category will likely be rejected for credit or be charged the highest possible interest rates by auto lenders. Credit scores in the lowest range show lenders that there is a considerable risk of the money not being paid back.
Lenders in this category will often take steps to reduce their risk, such as only offering short car loans, requiring substantial down payments, and protecting their collateral (the car) with tracking devices or systems that can disable the vehicle, to make repossession easier.
Consumers in this category are sometimes the target of unscrupulous lenders who create hard-to-escape debt traps with high interest rates for desperate car buyers. Before borrowing money with a credit score in the Deep Subprime category, consumers should consider whether it is a good idea to buy a car at all until they improve their credit history.
According to credit reporting agency Experian, only about 3 percent of auto loans were made to customers in the Deep Subprime category in the second quarter of 2018.
Subprime (501-600): While borrowers in the Subprime category will have a somewhat easier time borrowing money than those in the Deep Subprime category, getting an auto loan will still be expensive. Lenders charge high interest rates, require significant down payments, and have restrictive loan terms to minimize their risk.
Some lenders specialize in loaning money to subprime car buyers, but if you are in this category, you should also talk to a credit union or local community bank that may be able to offer more affordable financing. Those smaller financial institutions are more likely to look past the credit score and into your entire financial picture. Like buyers in the Deep Subprime categories, buyers with Subprime credit need to be wary of lenders preying on consumers with bad credit.
According to Experian, subprime car buyers had some of the highest monthly payments of all borrowers in the second quarter of 2018, despite having some of the smallest average car loans. This is largely due to high interest rates. If you are a buyer in the Subprime category, you'll want to balance the cost of financing with your real needs and consider working to improve your credit situation before buying.
Nonprime (601-660): The Nonprime credit category is home to about a fifth of consumers who take out car loans, according to Experian. Nonprime buyers aren't likely to qualify for the best interest rates or get car-financing deals sponsored by automakers, but they won't pay the highest interest rates either. Most lenders will loan to buyers with Nonprime credit, but again, smaller lenders will be more likely to look at your overall financial situation.
On average, Nonprime new-car buyers paid about 3 percent more than Prime credit buyers in the second quarter of 2018, according to Experian. They paid about 5 percent more on used cars. Those are substantial differences, so if you look at your credit score and are near the brink of moving into Prime territory, you should put off your car purchase until you do so. That extra 3 percent on your interest rate can cost you thousands more over the life of your car loan.
Prime (661-780): Nearly 40 percent of American consumers financing automobiles fit into the Prime credit category. They qualify for some of the lower interest rates available and some, but not all, special financing offers from automakers. Buyers with Prime credit are able to borrow from nearly every type of lender, allowing them to pick and choose a great offer. Instead of merely trying to find someone who will make them an auto loan, buyers with good credit have the luxury of shopping for the cheapest deal.
Consumers with Prime credit will likely receive loads of pre-approved credit card offers in the mail. If you are thinking of financing a car – or a house, for that matter – you should be wary of those offers, as the inquiries, age of debt, and available credit you get from having a new credit card can cause significant damage to your credit score. Having Prime credit can save you money in more ways than just good auto loan rates; you can also be charged less for auto insurance.
Super Prime (781-850): Buyers with Super Prime credit are offered the best interest rates and car financing deals offered to any car-buying customers. On average, they get interest rates that are more than 1 percent lower than what prime buyers get, according to Experian, and they have the lowest monthly car payments of any credit score class. They'll have lenders falling over each other to gain their business. Super Prime consumers will also find that it is easy to lease a new vehicle and qualify for a manufacturer-subsidized lease deal.
Why are Super Prime borrowers so coveted? It's all about risk. Super Prime borrowers default on their auto loans at far lower rates than other consumers. Earning a Super Prime credit score has little to do with income level or occupation. Instead, it is gained by having a long track record of responsibly managing credit and paying every bill on time. 
Why Is a Credit Score Important for Car Buyers?
Now that you've seen what goes into credit scores and how they are ranked, let's talk about why knowing your credit score and working to maximize it is so critical. Simply put, buyers with good or excellent credit will pay less money for their car financing, face less restrictive terms, and have less chance of being underwater on their car loans.
To illustrate how much cost difference there is, we'll look at the cost of financing a $25,000 vehicle using interest rate averages for new-car loans and the assumption of a $2,500 down payment. The average loan term is about six years, so we'll calculate the payment and total financing for a 72-month term using our auto loan calculator.
According to Experian, the average interest rate in the second quarter of 2018 for a Deep Subprime borrower was 14.93 percent. It is important to note that interest rates are slowly climbing, so it is likely higher than that now. The car loan calculator shows us that the monthly payment would be $475. Multiply that by 72 months and add in the down payment you made, and you'll see that the total cost of the car, including financing, would be $36,700.
Nonprime borrowers paid an average of 7.55 percent in the same period. Plug that rate into the auto loan calculator, and the monthly payment drops to $390 per month. Including the financing and down payment, a non-prime buyer would pay $30,580 for the car. A Super Prime borrower would have paid an average of 3.47 percent in the second quarter of 2018. Monthly payments would be $347 per month, and the total cost of the car would be about $27,484.
In short, the Deep Subprime buyer would have to pay more than $8,000 in additional interest over the six-year term of the car loan because of the high-interest financing, and their monthly payments would be $128 higher than the borrower with excellent credit. It would not be unusual for that Deep Subprime borrower to be required to put more money down and take a shorter loan term as well.
When you have an auto loan with a high interest rate, much of your monthly payment goes toward paying interest rather than paying down the principal, which is the amount due to satisfy the payoff of the loan. With a low-rate loan, more of each payment goes to the principal balance. That makes it difficult to keep up with a car's depreciation when you have a high interest rate. When your payments don't keep up with depreciation, you will soon owe more on the car than it is worth. It's called having negative equity, being underwater, or being upside-down on the loan. If you need to get out of an upside-down auto loan, it's not easy to do without further damaging your credit. 
How Can You Get a Car With Bad Credit?
It's pretty easy to get a car loan, even if you have bad credit. It is critical, though, that you take some steps to ensure that your auto loan doesn't hurt your credit and bury you in a debt trap you can't dig yourself out of. Being prepared and having a pre-approved offer from a reputable lender before heading to the dealer will help to ensure you get the best deal possible and keep you from getting in over your head. 
Dealers want to sell cars, and lenders want to loan money, so they both have a great incentive to work with you and get you to buy a car. Here's a little secret of the lending industry: Lenders don't want to loan all of their money to Super Prime credit customers. Because Super Prime interest rates are so low, and the market so competitive, they don't make much money off those car loans. Auto lenders can make a lot more money off borrowers who pay a much higher interest rate but are responsible enough with credit to pay back their loan. If you have bad credit, you want to get the lender to believe you are that borrower. 
The easiest way to do that is to work with a smaller lender who will sit down with you and learn about your entire credit picture, imperfect as it may be. They'll look at where your credit is weak, and tailor the terms of the auto loan to minimize their risk in those areas. You'll want to start shopping for lenders even before you start shopping for cars so you can have a pre-approved financing deal in your pocket when you walk into the car dealership.
Financing will be a key component of any deal that most car salespeople put in front of you. By having a pre-approval for financing, you'll force them to beat your offer if they want to earn your business. It also gives you an opportunity to move the negotiation away from the monthly payment, and back to the price of the car, which should be your primary focus.
You can learn more about this topic by reading our consumer advice article on how to get a car loan with bad credit.
Staying Within Your Budget
A common trap that buyers with bad credit fall into is buying a more expensive new car than they can realistically afford. One way that they do that, while maintaining an affordable payment, is by taking out a long-term auto loan with a term of six years or more. If you're on the borderline financially, having a long car loan is a horrible idea. Unfortunately, a dealer who wants to sell you a car won't tell you that.
A better idea is to find a car where you can afford the payments on a four- or five-year loan. When you take out a shorter-term loan, you pay more toward the principal each month. You'll also avoid going underwater and ensure that your car's warranty matches or exceeds the length of the auto loan. If you are struggling to make your payments, one of the worst things that can happen is an unexpected car repair that leaves you unable to get to work. You don't want to be faced with a decision of whether to pay for the repair or make your car payment.
Like many things with your credit, sacrificing today can pay huge dividends in the future.
Where Can I See My Credit Score?
Finding your credit score and the credit reports behind it has never been easier for consumers. Many credit card companies offer your credit score as a benefit of having the card. If you do not have one that does, websites such as CreditKarma.com will provide it for free in exchange for the ability to use your personal information to market products to you. Other sites, such as MyFICO will only provide your score if you purchase their product.
To see your credit score, you'll have to enter quite a bit of personal information, including your social security number. Because of that, it's a good idea to stay with reputable sites. Many companies that provide free credit scores will have the offers linked identity protection or credit monitoring programs. Before signing up for such a product, take a look at the U.S. News Money article on credit monitoring services.
You are legally entitled to see each of your credit reports from the three major credit reporting agencies once per year. The only place authorized to provide them with no strings attached is AnnualCreditReport.com. While you can get the full report from each of the agencies through the official site, you will be asked to pay extra to get your credit score from that site. Fortunately, you can get your score for free at other sites.
If you are declined for auto financing, whether it's when you're trying to get a pre-qualification or at the dealership, you are legally entitled to get the reason in writing from the lender and a copy of the credit report that the decision was based on.
Changing Your Credit Score
Improving your credit score takes time and effort, that's why you want to check your credit history well before you start your car-buying process. If you see an advertisement offering to fix your credit report for a fee, you need to understand that is not how it works.
What Can Hurt Your Credit Score
The first thing you need to do when trying to improve your score is to stop doing things that hurt it. Here are a few things that will get you in trouble with bad credit.
Opening New Credit Cards: Each time you apply for a credit card there's an inquiry to the credit bureaus that drops your score a few points. While opening a new line of credit can give you the benefit of reducing your credit utilization ratio (the amount you owe compared to your available sources of credit), it also raises the total amount of credit available to you, which can be bad if the bureaus feel you already have enough.
Closing Credit Cards: You would think that if opening credit cards is bad, closing them would be good. However, closing a credit card raises your credit utilization ratio and hurts your score.
Too Many Inquiries: Once you decide to get a car loan, you want to do all of your shopping for financing in a very short time. If you stretch your applications over a period of months, each will be seen as a separate inquiry. Do them in a short time, and the credit reporting companies will see all of them as a single inquiry. A single inquiry will only ding your credit a few points.
Missing Payments: Nothing hurts your credit score more than missing payments or making them so late that your delay is reported to the credit bureaus. You can avoid missing payments by setting up automatic bill payments and reminders at the financial institution where you have your checking account. 
Co-signing on a Loan: While you may think you're being nice by being a co-signer on a relative or friend's loan, your credit score will take a massive hit if they don't make their payments. Co-signing is rarely a good idea. A better approach is helping them with a substantial down payment or counseling them away from buying something they can't afford on their own. 
Maxing Out Your Credit Cards: Just because you have a $10,000 credit limit on your credit card doesn't mean you should use it all. You should strive never to use more than 30 percent of your available balance and to pay it off as quickly as possible. Credit cards typically have exorbitant interest rates, so it's best if you never carry a balance from month to month.
Burying Yourself in Debt in Your 20s: It's easy to make serious financial mistakes when you're just out of college and trying to establish your independence. Keep in mind, however, that those mistakes can snowball and affect your credit score for years or even decades. Our Money team has put together a guide on how to recover from financial mistakes you make in your 20s.
What Helps Your Credit Score
The path to good credit is a journey of small steps that will improve your standing a few points at a time. Here are a few of those steps:
Correcting Errors: Many credit reports contain errors, and an important way to improve your score is to correct any mistakes that make you look less attractive to lenders. You will first need to tell the credit bureaus, in writing, that you believe an item is in error. They will investigate your claim by contacting the company that reported the information. The credit reporting agency will then report back to you with the results of their investigation.
If the investigation by the credit bureau or bureaus does not lead to the information being corrected, you will need to contact the company that reported the information and dispute its accuracy. If a company falsely reports information to your credit report and their failure to correct it causes you to be declined for a loan, they can face serious civil penalties.
You can find details on how to dispute incorrect information on the Federal Trade Commission's website. If you are a victim of identity theft, make sure that you take steps with each credit bureau to place a fraud alert and an explanation of what has occurred on your report.
Paying More Than the Minimum: When you pay only the minimum on your credit card balances, you will hardly make a dent in the amount you owe – especially if you are still charging things on the card. Pay more than the minimum, and you'll bring down both the credit card balance and your credit utilization ratio – so long as your charges don't outpace your payments. If you have more than one card with a balance, attack the card with the highest interest rate first, then the next lowest, and so on. Don't close the cards when you get them paid off, however, as that will hurt your score. 
Make a Plan: It's easier to work toward a goal when you have a plan. In your financial life, that plan is a budget that you adhere to. Look at your monthly expenses to see where you can save and where you need to spend. It's essential to include an emergency fund in your planning so that an unexpected expense doesn't wreck the rest of your budget.
Use Some Credit: It might seem obvious, but to have a credit history, you have to have a history of using credit. Even if you don't believe in using credit cards and carrying balances, getting a credit card or two that you use for daily expenses and pay off in full each month – or even more often with electronic bill pay – will help to build your credit score. If you find a card with no annual fee that comes with a rewards program, you can even get some cash back by using a credit card. If you worry about having self-control with a credit card, get one with a reasonable credit limit that forces you to think about every purchase. 
Even if you have bad credit, you can get a secured card that is backed by your savings. Use it responsibly and you can work your way into a traditional credit card as you prove your creditworthiness.
Don't Panic: If you have bad credit, one of the worst things you can do is to panic and start making a lot of changes to your accounts in a short time. It's a better idea to work on each issue in your credit report methodically, so you don't have big swings in the amount of available credit or your utilization of it. 
Credit Scores and Car Deals
Not all new cars are home runs in the marketplace. When vehicles don't sell as fast as automakers want them to or there's a new model around the bend, they frequently offer special financing deals to move cars off their lots.
You'll have to have a top-notch credit history if you want to touch one of the low or zero-percent financing deals. In some cases, that's Prime or above, but the best deals are reserved for Super Prime borrowers. 
You can see the best deals available by exploring our new car deals page. Buyers considering a certified pre-owned vehicle should look at our used car deals page to find affordable financing offers.
Credit Scores and Car Insurance
Car financing isn't the only place where your credit score will affect your ownership experience. In most states, auto insurers use the information in credit reports as a factor in determining premiums. Insurers have demonstrated a correlation between credit scores and claim rates, and they use that connection in pricing policies for individual consumers.
Consumers with no credit history pay an average of 67 percent more for car insurance than those with excellent credit. In some states, people with no credit can pay double the rates of those with an excellent credit history. The use of credit scores for pricing automobile insurance policies is illegal in California, Hawaii, and Massachusetts.
Visit our auto insurance guide to learn more about auto insurance, the coverages you need, and where find discounts.
Credit Scores and Car Leasing
While having a good credit score is important in getting the best deal on car financing, it is critical when it comes to car leasing. You'll need good credit to get most leases, and excellent credit if you want to take advantage of automaker-supported lease deals. Most leasing companies will have a minimum credit score for customers they will do business with, making leasing with bad credit a challenge.
Even a lease customer with an average credit score can expect to pay a more substantial down payment or a higher money factor (interest rate) than a consumer with an excellent credit history. The higher money factor will result in more expensive monthly payments than a lessee with good credit would have. Some leasing companies will require lessees near their minimum credit score to make a significant security deposit to cover any lease-end costs.
More Shopping Tools from U.S. News & World Report
Buying a car is one of life's biggest financial decisions. Buy right, and you'll have years of smooth, low cost driving ahead of you. Buy wrong, and the road ahead will be filled with costly potholes. Our new car rankings and used car rankings will help you find a vehicle that meets both your needs and budget. Our reviews are based on the consensus opinion of the country's top automotive journalists, blended with quantifiable data on predicted reliability and safety to create a score. Our scores cover nearly every car, truck, wagon, minivan, and SUV you can buy today.
When you find the perfect ride, explore our new car deals page to find the best offers from automakers. We track the best financing and cash back deals available. If you prefer to lease, our lease deals page shows offers with low monthly payments, little due at signing, or both. Both lease and purchase customers can save even more with our Best Price Program, which connects them with local dealers offering guaranteed savings. Buyers save more than $3,000 off MSRP, on average, when they take advantage of the program.
Car buying can be an intimidating process, but our consumer advice content will arm you with the knowledge you need to confidently buy a new car, get a car loan, and negotiate a great price. We'll help you decide whether to buy or lease and whether to buy a new or used car. Our advice doesn't end when you leave the dealer. We'll show you how to find the right car insurance for your ride and avoid killing your car.
Get car buying advice on MSN Autos | Follow MSN Autos on Facebook and Twitter 

More from U.S. News & World Report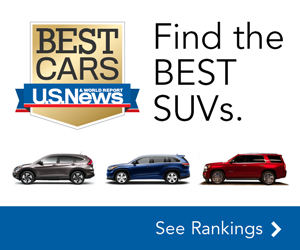 US News & World Report - Cars