2018 Chevrolet Corvette: What You Need to Know

US News & World Report - Cars
8/21/2018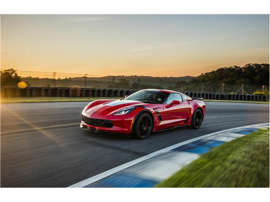 The 2018 Chevrolet Corvette is consistently one of the best sports cars on the market. World-class performance and a refined, high-tech interior are just a few of the factors that help the Vette secure a high position in our rankings. 
Is the Chevrolet Corvette a Good Car?
Now in its seventh generation, the Corvette benefits from decades of innovation and experimentation. It remains an awesome car with outstanding performance, thanks to its track-ready handling and powerful engines. The Corvette also features a sophisticated interior and coddling seats. If there's a downside, it's that some infotainment features can be sluggish. The sports car also lacks some advanced safety technology, like automatic emergency braking and forward collision warning.
Should I Buy the Chevrolet Corvette?
The Corvette should be on the list of anyone shopping for a flashy sports car. This domestic beast is ready to take on prestigious imports from brands like Porsche and Jaguar. In addition to its outstanding acceleration, power, and handling, the Corvette is refined through and through, with an upscale and comfortable cabin. It does all that without breaking the bank (relatively speaking); its starting price tag is in the mid-$50,000s. That said, prices climb quickly as you move to higher trims.
As awesome as the Corvette is, you may want to consider some other sports cars from across the pond. Rivals like the front-engine Jaguar F-Type and midengine Porsche Cayman also seamlessly meld performance and luxury into a well-rounded package.
Should I Buy a New or Used Chevrolet Corvette?
For 2018, Chevrolet gave the base Corvette a set of larger tires and made HD Radio a standard feature. This Corvette generation was launched in 2014, but you may want to limit your shopping to 2015 and newer models if you're looking for an automatic transmission. Chevy added a new eight-speed automatic transmission as an option for 2015, along with a Wi-Fi hot spot. It also added the monstrously powerful 650-horsepower 6.2-liter V8 Z06 model to its lineup. For those who aren't shopping for a Z06, there's not much difference between 2014 and 2015 Vettes with manual transmissions. The 2016 model added Apple CarPlay, a power trunk, and a leather-wrapped flat-bottom steering wheel as standard equipment. The 2017 Corvette was largely unchanged aside from some minor trim additions. You can likely save money by shopping for an older Vette.
To research other models in this generation, read our reviews of the 2015, 2016, and 2017 Chevrolet Corvette. If you decide an older model is right for you, check out our Used Car Deals page for information on current used car deals and incentives.
We Did the Research for You: 38 Reviews Analyzed
For our 2018 Chevrolet Corvette review, we researched dozens of professional evaluations, along with safety scores, reliability data, and fuel economy estimates, to help you make the best buying decision possible. This 2018 Chevrolet Corvette review incorporates applicable research for all model years in this generation, which spans the 2014 through 2018 model years.
Why You Can Trust Us
U.S. News Best Cars has been ranking and reviewing vehicles since 2007, and our team has more than a combined 75 years of experience in the automotive industry. To maintain objectivity, we don't accept incentives or expensive gifts from car companies, and an outside team handles the ads on our site.
How Much Does the Chevrolet Corvette Cost?
Prices start at $55,495 for a 2018 Corvette, which gets you the base trim hardtop Stingray. For the coupe version of the special edition Grand Sport, expect to pay between $65,495 and $75,240, while the high-performance Corvette Z06 runs from $79,495 to $88,440. All three models are available as a convertible. Pricing for soft-topped Corvettes range from $59,495 to $92,440.
Check out our U.S. News Best Price Program for great savings at your local Chevrolet dealer. You can also find excellent manufacturer incentives on our Chevrolet deals page.
Chevrolet Corvette Versus the Competition
Which Is Better: Chevrolet Corvette or Chevrolet Camaro?
Though both the Camaro and the Corvette sport the Chevy bowtie emblem on their hoods, they are vastly different cars. Each is an excellent vehicle in its own way, so picking the better one depends mostly on your lifestyle and budget. The Camaro comes in at half the price and offers twice the passenger capacity of the Corvette, so it may be better suited as a daily driver. The Corvette offers a great combination of luxury and performance in its standard package. Performance is better in the base Corvette, but there's a way to rival that with the Camaro. You can opt for either of the Corvette's engines (the Stingray's 455-horsepower V8 or the Z06's supercharged V8) in the Camaro, which will save you tens of thousands of dollars over a Vette.
Which Is Better: Chevrolet Corvette or Jaguar F-Type?
Both the Jaguar F-Type and the Chevy Corvette boast great performance, with each offering dynamic driving abilities and muscular engine choices. Where these two rivals part ways is inside. The Corvette has more trunk space, a more user-friendly infotainment system, and more features (including Apple CarPlay and Android Auto, which aren't offered in the F-Type). In contrast, the F-Type's cabin is more luxurious. Though the Chevy can't match the Jag's exquisite interior styling, it's the slightly better car overall.
Which Is Better: Chevrolet Corvette or Porsche Cayman?
The Porsche Cayman and its soft-topped fraternal twin, the Porsche Boxster, both occupy a high position in our rankings and are very similar in price to the Corvette. The Cayman gets some of our best performance ratings across the board, but choosing between this midengine car and the front-engine Corvette will likely just be a matter of preference. Of the two, the Corvette is the better value for your money, since it comes with more standard amenities than the Cayman. Adding comparable options to the Porsche raises its price quickly.
Corvette Performance
Corvette Engine: Available as Fast or Faster
Scorching acceleration is no problem for the Corvette, no matter which engine is under the hood. There are two to choose from – both are 6.2-liter V8s that come with a standard seven-speed manual transmission and the option of a quick-shifting eight-speed automatic. The naturally aspirated V8 in the Stingray has a 455-horsepower rating. The performance exhaust system (available in the Stingray, standard in the Grand Sport) not only boosts your sound, but gives you 5 extra horsepower as well. The 650-horsepower Z06 engine is supercharged and potent enough to tackle serious track driving if you are so inclined.
Corvette Gas Mileage: Below Average
The Corvette Stingray and Corvette Grand Sport get 16 mpg in the city and 25 mpg on the highway. By the numbers, that's thirstier than most models in our luxury sports car rankings, though many of those cars are powered by slender (and turbocharged) four-cylinders. With the more powerful V8 engine in the Corvette Z06, gas mileage drops to 15 mpg city/22 mpg highway.
Corvette Ride and Handling: Ready for Action
The rear-wheel-drive Corvette delivers handling that is best tested at high speeds on a closed course, though it's still perfectly suited for public roads. The brakes are solid, the steering is precise, and the high levels of grip keep you firmly planted through turns. Brembo performance brakes come standard in the front and rear, and an upgraded Brembo system is bundled with the Stingray's Z51 Performance package. Chevrolet's Magnetic Selective Ride Control – a suspension system that adjusts within milliseconds to changing road conditions – is now available as a standalone option and can be added to any Corvette Stingray (it's already included in the Grand Sport and Z06 models).
Corvette Interior
How Many People Does the Corvette Seat?
With no back seat, the Corvette has room for two people. Its standard leather seats have eight power adjustments and are comfortable for most adults. For extra support, upgraded seats with power-adjustable lumbar support and side bolsters are available, as is nappa leather upholstery and competition sport seats.
Corvette Interior Quality
The Corvette's cabin features premium materials like leather and carbon fiber and has a durable feel. It doesn't have the same level of sumptuous refinement that some European models showcase, but few find major issues with its styling or finish.
Corvette Cargo Space
With the Corvette coupe, you can bring along a set of golf clubs or easily carry luggage for you and your plus one to get away for a few days. Its 15-cubic-foot trunk is one of the largest among vehicles this size. Convertibles offer a slightly smaller 10-cubic-foot trunk, but the soft top doesn't occupy any of this space when you lower it.
Corvette Infotainment, Bluetooth, and Navigation
The Corvette comes with an appealing list of tech features. Its base infotainment system can link with a smartphone via Android Auto and Apple CarPlay, connecting your favorite apps directly to the touch screen. The included Wi-Fi hot spot gives you high-speed internet access on the fly. The MyLink infotainment system is not as cutting edge as some and can be a little slow, but it works reasonably well. Among the available tech upgrades, we recommend the performance data recorder. This system merges video from a front camera with a myriad of real-time specs (including speed and g-force), so you can relive your thrilling drives.
For more information, read What Is Apple CarPlay? and What Is Android Auto? Then, see the Best Cars With Apple CarPlay and Best Cars With Android Auto.
Corvette Reliability
Is the Chevrolet Corvette Reliable?
The 2018 Corvette has a predicted reliability rating of three out of five from J.D. Power. That's about average for a new vehicle, and it's similar to most other luxury sports cars' ratings.
Chevrolet Corvette Warranty
Chevrolet covers the 2018 Corvette with a three-year/36,000-mile basic warranty and a five-year/60,000-mile powertrain warranty. 
Corvette Safety
Corvette Crash Test Results
Like other luxury sports cars, the Chevrolet Corvette doesn't undergo crash test analysis by the Insurance Institute for Highway Safety or the National Highway Traffic Safety Administration.
Corvette Safety Features
The 2018 Corvette comes standard with a rearview camera; a front curb-view camera is available. That's a fairly barren list of advanced safety technology, and commonplace technology like forward collision warning and blind spot monitoring are notably absent.
Which Chevrolet Corvette Model Is Right for Me?
There's no shortage of choices when you start building your 2018 Corvette. It's easiest if you start by selecting between Stingray (the primary configuration), Grand Sport (a special edition featuring the standard engine and the wide-body design of the Z06), and Z06 (the ultimate in Vette performance). Each comes as either a coupe with a removable roof panel or as a soft-top convertible. Next, select the trim level with your ideal level of amenities and performance enhancements. Stingray and Grand Sport editions come in 1LT, 2LT, and 3LT trims. Choices for the Z06 include 1LZ, 2LZ, and 3LZ, with options closely matched to the matching Stingray trim.
In general, the base 1LT/LZ trim comes standard with the MyLink infotainment system, an 8-inch touch-screen display, a nine-speaker Bose audio system, Android Auto, Apple CarPlay, satellite radio, Bluetooth, HD Radio, voice commands, a 4G LTE Wi-Fi hot spot, an 8-inch digital instrument display, leather upholstery, power-adjustable front seats, dual-zone automatic climate control, proximity-key entry, push-button start, and a rearview camera.
The 2LT/LZ trim levels get heated and ventilated seats, with power-adjustable bolsters and lumbar support. A front curb-view camera, a 10-speaker Bose premium audio system, a color head-up display, and an auto-dimming driver's side exterior mirror and rearview mirror are also added. Interior enhancements with the 3LT/LZ trims include Nappa leather seats, additional surfaces covered in leather and suede, navigation, and a performance data recorder.
If you want something that feels a little more exclusive, consider the special edition 2018 Grand Sport. Its wide body (borrowed from the Z06) and performance enhancements are attention-grabbing, especially when it is adorned with the signature hash marks and center stripe. This model also marks the 55th anniversary of the original Corvette Grand Sport. The Stingray, of course, is perfectly acceptable, but the Grand Sport will likely be a highly arresting and collectable model in the 2018 lineup.
The stock setup for the 2018 Stingray ($55,495) includes a 455-horsepower V8 engine, a seven-speed manual transmission, and rear-wheel drive. An eight-speed automatic is available. Pricing for the Stingray convertible starts at $59,495. The available Stingray Z51 Performance package adds mechanical components such as an electronic limited-slip differential, a sport-tuned suspension system, upgraded brakes and tires, and an aero package.
Under the hood of the Corvette Grand Sport is the same engine as the Stingray's, but with the Grand Sport's standard performance exhaust system, horsepower increases to 460. This edition also features a wider stance, Magnetic Selective Ride Control, and an electronic limited slip differential. Available packages include the Grand Sport Heritage package, which adds visual embellishments such as fender hash marks and a center stripe. Performance upgrades include the Z07 package, comprising the upgraded Z07 suspension system, carbon-ceramic Brembo brakes, and high-performance tires. For the coupe, prices range from $65,495 to $75,240. MSRP for convertible configurations run from $69,495 to $79,240.
The biggest claim to fame for the track-ready Corvette Z06 is its 650-horsepower V8 engine. It's paired with either the standard seven-speed manual transmission or available eight-speed automatic. Notable features include a wide body stance, a rear spoiler, performance exhaust, Magnetic Selective Ride Control, an electronic limited slip differential, and a color head-up display. The Z07 Performance package can also be added to the Z06. Prices starts at $79,495 for the coupe version ($83,495 for the Z06 convertible) and run as high as $92,440.
Check out our U.S. News Best Price Program for great savings at your local Chevy dealer. You can also find excellent manufacturer incentives on our Chevy deals page.
The Final Call
Very few two-seaters are both comfortable enough for road trips and athletic enough to run hot laps on a race track. The Corvette is definitely a member of the club. It's balanced between playful and practical, making the Vette an ideal choice for either a daily driver or an occasional diversion.
Don't just take our word for it. Check out comments from some of the reviews that drive our rankings and analysis.
Read the full 2018 Chevrolet Corvette review on U.S. News & World Report for more details, photos, specs and prices.
More from U.S. News & World Report

US News & World Report - Cars