Bruder EXP-4 Trailer Is The Camper You Could Actually Afford

motor1
2/14/2019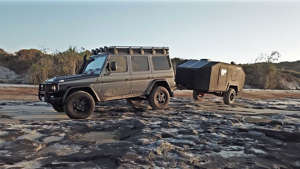 Take your family off-road camping for less than half the price of a base RV.
Recreational vehicles are comfortable, cool, and everything, but are often too expensive for the average adventure seeker. Even entry-level offerings could come close to the $100,000 mark and that's definitely not a price everyone can afford. But don't lose faith – there is one vehicle on the market that fits even more tight budgets.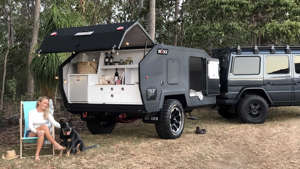 In fact, the Bruder EXP-4 is not a motorized vehicle but a camping trailer riding on a single-axle off-road suspension with 17-inch wheels that is ready for use on any terrain. It's designed and built in Australia but, don't worry, the company that makes it is happy to ship it to the United States for about $5,000.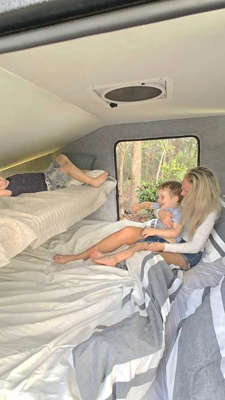 First, about the chassis. The EXP-4 uses four remote canister mono-tube shocks and has a suspension travel of up to 12 inches (305 mm). Interestingly, it can be height-adjusted for easier coupling with the drawbar of the towing vehicle. Last but not least, a pair of big ventilated discs provides the stopping power.
Other affordable camping solutions:
Plug-And-Play Camping Module Easily Turns Cargo Vans Into RVs
Toyota Town Ace Camper Could Be The Cute RV Of Your Dreams
Toyota Hilux Galaxy Camper Is A Slow '90s Time Capsule
Toyota Hilux 4x4 Camper Coming To U.S. For Your Adventures
The cabin of the trailer is made of light but durable closed cell epoxy-bonded composite and, according to Bruder, is "first-class comfort." The interior sleeps two grownups on a California King bed, but can also accommodate up to three young children on a 1.8-meter bed that doesn't impact the main sleeping area.
The rest of the cabin space is equipped with three large storage shelves and dedicated hanging space for clothing. There are also internal USB charging outlets and LED lights.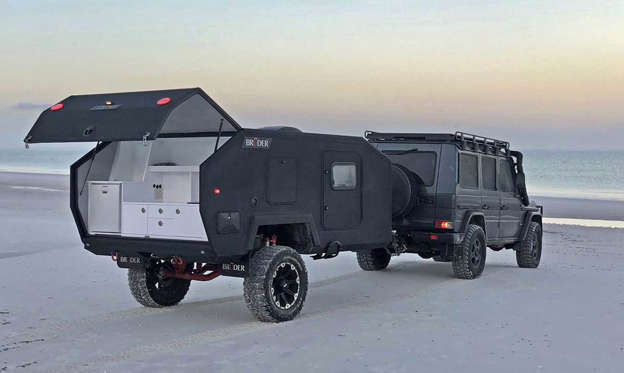 Bruder EXP-4 camping trailer
© Motor1.com
Just behind the sleeping area, there's a kitchen area made of lightweight, durable, and easy to clean materials. It features a stainless steel basin and swivel tap, a 60-liter fridge, and generous storage for food and pantry items.
And now about the price. At the beginning of this article, we said the EXP-4 is relatively affordable and with a price of AU$54,500 (US$38,726 at the current rates), it really is. For a similar price, all you can buy on the motorhome scene is a second-hand RV which needs additional fixes to be completely ready for off-road camping.