2017 Hyundai Azera: What You Need to Know

US News & World Report - Cars
8/7/2018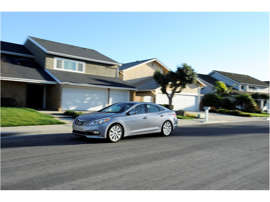 The 2017 Hyundai Azera is a large sedan with an impressive list of standard features, along with excellent safety and predicted reliability ratings. However, it finishes in the middle of our large car rankings because of a few negatives, including limited rear-seat headroom.
Is the 2017 Hyundai Azera a Good Used Car?
The Azera is a very good large car. The 2017 model is the Azera's last before Hyundai retired it, but shoppers shouldn't take that as a mark against the Azera. Inside, it's well-equipped and spacious, with a features list that is closer to what you get with a luxury car than an affordable sedan. An impressive amount of advanced safety equipment also comes standard. The Azera isn't a sports sedan (few large cars are), but it is respectably smooth and powerful.
Why You Can Trust Us
Our Hyundai Azera review includes far more than just one person's opinion. We collected professional evaluations from more than three dozen sources and combined them with concrete data like fuel economy estimates, safety features, and performance specs to help you make an informed buying decision.
At U.S. News & World Report, we rank the Best Jobs, Best Hospitals, and Best Colleges to guide readers through some of life's most complicated decisions. We've been ranking and reviewing the Best Cars since 2007, backed by a team with more than 75 years of combined automotive experience. To keep favoritism out of the picture, we maintain a separate advertising team and decline expensive gifts and trips from car companies.
How Much Is the 2017 Hyundai Azera?
The Azera is one of the pricier large cars. Its average price of $28,300 (based on more than 120 listings on our used car site) is higher than most of its class rivals, save the Chevrolet SS. Factors such as optional features, vehicle condition, mileage, and regional demand all affect the price. Prices for the 2017 Azera range from $23,800 to $34,800.
How Much Does the 2017 Hyundai Azera Cost to Own?
The 2017 Azera's five-year cost estimates for insurance, fuel, repair, and maintenance add up to about $25,000. That's several thousand dollars less than these same costs for a Nissan Maxima or Dodge Charger.
Is It Better to Buy a Used or New Azera?
Since 2017 was the last production year for the Azera, there isn't a 2018 version available. But don't despair if you are yearning for a new car. A few other appealing options have base prices that are close to the average price of a 2017 Azera.
With its starting MSRP of $27,895, the Chevrolet Impala is one of the most affordable options in class, with a spacious and comfortable interior and standard equipment like an excellent 8-inch touch-screen infotainment system.
Another option is the Hyundai Sonata. Technically part of the midsize car class, the Sonata offers about the same amount of legroom and trunk space as the Azera. You can save money by picking the $22,050 entry-level Sonata SE, or get a swankier ride with the uplevel Sonata Limited ($27,400).
How Reliable Is the 2017 Hyundai Azera?
The 2017 Azera has an excellent predicted reliability rating of four out of five from J.D. Power.
2017 Hyundai Azera Recalls
There are no recalls on the 2017 Azera at the time of this review.
See more information on Hyundai Azera safety recalls »
Which Model Year of the Hyundai Azera Is Best? 
The Azera was last redesigned for the 2012 model year. We don't recommend buying models from the last generation, as these have significantly lower safety scores. In general, Azeras built from 2015 onward are better. These models come with an updated infotainment system and a standard Infinity sound system. You may be able to save money by shopping for a 2015 or 2016 Azera instead of a 2017 model.   
Which Used Hyundai Azera Model Is Right for Me?
The Azera comes in two trim levels: base and Limited. All models come with the same powertrain, and the main difference between the two trims is the level of advanced safety features. Range-topping Azera Limited models have extras such as forward collision warning and adaptive cruise control, along with a panoramic sunroof. However, the base Azera is the trim we recommend because it's such a great value and so richly outfitted. It comes standard with leather seats (with heat and ventilation up front), a large touch-screen display, Apple CarPlay, Android Auto, and lane change assist. 
Certified Pre-Owned Hyundai Azera Warranty
Buying a certified pre-owned vehicle will give you extra peace of mind, though you should know that brands like Honda and Toyota offer more comprehensive CPO coverage. Certified pre-owned Hyundai vehicles receive the balance of the original new-car 10-year/100,000-mile powertrain warranty. Hyundai CPO vehicles must pass a 150-point inspection. Additional benefits like towing and roadside assistance may be available, so read Hyundai's warranty page carefully.
How Safe Is the Azera?
The Azera received a top score in every crash test conducted by the Insurance Institute for Highway Safety. The IIHS also noted that Azera Limited models, which include forward collision warning, provide a Basic level of front crash prevention.
Every 2017 Azera comes with a rearview camera, blind spot monitoring, rear cross traffic alert, lane change assist, and brake assist. Uplevel Azera Limited models also include forward collision warning, rear parking sensors, lane departure warning, and adaptive cruise control with stop-start capability.
2017 Hyundai Azera Versus the Competition
Which Is Better: 2017 Hyundai Azera or 2017 Toyota Avalon?
The Toyota Avalon and Hyundai Azera are close rivals in our large car rankings, and you can't go wrong with either one. Both offer a sufficient amount of power, comfortable accommodations in a spacious cabin, and lots of standard features. There are a couple of notable differences – the Avalon has smoother ride, but the Azera has a better infotainment system.
Which Is Better: 2017 Hyundai Azera or 2017 Kia Cadenza?
The Kia Cadenza performs so well in our large car rankings in part because of its outstanding safety and predicted reliability ratings. In fact, the Cadenza was named a Top Safety Pick+ by the Insurance Institute for Highway Safety, and it earned a perfect predicted reliability rating from J.D. Power. The Cadenza also costs less to buy than the Azera, and it has lower ownership costs for certain expenses (insurance, fuel, repairs, and maintenance). The Kia is clearly a better buy.
2017 Azera Performance
How Does the 2017 Hyundai Azera Drive?
The 2017 Azera is powered by a 293-horsepower V6 engine that moves this large car with relative ease. Its six-speed automatic transmission is smooth, though it's not always quick to shift. The Azera has polished handling, and passengers will enjoy a comfortable ride in most circumstances.
Does the 2017 Hyundai Azera Get Good Gas Mileage?
Fuel economy is so-so with the Azera. It offers an EPA-estimated 20 mpg in the city and 28 mpg on the highway, which is slightly below average among large cars.
2017 Azera Interior
How Many People Does the 2017 Azera Seat?
The Azera seats five people on leather upholstery, and its cabin is superbly comfortable and quite roomy. There's enough space in the back seat to allow even long-legged passengers to stretch out on a long road trip. However, the sloping roofline cuts into headspace for some. Heated and ventilated front seats, heated rear outboard seats, and a leather-trimmed steering wheel (all standard) add to the interior's luxurious ambiance.
How Many Car Seats Fit in the 2017 Hyundai Azera?
The 2017 Azera's LATCH system has two sets of lower anchors and three tether anchors for installing child seats.
2017 Hyundai Azera Features
The Azera's infotainment system offers many features and capabilities, including Apple CarPlay, Android Auto, Bluetooth, satellite radio, and HD Radio. Sound comes through crystal clear with the car's impressive surround-sound system. It's also easy to see menus on the large, crisp touch screen, and a handful of convenient buttons make quick climate and audio adjustments a breeze.
2017 Hyundai Azera Dimensions
Hyundai Azera Cargo Space
The Azera's 16.3-cubic-foot trunk is wide and deep, and its split-folding rear seats expand the space a bit further for oversized items. Ample cubbies throughout the cabin add convenient storage spots, but the hands-free trunk lid is even more helpful. You can stand behind the car with the keys in your pocket, and the trunk opens automatically – an essential aid when your hands are full.
Hyundai Azera Length and Weight
The Azera measures a little over 16 feet long. It has a curb weight of 3,684 pounds (Azera base) or 3,871 (Azera Limited).
Where Was the 2017 Hyundai Azera Built?
Hyundai built the 2017 Azera in South Korea.
Read the full 2017 Hyundai Azera review on U.S. News & World Report for more details, photos, specs and prices.
More from U.S. News & World Report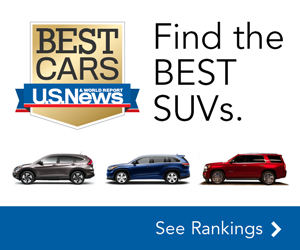 US News & World Report - Cars