2017 Kia Rio: What You Need to Know

US News & World Report - Cars
8/6/2018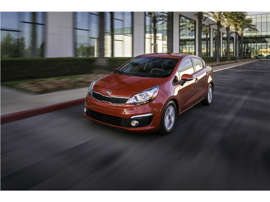 The 2017 Kia Rio ranks near the top of the subcompact car class thanks to its upscale interior and all-around good performance.
Is the 2017 Kia Rio a Good Used Car?
The 2017 Kia Rio is a good used subcompact car. It offers solid performance and has an upscale interior – without a luxury car price tag. As a sedan or hatchback, the Rio offers a spacious interior. Keep in mind that rivals offer more available safety features and better fuel economy estimates.
Why You Can Trust Us
We analyzed 49 Kia Rio reviews to give you an idea of this car's pros and cons. We've also included information on fuel economy, safety, and reliability to help you decide if the 2017 Rio is the right car for you.
U.S. News Best Cars has been ranking the best vehicles since 2007, and our editorial staff has more than 75 years of combined experience in the automotive industry. To keep our reviews impartial, we don't accept expensive trips or gifts from car companies, and an external partner places and sells the ads on our site.
How Much Is the 2017 Kia Rio?
Based on more than 400 listings on our site for a used 2017 Rio, you can expect to pay between $9,800 and $14,000. The average list price is $12,000.  A vehicle's condition, mileage, and location can affect price.
How Much Does the 2017 Kia Rio Cost to Own?
Over five years, you'll likely spend about $20,770 (or $4,150 per year) on fuel, insurance, maintenance, and repairs for the 2017 Kia Rio. These costs are slightly below average for the subcompact car class. The 2017 Ford Fiesta and the 2017 Nissan Versa have comparable costs, while the 2017 Honda Fit will save you about $1,500 over the course of five years.
Is It Better to Buy a Used or New Rio?
Kia redesigned the Rio for the 2018 model year, and it has a base price of $13,900 – around $1,900 higher than the average price of the used 2017 Rio on our site. The new base engine sees an 8-horsepower drop from 2017, but it offers marginally better fuel economy. While the 2018 Rio offers more rear-seat legroom than the 2017 model, the 2018 hatchback has significantly lower maximum cargo capacity (roughly 17 cubic feet less with the rear seats folded down). The extra $1,900 will get you a 5-inch touch screen and power door locks. It also has more available features, including Apple CarPlay, Android Auto, forward collision warning, and automatic emergency braking. If safety features are important to you, go with a new Kia Rio, but if you can do without the Rio's redesign, stick with the 2017 model.   
If you're looking for a new car for about the same price as the 2017 Kia Rio, you won't have a lot of options. Most comparable subcompact cars have prices significantly higher than $12,000. 
Which Model Year of the Kia Rio Is Best?
The 2017 Kia Rio is the final model year of a generation that started with the 2012 model. Kia made no major changes to the Rio between those years. The most noteworthy change is that an automatic transmission became standard equipment in all hatchback models for 2016. You can save money by shopping for an older model – and feel confident in doing so, as they all have decent overall scores in our rankings.
How Reliable Is the 2017 Kia Rio?
The Rio has an above-average predicted reliability score of four out of five from J.D. Power.
2017 Kia Rio Recalls
There are no recalls on the 2017 Rio as of this writing.
See more information on Kia Rio safety recalls »
Which Used Kia Rio Model Is Right for Me?
The four-door Kia Rio sedan comes in LX and EX trims, while hatchback models offer an extra trim: the SX. If you need a lot of cargo space, go with the hatchback. While the entry-level LX trim comes with air conditioning, it doesn't include much else. You'll want to at least go for the midlevel EX trim to add power windows and power door locks, as well as a six-speed automatic transmission, alloy wheels, Bluetooth phone connectivity, cruise control, a leather-wrapped steering wheel, a six-speaker stereo, and remote keyless entry. The top-of-the-line SX model adds a rearview camera, heated front seats, leather upholstery, a sunroof, and Kia's UVO infotainment system, which includes navigation, voice commands, and a 7-inch touch screen.
Certified Pre-Owned Kia Rio Warranty
Though most other carmakers – including Chevrolet, Honda, and Toyota – offer better CPO programs than Kia, a certified pre-owned Rio may still be worth considering. Kia's certified pre-owned vehicles receive the balance of the original 10-year/100,000-mile new-car powertrain warranty, plus a one-year/12,000-mile Platinum warranty for non-powertrain parts. Additional benefits like towing and roadside assistance may be available, so read the Kia warranty page carefully.
How Safe Is the Rio?
The Insurance Institute for Highway Safety gave the Rio the top rating of Good in the moderate overlap, rear crash protection, and roof strength tests. The Rio earned a Marginal rating in the small overlap test and an Acceptable rating in the side impact test. The National Highway Traffic Safety Administration gave the 2017 Rio four out of five stars for overall, front, and rollover crash tests, and five stars in the side crash test.
Aside from an available rearview camera, the Rio doesn't have any advanced safety features.
2017 Kia Rio Versus the Competition
Which Is Better: 2017 Kia Rio or 2017 Hyundai Accent?
Like the Rio, the 2017 Hyundai Accent is available as a sedan or a hatchback. Both the Rio and the Accent have comparable cargo space in either body style, but the Accent offers slightly more back-seat legroom. The average price of a Hyundai Accent on our site is $400 less than the 2017 Rio's, but it doesn't offer available features such as heated seats, leather upholstery, navigation, or a rearview camera. While the Rio has plenty of power to get the car up to highway speeds, the Accent struggles. Go with the Rio; it performs better and has more available features.
Which Is Better: 2017 Kia Rio or 2017 Chevrolet Sonic?
The 2017 Chevrolet Sonic is a great subcompact car with an excellent safety score, a spacious cabin, and plenty of standard and available features. Unlike the Rio, which doesn't offer much in the way of safety features, the Sonic has a standard rearview camera and is available with forward collision alert, lane departure warning, and rear park assist. The Sonic offers a comfortable ride and is agile around corners. However, with the base powertrain, the 2017 Chevy Sonic earns lower fuel economy estimates than the Rio. Still, the Chevrolet Sonic offers more standard and available features, as well as a slightly better predicted reliability score. It's a slightly better pick overall.
2017 Rio Performance
How Does the 2017 Kia Rio Drive?
The front-wheel-drive Rio comes with a 138-horsepower four-cylinder engine and either a six-speed manual transmission or a six-speed automatic. The Rio's engine is one of the most powerful in the subcompact class. It helps the car accelerate fairly quickly, but it can be somewhat noisy and unrefined at highway speeds. Overall, spirited drivers will enjoy the Rio's playful handling, and most reviewers found its ride quality to be good.   
Does the 2017 Kia Rio Get Good Gas Mileage?
The 2017 Kia Rio has slightly below-average fuel economy estimates for the class. It gets 27 mpg in the city and 36 mpg on the highway with either the manual or automatic transmission.
2017 Rio Interior
How Many People Does the 2017 Rio Seat?
The Rio seats five people on standard cloth seats. Leather upholstery and heated front seats are available. There is plenty of headroom in both rows, and legroom is plentiful in the front seats. However, taller passengers will find rear legroom to be tight.
How Many Car Seats Fit in the 2017 Kia Rio?
The rear outboard seats have two sets of lower anchors and three top tether anchors for securing child seats. The Rio's LATCH system earned the Insurance Institute for Highway Safety's second-lowest score of Marginal for ease of use. Its lower anchors are buried too deep in the seat cushions, and it can be difficult to maneuver around the hardware.
2017 Kia Rio Features
The 2017 Kia Rio's standard features include air conditioning, a four-speaker audio system, satellite radio, a USB port, and steering wheel-mounted audio controls. Available features include power windows, power door locks, remote keyless entry, a six-speaker stereo, Bluetooth, a UVO infotainment system with either a 4.3- or 7-inch touch screen, navigation, alloy wheels, a sunroof, a rearview camera, and cruise control. Kia's UVO infotainment system is easy to control, and the navigation system is also simple to operate.
2017 Kia Rio Dimensions
Kia Rio Cargo Space
The Kia Rio four-door sedan has 13.7 cubic feet of cargo space, which is average for the class.  The hatchback model has 15 cubic feet of room behind its rear seats and a maximum space of 49.8 cubic feet with the rear seats folded. That is one of the highest cargo capacities for a hatchback in the class.  
2017 Rio Length and Weight
The Kia Rio sedan is around 14.3 feet long, while hatchback models are around 13.3 feet long. The Rio has a curb weight ranging from 2,494 pounds in the base trim with the manual transmission to 2,732 pounds in the hatchback SX trim.
Where Was the 2017 Kia Rio Built?
The 2017 Kia Rio was built in Mexico.
Read the full 2017 Kia Rio review on U.S. News & World Report for more details, photos, specs and prices.
More from U.S. News & World Report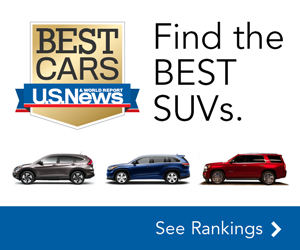 US News & World Report - Cars