2017 Chevrolet Spark: What You Need to Know

US News & World Report - Cars
8/8/2018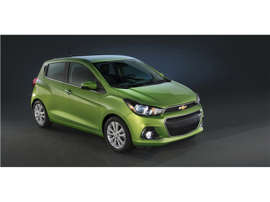 The 2017 Chevrolet Spark sits in the bottom third of subcompact car class. It has a lackluster four-cylinder base engine, an interior with few standard creature comforts, and limited cargo space.
Is the 2017 Chevrolet Spark a Good Used Car?
The 2017 Chevy Spark is just an average used subcompact car. Most rivals offer more power, better handling, and cushier interiors. Not all is horrible, however. The Spark's engine may be weak, but it delivers good fuel economy. This small Chevy also has an above-average predicted reliability rating. Inside, the Spark features a nice selection of standard technology, including Apple CarPlay and Android Auto.
Why You Can Trust Us
We do not base our used car rankings and reviews on our personal opinions. Instead, we collect information like safety and reliability reports, total cost of ownership estimates, and the views of the automotive press. We analyzed 15 professional evaluations for this 2017 Chevrolet Spark review to help you make an informed buying decision.
Our experienced team of writers, editors, and analysts has been ranking and reviewing the best cars, trucks, crossovers, and SUVs since 2007. We remain unbiased by refusing pricey gifts and trips from auto manufacturers and employing an independent agency to manage the advertising on our site.
How Much Is the 2017 Chevrolet Spark?
There just over 20 listings on our site for the 2017 Chevy Spark. Prices start at $9,800 and top out at $14,900, with the average list price sitting at $11,700. Prices vary depending on the vehicle's condition, mileage, features, and location.
How Much Does the 2017 Chevrolet Spark Cost to Own?
Five-year costs for gas, insurance, maintenance, and repairs for the 2017 Chevrolet Spark are estimated to be $21,722. That's about average for the subcompact car segment.
Is It Better to Buy a Used or New Spark?
The 2018 Chevrolet Spark has a starting price of $13,050, which is about $1,300 more than the average price of a used 2017 Spark. With no significant changes between the two model years, the 2017 model is the smarter choice.
There are no new subcompact cars with a lower starting price than the 2017 Spark's average price. The 2018 Nissan Versa starts at $12,100, but it ranks even lower than the Spark.
Which Model Year of the Chevrolet Spark Is Best?
Chevy redesigned the Spark for 2016, giving it stronger engines, a quieter cabin, and more standard features, including Apple CarPlay and Android Auto. Models from the previous generation are less expensive, but they lack available safety features offered in the 2016 Spark, including forward collision warning, lane departure warning, and blind spot monitoring. For 2017, Chevy discontinued the electric version. If you're going to get a Spark, the 2016 model is the best choice.
How Reliable Is the 2017 Chevrolet Spark?
The 2017 Chevrolet Spark has an above-average predicted reliability rating of 3.5 out of five from J.D. Power.
2017 Chevrolet Spark Recalls
As of this writing, the 2017 Chevrolet Spark has an open recall for an airbag that could cause neck injuries when deployed.
See more information on Chevrolet Spark safety recalls »
Which Used Chevrolet Spark Model Is Right for Me?
The 2017 Spark has four trim levels: LS, 1LT, Activ, and 2LT. The base LS features the Chevrolet MyLink system with a 7-inch touch screen, Android Auto, Apple CarPlay, Bluetooth, and a USB port. However, the 1LT trim level should satisfy most shoppers. It adds power windows, power locks, remote keyless entry, cruise control, a six-speaker audio system, satellite radio, and steering wheel-mounted controls for phone, audio, and cruise.
For more features, consider the Active and 2LT trims. The new-for-2017 Activ trim has leatherette upholstery, heated front seats, a leather-wrapped steering wheel, roof rails, and a unique front grille and rear fascia. The 2LT has push-button start, rear parking sensors, and a driver information center with an enhanced monochromatic display.
Certified Pre-Owned Chevrolet Spark Warranty
Even with its above-average predicted reliability, you may want to consider a certified pre-owned Spark. For its certified pre-owned vehicles, Chevy extends the original new-car powertrain warranty to six years or 100,000 miles and provides a one-year/12,000-mile bumper-to-bumper limited warranty. Chevrolet CPO vehicles must pass a 172-point inspection. Additional benefits like towing and roadside assistance may be available, so read Chevy's warranty page carefully.
According to our analysis, Chevrolet offers one of the best CPO programs among nonluxury manufacturers.
How Safe Is the Spark?
The Insurance Institute for Highway Safety gave the 2017 Spark the highest rating of Good in the moderate overlap front and side crash tests, which were the only two test conducted. The National Highway Traffic Safety Administration did not crash test the Spark.
A rearview camera comes standard. Rear parking sensors comes in the top 2LT trim level, which is available with forward collision alert and lane departure warning.
2017 Chevrolet Spark Versus the Competition
Which Is Better: 2017 Chevrolet Spark or 2017 Ford Fiesta?
The 2017 Ford Fiesta is the better vehicle than the Spark. Available as a sedan or hatchback, the Fiesta offers a wide range of engines – some deliver great fuel economy, and others offer great performance – and it delivers a comfortable ride and agile handling. The quality interior is stocked with advanced technology. The Fiesta's one downside is its below-average predicted reliability rating.
Which Is Better: 2017 Chevrolet Spark or 2017 Kia Rio?
Available as a sedan or hatchback, the 2017 Kia Rio has both an upscale interior with plenty of passenger space. The hatchback Rio offers some of the best cargo dimensions in the subcompact car class. Additionally, its 138-horsepower engine is much stronger than the Spark's 98-horsepower engine. Go with the Rio.
2017 Spark Performance
How Does the 2017 Chevrolet Spark Drive?
The front-wheel-drive 2017 Chevrolet Spark rides well over smooth pavement, but you'll definitely feel the bumps over rough roads. The Spark has playful handling, and its small size makes it highly maneuverable.
A 98-horsepower four-cylinder engine powers the Spark. While it lacks muscle, the Spark does have enough power for zipping around town. A five-speed manual gearbox is standard, but a continuously variable automatic transmission (CVT) is available.
Does the 2017 Chevrolet Spark Get Good Gas Mileage?
When equipped with the manual transmission, the 2017 Spark gets an EPA-estimated 29 mpg in the city and 38 mpg on the highway. That's about average for a subcompact car. The CVT-equipped Spark has a rating of 30/38 mpg city/highway, dropping to 30/37 mpg for the Activ trim.
2017 Spark Interior
How Many People Does the 2017 Spark Seat?
The 2017 Spark seats four on standard cloth upholstery. Leatherette upholstery and heated front seats are available. The rigidly upright seats aren't particularly comfortable. The rear row has decent legroom compared with rivals, but taller passengers won't be able to stretch out.
How Many Car Seats Fit in the 2017 Chevrolet Spark?
The Insurance Institute for Highway Safety gave the 2017 Spark's LATCH child-seat system the second-highest rating of Acceptable. The IIHS testers said the Sonic's tether anchors are in hard-to-find locations, and the lower anchors are buried too deeply in the seats.
2017 Chevrolet Spark Features
The 2017 Spark comes with MyLink system and a 7-inch touch screen. Android Auto, Apple CarPlay, a four-speaker audio system, Bluetooth for phone calls and streaming audio, a USB port, and a built-in Wi-Fi hot spot are also standard. Available features include steering wheel-mounted controls for multiple functions, sunroof, satellite radio, and an upgraded six-speaker audio system. Unlike some rivals, the Sonic has plenty of ways to stay connected with your smartphone to play music, take calls, and surf the internet.
2017 Chevrolet Spark Dimensions
Chevrolet Spark Cargo Space
With the rear seats up, the 2017 Spark has 11.1 cubic feet of room. That's one of the lowest totals among hatchbacks. Cargo space jumps to 27.2 cubic feet with the rear seats folded down, but that's still less space than most other hatchbacks offer.
2017 Spark Length and Weight
The 2017 Spark is 11.9 feet long. Its curb weight ranges from 2,246 to 2,312 pounds.
Where Was the 2017 Chevrolet Spark Built?
Chevrolet built the 2017 Spark in South Korea.
Read the full 2017 Chevrolet Spark review on U.S. News & World Report for more details, photos, specs and prices.
More from U.S. News & World Report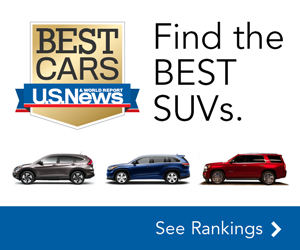 US News & World Report - Cars