2017 GMC Canyon: What You Need to Know

U.S. News & World Report
5/31/2018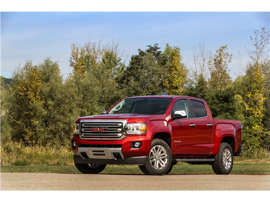 The 2017 GMC Canyon ranks well among tight competition in the small class of compact pickup trucks. It features a commendable balance of everyday performance, comfort, and utility that smaller trucks strive for. 
Is the GMC Canyon a Good Truck?
Overall, the 2017 GMC Canyon is a good truck. It has a lineup of three capable engines, all of which are finely suited to daily driving and provide good power. Two optional engines increase the Canyon's ability. A V6 engine gives you the best payload, while a turbodiesel engine returns excellent gas mileage and the highest towing capacity in the class The Canyon also displays confident handling, good maneuverability, and a relaxed ride quality. The cabin features quality materials, but it's still a truck, so you'll get some hard or rugged-looking plastic surfaces. While passenger room is good overall, the front seats offer questionable comfort. The optional infotainment system functions well and is easy to use, and it benefits from the inclusion of attractive features like Android Auto and Apple CarPlay.
Should I Buy the GMC Canyon?
Compact truck shoppers may immediately notice the 2017 Canyon's low sticker price. At around $21,000, the Canyon looks like a good deal, but there might be an immediate deal breaker: you'll only get two seats. You may be able to live with this if it's just you most of the time, but if you need to upgrade to a more livable four seats, you'll pay around $24,000. That brings the Canyon in line with the Toyota Tacoma, which comes with four seats as standard.
You'll also have to spend thousands more over the MSRP if you want configurations like a five-seat Crew Cab, four-wheel drive, or an optional engine – but that's true of most trucks. Overall, the Canyon remains a solid value if you need a regular light- or medium-duty truck. You can get a very similar truck with the Chevrolet Colorado, which runs a little cheaper than the Canyon and was named our 2017 Best Compact Truck for the Money. Another solid choice for those with more demanding duties is a full-size pickup like the GMC Sierra.
We Did the Research for You: 26 Pieces of Data Analyzed
To help you decide if the 2017 GMC Canyon is a good choice for you, we've taken the hard work out of researching a new car. We've analyzed 26 pieces of data from around the industry and crafted an expert review based on the opinions of professional test drivers, safety and crash test data, reliability ratings, and more.
The Canyon was reintroduced to GMC's lineup for 2015. Apart from the introduction of new engines, it has seen few major changes since then. As a result, this overview includes applicable research and reviews from the 2015 through 2017 model years.
Why You Can Trust Us
Our team of writers and analysts has a combined 75 years of experience in the auto industry, and U.S. News & World Report has been helping consumers make educated car-buying decisions for almost a decade. We are completely impartial in our reviews; any ads you see on the page are handled by an outside source, and we don't accept expensive gifts or trips from car companies.
How Much Does the GMC Canyon Cost?
The 2017 GMC Canyon starts at $20,885, which is on the lower end of the compact pickup truck class. The related Chevrolet Colorado retails for $20,000, while the Toyota Tacoma is in the middle of the class at $24,320. GMC's full-size pickup truck, the Sierra, starts at $28,205.
A 2.4-liter four cylinder engine, rear-wheel drive, and an Extended Cab with a Long Bed are all standard. Other configurations include a five-seat Crew Cab with a Short or Long Bed, four-wheel drive, a 3.6-liter V6 engine, and a 2.8-liter four-cylinder turbodiesel engine. The cheapest Crew Cab model is $26,510 with the base engine and a Short Bed. To get a V6 engine, the least you'll spend is $25,990 on a rear-wheel-drive Extended Cab. If you want a Crew Cab with the Long Bed, all of those models come with at least the V6 engine and start at $31,560. The least you'll pay for a four-wheel-drive model is $28,900 for one with the base engine and Extended Cab. Finally, the diesel engine is only available with Crew Cab models. The cheapest that feature retails for is $36,400.
A Crew Cab Long Box diesel with four-wheel drive starts at $40,425. The price of your Canyon can easily eclipse even that figure if you opt for the highest Denali trim.
Check out our U.S. News Best Price Program for great savings at your local GMC dealer. You can also find excellent manufacturer incentives on our GMC deals page.
GMC Canyon Versus the Competition
Which Is Better: GMC Canyon or Chevrolet Colorado?
The Chevrolet Colorado is also manufactured by General Motors. It shares many features and similarities with the Canyon, and both get high scores across the board. Both trucks have a standard four-cylinder engine, an available V6 engine, and an available turbodiesel engine. That results in the same respectable fuel efficiency, which is especially good with the diesel. The diesel also gives both trucks a class-leading 7,700-pound towing capacity.
Where the Colorado gains an advantage is in price and value. It starts at $20,000 flat, which is just about $900 less than the Canyon. Standard equipment is the same, and quality and accommodations are nearly similar throughout each model's trim lineup. However, as the premium truck and SUV brand of General Motors, GMC offers a luxury version of this truck in the Denali trim. For the most part, though, the Colorado is a better value. That's evident in the Colorado winning our 2017 Best Compact Truck for the Money award, its third successive nod following back-to-back wins in 2015 and 2016. 
For a comprehensive head-to-head comparison, check out Chevrolet Colorado vs. GMC Canyon.
Which Is Better: GMC Canyon or Toyota Tacoma?
The Toyota Tacoma is fairly comparable to the Canyon by most metrics. The Tacoma is the better choice if you're looking for an off-road compact pickup. It has a multitude of available off-roading equipment concentrated in two special trim levels that are tailored to performance. You'll be able to get features like crawl control, an electronic locking rear differential, multiterrain select mode, and skid plates, which aren't available in the Canyon. If you're looking to tow and haul stuff with your truck, the Canyon is the better choice between the two. It has a maximum towing capacity of 7,700 pounds versus the Tacoma's 6,800-pound limit. The Tacoma has the highest payload capacity of the class, but the difference between the two is negligible (about 15 pounds). The Tacoma is also a well-balanced machine for everyday use. It's the only truck in the class to come with a touch-screen infotainment system, though it doesn't feature technology like Android Auto or Apple CarPlay, which you can get in the Canyon. The price difference between the two is negated when you consider that the Tacoma (starting at just over $24,000) comes with standard seating for four, while the base Canyon (starting at $20,885) only has seating for two. The cheapest four-seat Canyon starts at a hair under $24,000.
Which Is Better: GMC Canyon or GMC Sierra?
The GMC Sierra has a similar ranking among full-size pickups as the Sierra does among compact pickups. Your main reason for choosing the Sierra will be if you need "more truck." While the Canyon only offers a choice of two bed sizes (both fairly modest), the Sierra has two larger bed options in addition to an 8-foot Long Bed. A standard V6 and two optional V8 engines give the Sierra plenty of brute force under its hood, and enable it to tow and haul more than its smaller sibling. The Sierra can tow up to 12,500 pounds, a sizable difference from the Canyon's 7,700-pound towing capacity. The Sierra's payload capacity is also about 650 pounds higher than the Canyon's. Naturally, getting more truck will cost you more. The Sierra starts at more than $28,000 and can jump to more than $55,000 with higher trims and extra features. All in all, choosing between the Canyon and Sierra will depend on your needs.
Canyon Interior
How Many People Does the Canyon Seat?
The lowest-priced (aka standard) 2017 GMC Canyon forgoes a back seat and only seats two people. A standard Extended Cab with dual folding rear seats provides seating for up to four, while a Crew Cab includes a second-row bench seat for seating up to five. Seating accommodations are the same in the Chevrolet Colorado, and the Toyota Tacoma holds four or five. The larger GMC Sierra seats three on a bench seat in its standard layout, but it can seat up to six with a larger cab. 
The Canyon's back seat is spacious enough for adults, especially if you opt for the Crew Cab over the regular Extended Cab. The Crew Cab also offers easier access if you routinely carry passengers in the back. It has full-size, independent doors, while Extended Cab models have small suicide doors that can only open if a front door is open.
Canyon and Car Seats
With the Extended Cab and its four seats, the Canyon has two complete LATCH car-seat attachments. If you opt for the Crew Cab, you'll get a top tether anchor on the middle seat. The lower anchors are easy to find and reach, despite the seat cushions being a little stiff. You might have a problem with the tether anchors, though. Like in many pickup trucks, these anchors are behind the rear seats, so you'll have to fold the seats to access the connection points.
Canyon Interior Quality
The Canyon may look rugged on the outside, but inside it's comfortable enough to be a daily driver. GMC outfits the compact pickup with quality materials, like standard vinyl seating. While not as premium as some leatherette upholsteries, it still serves to distinguish the Canyon, given the truck's low price. There are understandably some hard plastic surfaces, but overall, the cabin has an attractive design and is more modern than some rivals' interiors.
Canyon Cargo Space
The 2017 GMC Canyon comes standard with a 6-foot-2-inch bed in Extended Cab configurations. Crew Cab Canyons can be bought with a 5-foot-2-inch bed or the 6-foot-2-inch bed. The Canyon's bed is easy to access thanks to a built-in step on the rear bumper. You can also opt for an available EZ Lift-and-Lower tailgate, which allows you to open the tailgate with one hand.
Interior storage space is excellent. There's plenty of small-item storage space, such as a large center console opening, and the rear seats can fold to create a sizable cargo area.
Canyon Infotainment, Bluetooth, and Navigation
The base Canyon comes with a small 4.2-inch display screen for its audio information. New for 2017 is an optional 7-inch display screen for GM's IntelliLink interface, and higher Canyon trims come with an 8-inch screen. To get a touch-screen infotainment system, you'll have to upgrade at least one trim above the base model – and in that case you'll still have to purchase it as an option.
The IntelliLink system earns praise for its clear layout of large virtual icons and quick processing times. Those who are intimidated by technology will be glad to know that the Canyon also has plenty of big physical buttons for common controls, and they're all clearly labeled and organized on the dashboard.
Another attractive aspect of IntelliLink is the inclusion of Android Auto and Apple CarPlay. These features allow you to pair your smartphone to the infotainment system and access your familiar daily apps, contacts, messaging, and media. The touch screen mimics the appearance of your phone screen, with recognizable icons. For more information, read What Is Apple CarPlay? and What Is Android Auto? Then, see the Best Cars With Apple CarPlay and Best Cars With Android Auto.
Canyon Performance
Canyon Engine: Different Sizes, Similar Capabilities
GMC gives you the choice of three different engines with the Canyon. The standard power plant is a 2.5-liter four-cylinder that puts out 200 horsepower and 191 pound-feet of torque. This engine is perfectly adequate for daily driving and most tasks that you would expect of a truck (outside of towing). Acceleration is strong, and you shouldn't want for power. This model also comes standard with a six-speed manual transmission, though a six-speed automatic is available.
Another choice is a 3.6-liter V6 engine, which GMC modified for 2017 to be more powerful. GMC also introduced a new eight-speed automatic transmission to go along with it. At 308 horsepower and 275 pound-feet of torque, the V6 is the most powerful engine in the class – a distinction the Canyon shares with the Chevrolet Colorado and its identical engine.
Depending on your needs, you may be drawn to the 2.8-liter four-cylinder turbodiesel engine. It produces just 181 horsepower, but its 369 pound-feet of torque makes it the perfect fit for towing and other demanding duties. It's also excellent on gas mileage.
Canyon Gas Mileage: Excellent With the Diesel
Most trucks in the Canyon's class have pretty comparable fuel economy. The Canyon is right in line; it gets 19 mpg in the city and 26 mpg on the highway. Going with the automatic transmission adds 1 mpg in the city. The optional V6 engine is much more powerful, yet you'll barely sacrifice any efficiency. It gets 18 mpg in the city and 25 on the highway.
The Canyon's turbodiesel engine delivers the most efficiency, with 22/30 mpg city/highway. These are excellent estimates for a compact pickup. However, you actually won't save any money on fuel by going with this engine. The EPA estimates that yearly gas costs will be the same between the standard and diesel engines, probably because the average price of diesel fuel is higher than that of regular gasoline.
With its standard four-cylinder engine, the Toyota Tacoma gets 19/23 mpg city/highway – slightly lower than the Canyon. By contrast, the GMC Sierra comes with a standard V6 that gets 18/24 mpg city/highway – very similar to the Canyon's V6.
Canyon Ride and Handling: Smooth and Steady
The GMC Canyon offers traditional truck capabilities, but it's pleasant to live with day to day as well. Its ride quality is comfortable, easily traversing bumps or jarring shocks in the road. The suspension is soft enough that it rides steadily on the highway for long distances, and maneuverability is also good for a pickup truck. The Canyon exhibits solidly weighted steering as you would expect, but it moves around corners with surprising agility.
Canyon Off-Road Performance
The 2017 Canyon comes standard with rear-wheel drive, but four-wheel drive is available. GMC also offers some extra off-road goodies for certain four-wheel-drive Canyons. You can get an off-road suspension, hill descent control, a transfer case shield, and all-terrain tires. 
However, it's hard to match the Toyota Tacoma's off-road abilities. The Tacoma has 9.4 inches of ground clearance in contrast to the Canyon's 8.3 inches, and the Canyon's front bumper gives it a smaller approach angle than the Tacoma. For serious off-road enthusiasts, the Tacoma is available in special TRD (Toyota Racing Development) Off-Road and TRD Pro models, which add features like crawl control, an electronic locking rear differential, off-road tires, multiterrain select mode, skid plates, and off-road shock absorbers. 
For a closer look at trucks that are ready to go off the beaten path, check out the 9 Best Off-Road Trucks.
Canyon Towing Capacity
If you plan on towing, you'll want to skip the base engine and opt for either the V6 or the turbodiesel. The Canyon's midrange engine can haul up to 7,000 pounds, while the diesel gives the Canyon (and the Chevrolet Colorado) the highest tow capacity in the class at 7,700 pounds. Canyons with the four-cylinder engine can only drag around 3,500 pounds.
Outside of heavy-duty applications, 7,000-plus pounds of towing capacity should be enough for most shoppers. You can easily tow most regular-sized boats, like pontoons or 25-foot speedboats, along with many kinds of trailers. Full-size pickups have much larger capacities. For example, the GMC Sierra can tow up to 12,500 pounds. You'll need a truck like that if you have a larger boat, a big camper trailer, or work equipment or machinery.
The base Canyon has a payload capacity of 1,424 pounds. Upgrading to the V6 engine delivers a maximum capacity of 1,605 pounds, while turbodiesel models can haul up to 1,508 pounds. In the class, the Toyota Tacoma's maximum payload capacity of 1,620 pounds slightly beats out the Canyon's capabilities. The Chevrolet Colorado can haul up to 1,574 pounds. It should be no surprise that the full-sizeGMC Sierra outperforms compact pickups when it comes to cargo. The Sierra is available with a 6-foot-6-inch Standard Box, a 5-foot-8-inch Short Box, and an 8-foot Long Box. It has a maximum payload capacity of 2,250 pounds.
For more information, read How Much Truck Do You Really Need?
Canyon Reliability
Is the GMC Canyon Reliable?
According to J.D. Power and Associates, the 2017 GMC Canyon earns a predicted reliability rating of 3.5 out of five. That indicates above-average dependability. The Chevrolet Colorado also scores a 3.5 out of five, but the Toyota Tacoma scores a 2.5. The GMC Sierra beats them all with a score of four out of five. For more information on dependable trucks, check out The Most Reliable New Trucks on the Market.
GMC Canyon Warranty
GMC backs the 2017 Canyon with a three-year/36,000-mile basic warranty and a five-year/60,000-mile powertrain warranty. You'll get the same coverage with the Colorado, Sierra, and Tacoma.
Canyon Safety
Canyon Crash Test Results
The 2017 Canyon gets an overall rating of four out of five stars from the National Highway Traffic Safety Administration. Specifically, it earns four stars in the frontal crash test and three stars in the rollover assessment. In its lone test at the Insurance Institute for Highway Safety, the Canyon scores Good (the highest rating possible) in the moderate overlap front crash.
The Canyon's fraternal twin, the Chevrolet Colorado, gets the same crash test results from both the NHTSA and IIHS. The Toyota Tacoma scores Good in the IIHS moderate front crash test and the side impact test. The NHTSA awards the Tacoma a four-star overall rating, with four stars in the frontal crash and rollover tests.
The 2017 GMC Sierra scores better in crash testing than its smaller competitors. It earns a five-star overall rating from the NHTSA, with four stars in the rollover test. The Sierra also underwent all five IIHS assessments, and it scores Good in four of them. There's a little discrepancy in one test, though, depending on the cab configuration of the Sierra. The small overlap front test simulates when the front corner of the vehicle strikes a skinny object like a tree or telephone pole. In this test, the Sierra Extended Cab scores an Acceptable rating, while the Sierra Crew Cab only receives a rating of Marginal.
Canyon Safety Features
The standard Canyon comes with few features overall, but it does include safety equipment like a rearview camera. GM's Teen Driver technology is newly standard for 2017. This feature allows you to set speed alerts and limits for the audio system's volume when another person, like your teenage son or daughter, is driving the vehicle. You can also prevent music from playing at all until all seat belts are fastened. At the end of their drive, you'll receive a report card detailing things like how many times the speed limit was exceeded and whether other advanced safety features needed to kick in. As fellow products of General Motors, the Chevrolet Colorado and GMC Sierra come standard with Teen Driver as well. The Toyota Tacoma only has a standard rearview camera.
Which GMC Canyon Model Is Right for Me?
There are many different ways to outfit a 2017 GMC Canyon: you can choose between a four-seat Extended Cab with a Long Box or a five-seat Crew Cab with a Short or Long Box. The Short Box is 5 feet, 2 inches, while the Long Box is 6 feet, 2 inches. Rear-wheel drive is standard, and four-wheel drive is available. There are also three different engine options, though availability varies by configuration: a 2.5-liter four-cylinder engine is standard, and a 3.6-liter V6 and 2.8-liter turbodiesel four-cylinder are optional. Trim levels include the Canyon SL, Canyon, Canyon SLE, Canyon SLT, and Denali.
Unless you're on a very tight budget or just need a bare-bones work truck, you'll want to skip the base SL trim, which can only seat two people. The best value is the Canyon trim, which gives you access to upgrades like the Crew Cab configuration, four-wheel drive, and the V6 engine – though none of these add-ons are essential for basic everyday use. You'll definitely want to spring for the touch-screen infotainment system, though; it's a steal at only $375.
GMC Canyon SL
The base Canyon SL starts at $20,885. This trim is only available with the four-cylinder engine, rear-wheel drive, a six-speed manual transmission, and an Extended Cab. It has no rear seat. Standard features include vinyl seating, a four-way power-adjustable driver's seat, a six-speaker audio system, a USB port, a rearview camera, a 4.2-inch display screen, and the Teen Driver management system. There are few major optional features available with this model, but you can get Bluetooth for $399.
GMC Canyon
The Canyon trim starts at $23,955, and you'll have to spend at least that if you want a Crew Cab model, four-wheel drive, the V6 engine, or an automatic transmission. Standard features are the same as the base model, but there are some very affordable option packages available. For $590, the Convenience package includes cruise control and an EZ Lift-and-Lower tailgate. Other packages cost several hundred dollars and add features like a rubber bed mat, assist step running boards, cargo tie-downs, and a bed divider. You can also get a 7-inch touch-screen infotainment system for just $375, which includes voice command activation, Bluetooth, Android Auto, Apple CarPlay, and two USB ports.
GMC Canyon SLE
The Canyon SLE costs $27,950 and comes with cloth seating, four USB ports, an 8-inch touch-screen infotainment system, satellite radio, a 4G Wi-Fi hot spot, a leather-wrapped steering wheel, cruise control, a multicolor driver information display, and an EZ Lift-and-Lower tailgate. Option packages include the $575 Convenience package, which comes with automatic climate control and remote start, and the $395 Driver Alert package, which has forward collision warning and lane departure warning.
Four-wheel-drive models can be outfitted with a $1,475 All Terrain package, which includes an off-road suspension, hill descent control, all-terrain tires, a transfer case shield, and amenities like a power-adjustable passenger seat and heated front seats. The All Terrain X package costs $4,810 and builds on the other All Terrain package with remote start, automatic climate control, a spray-on bedliner, an all-weather floor liner, and off-road step bars.
GMC Canyon SLT
The SLT is the first Canyon trim that comes standard with a V6 engine. Starting at $32,335, the SLT also includes a four-way power-adjustable passenger seat, heated front seats, leather upholstery, automatic climate control, and remote start. An upgraded infotainment system with navigation is available for $495, and a seven-speaker Bose premium sound system is $500.
The Denali trim is only available in a Crew Cab layout starting at $39,055. Features include navigation, a seven-speaker Bose sound system, wireless charging, forward collision warning, lane departure warning, ventilated front seats, a spray-on bedliner, multiple chrome design accents, and a heated, leather-wrapped steering wheel.
Who Makes the GMC Canyon?
GMC is the truck and utility division of the American brand General Motors. The Canyon is very similar to the Chevrolet Colorado, as Chevy is also a division of GM. GM manufactures both trucks at their assembly plant in Wentzville, Missouri. Forty-nine percent of the Canyon's parts are sourced from the United States or Canada, and 22 percent come from Mexico.
Check out our U.S. News Best Price Program for great savings at your local GMC dealer. You can also find excellent manufacturer incentives on our GMC deals page.
The Final Call
The 2017 GMC Canyon is a solid offering among light pickups for its quality interior, strong engines, and impressive towing and payload capacities. It also boasts competitive pricing, making it a smart choice for most shoppers in the class.
Don't just take our word for it. Check out comments from some of the reviews that drive our rankings and analysis.
Read the full 2017 GMC Canyon review on U.S. News & World Report for more details, photos, specs and prices.
More from U.S. News & World Report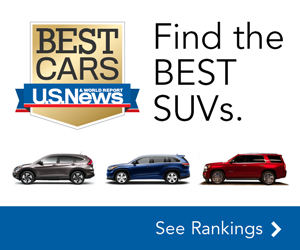 U.S. News & World Report