2017 Nissan Versa: What You Need to Know

US News & World Report - Cars
8/6/2018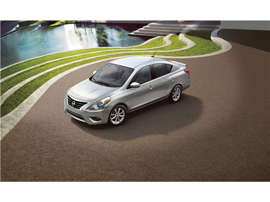 An anemic engine, poor driving dynamics, and bad press result in the 2017 Nissan Versa ranking near the bottom of the subcompact car class.
Is the 2017 Nissan Versa a Good Used Car?
The Nissan Versa is not a very good car. Positives include an above-average predicted reliability rating and low associated ownership costs. The Versa was one of the cheapest cars on the market when it was new, and used prices are even lower now. Still, it gets some of the lowest safety ratings among subcompact cars. It has an underpowered engine, and its handling lacks engagement. Also, features are slim throughout the lineup.
Why You Can Trust Us
We've researched 71 Nissan Versa reviews, as well as hard data points like reliability scores and cost of ownership estimates, to help you make the best car-buying decision possible.
U.S. News & World Report has been ranking cars since 2007, and our team has more than 75 years of automotive industry experience combined. While we're passionate about cars, we're even more committed to providing helpful consumer advice. To ensure our reviews remain impartial, we refuse expensive gifts and trips from car companies, and an outside team handles the advertising on our site.
How Much Is the 2017 Nissan Versa?
Prices for the 2017 Versa range from about $10,000 to about $15,600, with the average price landing around $12,400. This data comes from more than 2,200 listings for the 2017 Versa on our site. Actual prices fluctuate depending on the vehicle's features, mileage, condition, and location.
How Much Does the 2017 Nissan Versa Cost to Own?
The 2017 Versa tends to be slightly more affordable than many of its competitors when it comes to gas, insurance, repair, and maintenance costs. You can expect to pay around $20,500 over five years for these expenses. In comparison, five-year cost estimates for the 2017 Kia Rio are typically around $1,100 more than the Versa's, while the 2017 Chevrolet Spark's costs are about $1,300 higher.
Is It Better to Buy a Used or New Versa?
Nissan made no notable changes to the Versa for 2018. Therefore, you can get a similarly equipped 2017 model or older for less money. The 2018 Nissan Versa starts at $12,110. That's a little lower than the average price of a used 2017 Versa, which takes into account higher trim levels and better-equipped models. You'll probably get more bang for your buck by shopping used.
Currently, the 2018 Nissan Versa is the only new subcompact car with a base price lower than the average price of a used 2017 Versa. However, some classmates have similarly low MSRPs, and they come full of attractive standard features. The 2018 Chevrolet Spark ($13,050) has a standard built-in Wi-Fi hot spot and an infotainment system with support for Android Auto and Apple CarPlay. This Chevy has less than 100 horsepower, but it has nimbler handling than the Versa and is better suited for the city.
Which Versa Year of the Nissan Versa Is Best?
The 2017 Versa is part of a generation that launched for the 2012 model year. Nissan updated the Versa Note's front styling for 2017, and an SV Special Edition package became available for the Versa sedan. You won't miss out on much by shopping for older models, and you can likely save money. For 2015, Nissan added standard Bluetooth and refreshed the Versa's interior and exterior styling.
How Reliable Is the 2017 Nissan Versa?
The 2017 Nissan Versa has an above-average predicted reliability rating of 3.5 out of five from J.D. Power.
2017 Nissan Versa Recalls
At the time of this writing, there are two recalls that apply to the 2017 Versa. Both correct airbag issues that – if left unfixed – could result in the airbag failing to deploy as intended in a crash. Make sure a Nissan dealer has addressed these issues before purchasing a 2017 Versa.
See more information on Nissan Versa safety recalls »
Which Used Nissan Versa Model Is Right for Me?
The 2017 Nissan Versa is available in two body styles: sedan and hatchback (Versa Note). A 109-horsepower four-cylinder engine and front-wheel drive are standard in all models. Transmission choices include a five-speed manual, a four-speed automatic, and an automatic continuously variable transmission (CVT). There are four trim levels: S Plus, SV, SR, and SL.
Skip the base S Plus trim, since it lacks basic features like power locks and windows. You'll find those features and a USB port in the sedan Nissan Versa SV. The Note SV adds a rearview camera and NissanConnect services. The Nissan Versa SV Special Edition (a sedan-only trim) provides a good balance of price and features. It comes with a 5-inch color display, satellite radio, Bluetooth streaming audio, hands-free text messaging, a rearview camera, and a leather-wrapped steering wheel.
Certified Pre-Owned Nissan Versa Warranty
Though it may cost a bit more, a certified pre-owned Versa may suit you better. For its certified pre-owned vehicles, Nissan extends the original new-car warranty to seven years or 100,000 miles. To become certified pre-owned, each vehicle must pass a 167-point inspection. Additional benefits like towing and roadside assistance may be available, so read the Nissan warranty page carefully.
Among nonluxury brands, Nissan's CPO is about average when it comes to coverage and benefits. Chevrolet, Buick, and GMC have some of the most robust programs, while Honda and Toyota also have great programs.
How Safe Is the Versa?
The 2017 Versa has lackluster scores for its class. The National Highway Traffic Safety Administration gave the 2017 Versa sedan four out of five stars in the frontal crash test, while the Versa Note hatchback netted three stars in the same evaluation. Both models received four stars in the NHTSA rollover test. At the Insurance Institute for Highway Safety, the Versa sedan earned the top score of Good in four crash tests. It received the lowest rating of Poor in the driver's side small overlap front test.
A rearview camera is available in the Versa sedan and Note hatchback. In addition, a surround-view camera is available in the Versa Note.
2017 Nissan Versa Versus the Competition
Which Is Better: 2017 Nissan Versa or 2017 Kia Rio?
The 2017 Kia Rio is a much better choice than the Versa. It has decent overall performance, with nicely weighted steering and somewhat agile handling. A 138-horsepower engine is one of the most powerful base engines in the class. Like the Versa, the Rio comes in sedan and hatchback body styles. However, the Rio offers Kia's user-friendly UVO infotainment system, along with upgrades you can't get in the Versa (like leather seats). The Rio also has a slightly higher predicted reliability rating and a slightly lower average price than the Versa. Go for the Rio.
Which Is Better: 2017 Nissan Versa or 2017 Chevrolet Spark?
The 2017 Chevrolet Spark is an OK car, but it's still better than the Sentra. Much of its appeal comes from its long standard features list, which includes a touch-screen infotainment system, Android Auto, Apple CarPlay, and a built-in Wi-Fi hot spot. The Spark disappoints when it comes to cargo space, but it offers sufficient room for passengers. The performance from its 98-horsepower engine is decent, and the Spark nearly matches the Versa for fuel economy. You'll likely pay less for a Spark than for a Versa. Aside from the added cargo space, there's no reason to consider the Nissan over the Spark.
2017 Versa Performance
How Does the 2017 Nissan Versa Drive?
Powering the 2017 Versa is a 1.6-liter four-cylinder engine that produces 109 horsepower. A five-speed manual transmission comes standard. A four-speed automatic and an automatic continuously variable transmission (CVT) are also available. The CVT-equipped Versa groans noisily when you floor it, which you'll have to do any time you want to pass or merge onto the highway. Almost all of the Versa's competitors offer more power. While the soft suspension mitigates the impact of bumps in the road, the Versa has a bland ride. Critics are mixed on steering – some feel it is adequate, while others say it's imprecise.
Does the 2017 Nissan Versa Get Good Gas Mileage?
The Nissan Versa may not be the most fun car to drive, but it should serve you well at the pump. Models equipped with the CVT get some of the best fuel economy estimates in the class: 31 mpg in the city and 39 mpg on the highway. Figures with the five-speed manual are 27/36 mpg city/highway, while the regular four-speed automatic returns 26/35 mpg city/highway.
2017 Versa Interior
How Many People Does the 2017 Versa Seat?
Both the Versa sedan and the Note hatchback seat five. For a subcompact car, the Versa offers plenty of room for front- and rear-seat passengers, though you won't want to carry more than two passengers in the back unless you're in a pinch.
Although interior space is plentiful, the seats aren't very comfortable. That means you won't want to take the Versa on long trips very often. The base trim lacks common conveniences like a driver's armrest and a telescoping steering. However, heated front seats are available.
How Many Car Seats Fit in the 2017 Nissan Versa?
The Versa sedan and Note hatchback have two sets of lower LATCH car-seat connectors in the rear outboard seats. The Insurance Institute for Highway Safety gave the system the second-highest rating of Acceptable for its ease of use. The only complaint is that the lower anchors are too deep in the seat cushions.
2017 Nissan Versa Features
Standard features in the 2017 Versa include a four-speaker stereo and Bluetooth. Available features include power windows and door locks, cruise control, remote keyless entry, a USB port, a 5-inch display screen, satellite radio, voice command activation, navigation, a 5.8-inch touch-screen infotainment system, proximity key entry, push-button start, and a rearview camera. The Versa's gauges are clearly legible, and the audio and climate controls are easily accessible.
2017 Nissan Versa Dimensions
Nissan Versa Cargo Space
The Nissan Versa sedan has one of the largest trunks in its class, measuring 14.9 cubic feet. The Versa Note has average cargo space for a subcompact hatchback, with 18.8 cubic feet of space behind the rear seats. That's enough space for three large pieces of luggage and a couple of carry-on bags. The cargo bay expands to 38.3 cubic feet with the rear seats folded. However, the load floor isn't completely flat when the rear seats are folded down, which can make it difficult to pack cargo.
2017 Versa Length and Weight
From front to back, the Versa sedan measures just under 14.7 feet, and the Note hatchback is about 13.4 feet long. Curb weight values range from 2,390 pounds for a base Versa S sedan with manual transmission to 2,523 pounds for a Versa Note in the SR trim.
Where Was the 2017 Nissan Versa Built?
Nissan built the 2017 Versa in Mexico.
Read the full 2017 Nissan Versa review on U.S. News & World Report for more details, photos, specs and prices.
More from U.S. News & World Report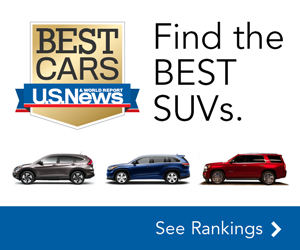 US News & World Report - Cars