2018 BMW 7-Series: What You Need to Know

US News & World Report - Cars
10/25/2018
The 2018 BMW 7 Series sits in the middle of the super luxury car class. It has an elegant and spacious interior with loads of high-tech features, and it offers a wide range of brutish engines and unexpectedly agile handling.
Is the BMW 7 Series a Good Car?
The BMW 7 Series hits the mark in the super luxury car class. The back seat has ample legroom for even the tallest of passengers, and the cabin is awash in the finest materials. Up front, a gesture-controlled infotainment system allows you to raise and lower the volume with a wiggle of your finger. In addition to luxury, drivers are also treated to dynamic handling and muscular turbocharged engines.
Should I Buy the BMW 7 Series?
No matter what you're looking for in a top-of-the-line luxury car, you'll likely find it in the 7 Series. If rear-seat real estate is your primary focus, you'll like the 7 Series' limousine-like experience thanks to lavish back-seat upgrades, a plethora of legroom, and an oversized trunk. The 7 Series is also a fine choice for shoppers prioritizing either a comfort-based ride or an engaging drive. Potent options include an adaptive suspension and engines with up to 601 horsepower.
Still, the 7 Series doesn't quite make it to the top of the class. Though there are few downsides, some rivals are even better overall. The BMW's list of standard safety technology is much shorter than what you'll get with a competitor like the Mercedes-Benz S-Class, and adding most of these features onto the BMW makes it even pricier than the Mercedes. Driving enthusiasts should also consider the Porsche Panamera, which drives more like one of the brand's smaller sports cars than a large luxury sedan.
Should I Buy a New or Used BMW 7 Series?
The 7 Series' current generation began with the 2016 model year, and there have been few changes since. For 2017, BMW introduced a plug-in hybrid model and added all-wheel drive to the base trim. The 2018 model is virtually unchanged from 2017, which means you can score a nearly identical model for potentially thousands of dollars less.
To research some other models in this generation, check out our reviews of the 2016 and 2017 BMW 7 Series. If you decide an older model is right for you, check out our Used Car Deals page for the latest deals and incentives on used cars.
We Did the Research for You: 14 Reviews Analyzed
We analyzed 14 BMW 7 Series reviews – along with safety and reliability ratings, fuel economy estimates, and more – to help you decide if the 2018 7 Series is the right new car for you. This 2018 BMW 7 Series review incorporates applicable research for all model years in this generation, which spans the 2016 through 2018 model years.
Why You Can Trust Us
U.S. News Best Cars has been ranking and reviewing vehicles since 2007, and our team has more than a combined 75 years of experience in the automotive industry. To maintain objectivity, we don't accept incentives or expensive gifts from car companies, and an outside team handles the ads on our site.
How Much Does the BMW 7 Series Cost?
Pricing for the base BMW 740i starts at $83,100, which is in the ballpark of the average price tag for a super luxury car. From there, you can step up to the 750i for $96,400. BMW's xDrive all-wheel drive is available in both trims for $3,000. MSRP for the 740e iPerformance plug-in hybrid starts at $90,700, though you may be able to slim this down if you can take advantage of available federal tax credits.
Prices jump dramatically when you move to the high-performance models. The Alpina B7 xDrive comes with a $138,800 retail price, and the M706i xDrive rings up at $156,700.
Check out our U.S. News Best Price Program for great savings at your local BMW dealer. You can also find excellent manufacturer incentives on our BMW deals page.
BMW 7 Series Versus the Competition
Which Is Better: BMW 7 Series or Mercedes-Benz S-Class?
Anything the 7 Series can do, the Mercedes-Benz S-Class can do better. It comes with loads more standard safety features, and the Benz's base engine is more powerful. However, buying the Bimmer will save you almost $14,000. Also, the 7 Series' infotainment system is easier to use.  
Which Is Better: BMW 7 Series or Porsche Panamera?
Like most models in the Porsche lineup, the Panamera is all about performance. In addition to on-road excellence, this robust, agile luxury sedan is one of the most refined in the class. Both vehicles are excellent choices.
Which Is Better: BMW 7 Series or Audi A8?
The Audi A8 and the 7 Series match up closely in most areas. They have similar starting prices and predicted reliability ratings, and their interior fit and finish are about equal. Both base models have similar horsepower, fuel economy estimates, and standard features. Brand loyalty may play a part in deciding between these two, but they're both worth a look.
7 Series Interior 
How Many People Does the 7 Series Seat?
With its executive-style back seat, the 7 Series holds up to four people. Its front seats give you 14 different power adjustments (20 in upgraded models), making it easy to get cozy. But the back seat is where the magic really happens. Thanks to its long-wheelbase design, you get 44.4 inches of rear-seat legroom, which is far more space than the Lexus LS and Jaguar XJ offer. If you want a more lavish ride, some unexpected options are available for the back seat, such as power-adjustable seats, a power footrest, infotainment controls, and a massage feature.
7 Series and Car Seats
Both back seats have an upper tether anchor and a set of lower anchors, and there's enough room to clip in two car seats at the same time.
7 Series Interior Quality
The quality of materials in this luxury sedan are top-shelf. For no extra cost, you get to choose from five different Dakota leather colors and real wood veneers made of poplar, oak, and chestnut. BMW gives you seemingly endless customization choices, presenting you with a dozen different Nappa and Merino leather options, and trimmings out of Alcantara and anthracite. Bespoke elements like the in-cabin air fragrance system, controls made of black ceramic, and hand-finished wood trim ensure that no one will confuse your 7 Series for a commonplace sedan.
7 Series Cargo Space
Whether you are traveling to the airport for an overseas vacation or hitting the highway for a road trip, you won't have to worry about leaving anything behind. The 7 Series' 18.2-cubic-foot trunk is one of the largest in the class, and the standard power trunk lid makes loading in luggage convenient. Come winter, the cargo pass-through lets you slide in longer objects, so you can take your favorite set of skis to the mountain.
7 Series Infotainment, Bluetooth, and Navigation
Just about any state-of-the-art piece of technology you desire can be had in the 7 Series. Even more importantly, the technology works well. Infotainment settings are controlled using the BMW iDrive interface. While the crisp graphics on the 10.2-inch touch screen are impressive, users will be most pleased with how you operate the system. You can change settings by using the display screen's smartphone-like pinch and swipe gestures, the touchpad controller in between the front seats, or buttons on the steering wheel. The Gesture Control even understands hand movements to turn up the radio or accept a phone call. The system is user-friendly and features entertaining treats like a Wi-Fi hot spot, a navigation system, and a 16-speaker Harman Kardon surround sound system.
7 Series Performance
7 Series Engine: Every Engine Size Imaginable
Five different engines are available for the 2018 7 Series, and you can't go wrong with any of them. They run the full gamut, from a four-cylinder plug-in hybrid powertrain to a V12 powerhouse. Most people will likely look at either the 3.0-liter inline six-cylinder or the 4.4-liter V8 – standard issue for the 740i and 750i trims, respectively. Each pairs with twin turbochargers and an eight-speed automatic transmission. While the V8 is certainly the more muscular of the two, both lay down power with authority. You'll get an even bigger wallop with either the 600-horsepower V8 in the Alpina B7 or the 601-horsepower V12 in the M760i. Both high-performance editions are capable of reaching 60 mph in as little as 3.6 seconds.
7 Series Gas Mileage: Excellent Fuel Economy
Though it's hardly a fuel sipper, the 7 Series is one of the thriftiest super luxury cars. It gets 21 mpg in the city and 29 mpg on the highway with the base engine, which is better fuel economy than the Audi A8, Mercedes-Benz S-Class, and Jaguar XJ. Of course, your fuel savings start to dwindle with the more powerful engines. The V8 in the 750i trim, for example, has a rating of 17 mpg in the city and 25 on the highway.
The 7 Series is also available as a plug-in hybrid – the 740e. With this model, you can drive about 14 miles on all-electric power. You'll get 64 mpg-e when using both the electric motor and the gasoline engine. On gasoline power alone, you'll get a combined 27 mpg.
7 Series Ride and Handling: Agile and Serene
You wouldn't think an extra-long sedan that's pushing 4,200 pounds could be agile, but the 7 Series is. It feels poised in corners and spryer than many other vehicles this size. Many test drivers liken its handling to the Porsche Panamera. All-wheel drive (which BMW titles xDrive) is included in almost every edition and can be added for $3,000 to the rear-wheel-drive 740i and 750i. A well-tuned air suspension system is standard, keeping the ride as smooth as a luxury sedan should be. For more precise suspension adjustments, add the available Active Comfort Drive with Road Preview (part of the Autobahn package). This uses a camera system to read the road ahead, anticipating any needed suspension adjustments before they arise.
7 Series Reliability
Is the BMW 7 Series Reliable?
The 2018 7 Series has a slightly above-average predicted reliability rating of 3.5 out of five, according to J.D. Power.
BMW 7 Series Warranty
The 2018 BMW 7 Series comes with a four-year/50,000-mile warranty. The Audi A8 and Mercedes-Benz S-Class have the same coverage.
7 Series Safety
7 Series Crash Test Results
Super high-end cars like the 7 Series typically don't undergo the same crash test analysis as other passenger cars. The lack of crash test results leaves this BMW with a blank safety score in our rankings, but that is no indication of whether or not this is a safe car.
7 Series Safety Features
A rearview camera and front and rear parking sensors come standard in the 7 Series. Through several packages, BMW also offers a rich array of advanced safety technology. Garnering most of the attention are a handful of self-driving systems. These take over tedious tasks, like small steering adjustments in stop-and-go traffic or navigating into a parallel parking space.
Systems like a surround-view parking camera, a night vision camera, and pedestrian detection will help you keep an eye on all sides of the car. Other available features include a head-up display, adaptive cruise control, forward collision warning, automatic pre-collision braking, pedestrian detection, lane departure warning, blind spot monitoring, and automatic lane keep assist with side collision prevention.
Which BMW 7 Series Model Is Right for Me?
For 2018, you can get the 7 Series sedan in two principal trims (740i and 750i), as a plug-in hybrid (740e), or in two high-end, high-performance versions (Alpina B7 and M760i). Each iteration brings along its own engine and horsepower rating, and all come with either standard or available all-wheel drive. An eight-speed automatic transmission is also standard.
With the midlevel BMW 750i, you can achieve an ideal blend of performance and sumptuousness without having to step up to the pricier Alpina B7 and M760i editions. Its twin-turbocharged V8 engine will thrill most adrenaline junkies. Luxury shoppers who can afford this level of opulence will also favor the higher quality of leather used for the upholstery and the extra adjustments for the front seats.
Two versions of the base 7 Series are available: the rear-wheel-drive 740i ($83,100) and the all-wheel-drive 740i xDrive ($86,100). Under the hood is a 3.0-liter inline six-cylinder engine with a 320-horsepower rating. Standard luxury appointments of the 740i include quad-zone automatic climate control, a panoramic moonroof with power sunshade, leather upholstery, a navigation system, and a 16-speaker Harman Kardon surround sound system.
The 740e ($90,700) swaps out the base powertrain for a 2.0-liter four-cylinder engine and a single electric motor, which make a combined 322 horsepower. Besides the addition of standard all-wheel drive, this plug-in hybrid's features list is almost identical to the 740i's.
Like the entry-level 7 Series, you can get the BMW 750i as either a rear-wheel-drive sedan ($96,400) or an all-wheel-drive 750i xDrive for an extra $3,000. The biggest difference between the 740i and 750i models is the engine. Horsepower ratchets up to 445 with the 750i, which employs a TwinPower 4.4-liter V8 engine. Among the additional goodies added are Nappa leather upholstery, front seats with 20-way power adjustments, and 19-inch wheels.
As you shift to the high-performance 7 Series models, pricing jumps to the six-figure range. The sticker price for the BMW Alpina B7 xDrive starts at $138,800, partly because so few cars will be produced, and partly because much of the car is built by hand. Lavish touches include hand-finished myrtle wood trim, Nappa leather seats with 20-way adjustments and a massage feature for the front seats, and Alpina emblems throughout. Not to be overlooked is the 600-horsepower 4.4-liter V8 engine with twin turbochargers.
The M760i xDrive is the most powerful in the 7 Series lineup, but only by a fraction. Its TwinPower 6.6-liter V12 engine has a 601-horsepower rating. Hallmarks of this trim include power-adjustable rear seats, Apple CarPlay, active park assist, and the renowned M badging. At $156,700, The M760i almost doubles the 7 Series' base price.
Check out our U.S. News Best Price Program for great savings at your local BMW dealer. You can also find excellent manufacturer incentives on our BMW deals page.
The Final Call
The BMW 7 Series is one of the best super luxury cars in its price range, and it competes squarely with even more expensive cars in many ways. Part of its triumph is that this sedan can satiate all travelers. Anyone riding in the executive-style back seat will want to make this their new home office, with a generous amount of legroom and lavish seating upgrades among the best traits. Meanwhile, the driver is treated to dynamic handling, and aided by an array of high-tech infotainment and safety features.
Don't just take our word for it. Check out comments from some of the reviews that drive our rankings and analysis.
Read the full 2018 BMW 7-Series review on U.S. News & World Report for more details, photos, specs and prices.
More from U.S. News & World Report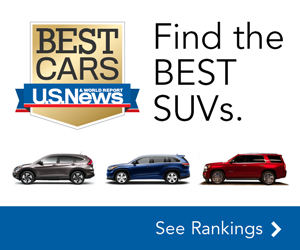 US News & World Report - Cars