2018 FIAT 124 Spider: What You Need to Know

US News & World Report - Cars
9/28/2017
The 2018 Fiat 124 Spider is a refined yet modest two-seat convertible sports car. It's nimble and fun to drive, but its slinky styling deprives you of spacious seats and trunk space. 
The 2018 FIAT 124 Spider is ranked:
Is the Fiat 124 Spider a Good Car?
The 124 Spider is a pretty good sports car, though it falters when it comes to predicted reliability scores for this current generation. It also isn't as muscular as some class competitors, and those in search of unbridled power may be left wanting. What the 124 Spider does offer is spry handling, a peppy engine, and almost instantaneous daylight (thanks to an easy-folding top), which, when taken together, make the 124 Spider a blast to drive.
Should I Buy the Fiat 124 Spider?
With the 124 Spider, Fiat gets back to the basics for svelte sports cars. If you like the look and feel of a slinky roadster – low slung, nimble cornering, wind in your face – you should buy this car. It isn't full of pomp and circumstance; you won't find a cutting-edge infotainment system or exorbitant interior trimmings on the options list. And that's as much of its appeal as its animated (but not brutish) performance. There's a strong family resemblance between the 124 Spider and the Mazda MX-5 Miata, as they were designed conjointly. Of the two, the Fiat feels more like a comfortable touring car, while the MX-5 is a little more playful and a little less polished. Another set of fraternal twins worth considering are the Subaru BRZ and Toyota 86.
We Did the Research for You: 13 Reviews Analyzed
For our comprehensive 2018 Fiat 124 Spider review, we've done the legwork so you don't have to. We evaluated 13 professional reviews and combined those evaluations with details such as performance specs, fuel economy ratings, and cargo space.
Fiat released the 124 Spider as a brand-new vehicle for the 2017 model year. With few changes to the 2018 model, this overview includes applicable data and reviews from the 2017 and 2018 model years.
Why You Can Trust Us
U.S. News & World Report has been a trusted news source for more than 80 years. Since 2007, we've also been a reliable resource for car shoppers, ranking and reviewing cars, trucks, and SUVs. Each year, we also issue our annual Best Cars for the Money and Best Cars for Families awards.
How Much Does the Fiat 124 Spider Cost?
With a sticker price that falls just under $25,000, the Fiat 124 Spider is one of the least expensive sports cars you can buy. Pricing for the base Classica convertible starts at $24,995. The 124 Spider is also available as the swankier Lusso ($27,595) and the sportier Abarth ($28,295). For great savings at your local Fiat deal, check out our U.S. News Best Price Program.
Fiat 124 Spider Versus the Competition
Which Is Better: Fiat 124 Spider or Mazda MX-5 Miata?
The few advantages the Fiat 124 Spider has over the Mazda MX-5 Miata include a slightly larger trunk and a turbocharged engine that cranks out 5 more horsepower. From there, the distinctions are largely subjective, though most test drivers agree that the 124 Spider is a better touring car (thanks to its quieter ride and cushier seats), while the MX-5 Miata has more spirited performance.
Which Is Better: Fiat 124 Spider or Subaru BRZ?
Like the 124 Spider, the Subaru BRZ favors agility over muscle. It's a good option if you like the sleek exterior and nimble handling associated with this style of car. The BRZ comes only with a fixed roof and features a larger trunk. It also has a back seat, which means there's room for up to four people in this Subaru.
124 Spider Interior
How Many People Does the 124 Spider Seat?
The 124 Spider has seating for two people. Passenger space is in short supply, with the car's low stance and engine placement leaving little room for tall people to lean back and stretch out. Alongside a Mazda MX-5 Miata, the Fiat is quieter, and its seats have more cushioning, making it the better of the two for all-day driving.
124 Spider and Car Seats
No LATCH hardware comes in the 124 Spider. There is enough room in the solitary passenger seat for a child safety seat, and you can turn off the passenger-side airbag. However, safety experts don't recommend installing a car seat in the front of any vehicle.
124 Spider Interior Quality
The 124 Spider's cabin has a lot in common with the MX-5 Miata's, including a similar infotainment system and identical buttons and knobs. Between the two, the Fiat feels more upscale inside. Its enhanced sound insulation means the 124 Spider also offers a quieter ride.
124 Spider Cargo Space
On paper, the 124 Spider's 4.9-cubic-foot trunk may not seem like much of a gain over the Mazda MX-5 Miata's 4.6-cubic-foot trunk. In reality, though, this extra real estate means you can pack just a little more for your road trip.
124 Spider Infotainment, Bluetooth, and Navigation
If you've recently spent time in a Mazda MX-5 Miata, you'll feel right at home in the 124 Spider. The infotainment system is basically the same, with either a 3- or 7-inch display screen. Fiat also uses the same layout for the redundant controls, with buttons and knobs that are clearly marked but not always easy to reach. The standard sound system (which includes Bluetooth) and its accompanying speakers are rudimentary. The available nine-speaker Bose sound system has better sound (and is worth the extra cost), but the optional navigation system is only fair. Even with the upgraded infotainment system, goodies like Apple CarPlay are not available.
124 Spider Performance
124 Spider Engine: Exciting, but Not Beastly
It's not really fair to compare a 124 Spider with sports car rivals like the Ford Mustang or Chevrolet Camaro (two other models in our sports car rankings). These two relish delivering raw power, while the Fiat leans toward the energy and litheness of a bantamweight boxer. The 124 Spider's turbocharged four-cylinder engine takes a moment to get going, but it's plenty peppy once it does. There's no risk of waking the neighbors with its quiet exhaust. If you want a more satisfying exhaust note, go with the Spider Abarth, which emits a nice rumble from its quad chrome tips. The optional six-speed automatic transmission is a good pick if you don't like shifting, though most driving enthusiasts will want to stick with the enjoyable six-speed manual transmission.
124 Spider Gas Mileage: Sporty Fuel Sipper
One advantage to the 124 Spider's elfin engine is fuel economy. It's rating of 26 mpg in the city and 35 mpg on the highway is better than what you get with most other sports cars, thanks to the Fiat's four-cylinder engine and low curb weight.
124 Spider Ride and Handling: Nimble and Light
Much of the thrill of driving a 124 Spider comes from its agile handling and lightweight platform. It has a smoother ride and less body roll than a MX-5 Miata, though its suspension still produces some lean. Abarth models have a sport suspension system that enhances handling, and options like Brembo performance brakes can be added.
124 Spider Reliability
Is the 124 Spider Reliable?
J.D. Power has not yet released a predicted reliability rating for the 2018 Fiat 124 Spider. The nearly identical 2017 model, received a score of two out of five, which is the lowest rating a car can receive and one of the lowest scores among sports cars. Rivals like the Ford Mustang and Toyota 86 are expected to be much more reliable.
Fiat 124 Spider Warranty
Fiat covers the 124 Spider with a four-year/50,000-mile limited warranty and a four-year/50,000-mile powertrain warranty.
124 Spider Safety
124 Spider Crash Test Results
Neither the Insurance Institute for Highway Safety nor the National Highway Traffic Safety Administration performs crash tests on the 124 Spider, which is typical for low-volume vehicles.
124 Spider Safety Features
No advanced safety features come standard in the 124 Spider, which is normal for a sports car. Driver assistance features such as a rearview camera, rear parking sensors, adaptive headlights, blind spot monitoring, and rear cross traffic monitoring are available.
Which Fiat 124 Spider Model Is Right for Me?
The 124 Spider is a front-engine convertible sports car with two seats and a manually folding soft top. Choose from three trim levels – Classica, Lusso, and Abarth – and one or two available packages. All editions come with a turbocharged 1.4-liter engine (though Abarth models have a higher horsepower rating) and a six-speed manual transmission. A six-speed automatic is available.
Most shoppers will find the extra amenities in the Spider Lusso appealing and worth the $2,600 increase over the base Spider Classica. The Lusso trim steps up the luxury (the leather upholstery and heated front seats also make your ride more comfortable) and the technology (a 7-inch infotainment display and a rearview camera are among the additions).
Fiat 124 Spider Classica
The Spider Classica starts at $24,995 and comes with cloth upholstery, manually adjustable seats, a leather-wrapped shift knob and steering wheel, and push-button start. Its infotainment system includes a 3-inch display and Bluetooth.
Fiat 124 Spider Lusso
Leather upholstery, heated seats, automatic climate control, and a proximity key are added to the $27,595 Spider Lusso. Its upgraded technology includes a 7-inch infotainment display, a rearview camera, and rear parking sensors.
Fiat 124 Spider Abarth
The Spider Abarth has a more athletic flair, as evidenced by its sport seats, performance-tuned suspension with Sport mode selector, and higher horsepower rating. A few options – including a Brembo brake package and Recaro leather-trimmed seats – are exclusive to this $28,295 trim.
Check out our U.S. News Best Price Program for great savings at your local Fiat dealer.
The Final Call
Much of the beauty of the 2018 Fiat 124 Spider is its simplicity. Its elegant and clean styling is European-like, and its technology falls on the minimalistic side; the soft top even opens by hand, lowering in seconds. In short, everything gets out of your way so you can become one with the road and sky. You get a tad more comfort and refinement than you would with a Mazda MX-5 Miata. You don't get the brute power that cars like the Ford Mustang bring to the table, but if you prefer lithe handling to off-the-line acceleration, you'll find plenty of joy driving the 124 Spider.
Don't just take our word for it. Check out comments from some of the reviews that drive our rankings and analysis.
Read the full 2018 FIAT 124 Spider reviewon U.S. News & World Report for more details, photos, specs and prices.
More from U.S. News & World Report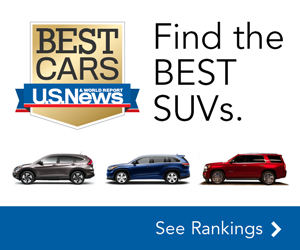 US News & World Report - Cars