2018 FIAT 500L: What You Need to Know

US News & World Report - Cars
11/26/2018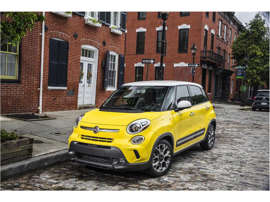 The 2018 Fiat 500L sits at the bottom of our rankings because it falls far behind its classmates in terms of safety, performance, and interior quality.
Is the Fiat 500L a Good Car?
The Fiat 500L is not a good car. The 500L has a jittery ride, anemic engine performance, few advanced safety features, and it trails the competition in fuel efficiency. Though its interior looks OK, it's not very well-built. There are a few redeeming qualities, such as the 500L's user-friendly infotainment system and high cargo capacity, but ultimately these positives can't outweigh the negatives.
Should I Buy the Fiat 500L?
We wouldn't recommend buying this car. There are far better wagon and hatchback alternatives, including the Kia Soul and Volkswagen Golf SportWagen.
Should I Buy a New or Used Fiat 500L?
The Fiat 500L sees a few notable upgrades for 2018, including a refreshed exterior and interior design. There are also a few new standard features, including a rearview camera (previously optional), a touch-screen infotainment system, Android Auto, and Apple CarPlay. You may be able to save money with a used model, but know that older models won't have all of these features. On the other hand, if you want a 500L with a manual transmission, you'll have to stick to the 2014 through 2016 models – it was dropped from the options list in 2017.
To research some other models in this generation, check out our reviews of the 2015, 2016, and 2017 Fiat 500L. If you decide an older model is right for you, check out our Used Car Deals page to learn about savings and discounts on used vehicles.
We Did the Research for You: 28 Reviews Analyzed
We don't base our car reviews on our personal opinions. Instead, we combine the findings of professional test drivers with data such as reliability ratings and safety scores to give you a complete overview of every vehicle we rank. This 2018 Fiat 500L review incorporates applicable research for all models in this generation, which spans the 2014 through 2018 model years.
Why You Can Trust Us
U.S. News & World Report has been ranking the best cars, trucks, and SUVs since 2007, and our staff has more than 75 years' worth of auto industry experience combined. To keep our reviews unbiased, we don't accept expensive gifts or trips from car companies, and an outside company manages our advertising.
How Much Does the Fiat 500L Cost?
The Fiat 500L's starting price is just shy of $21,000. That's lower than the starting price of every other wagon. There are three trim levels, but even the highest trim – which starts at around $24,000 – costs less than the base trims of many class rivals.
Check out our U.S. News Best Price Program for great savings at your local Fiat dealer.
Fiat 500L Versus the Competition
Which Is Better: Fiat 500L or Fiat 500X?
The Fiat 500X is a subcompact SUV that has much in common with the 500L in terms of styling and utility. The X has a lower base price and fewer standard features than the L, but when they're similarly equipped, the X ends up costing more. Both models have the same lackluster base engine, but the X is available with a more powerful optional engine. You can also get all-wheel drive in the X, but not in the L. Overall, the 500X is a better pick due to the availability of a stronger engine and all-wheel drive.
Which Is Better: Fiat 500L or Mini Countryman?
The Mini Countryman is a better choice than the 500L for most drivers. Its starting price is a few thousand dollars higher than the 500L's, but the Mini's higher level of refinement is worth it. The Countryman is an athletic subcompact SUV that's plenty of fun to drive, and its cabin is full of mostly upscale materials. It's offered with all-wheel drive, and its available turbocharged engines provide better muscle as well. That said, the 500L has more cargo space and an easier-to-use infotainment system.
500L Interior
How Many People Does the 500L Seat?
The 500L is a five-seat wagon. It provides plenty of space for adult passengers in both rows, and the large doors make it easy to get in and out of the car. The seats aren't that supportive, though, and finding a comfortable driving position is a challenge.
500L and Car Seats
There are two full sets of LATCH car-seat connectors in the 500L. The anchors are generally easy to find, but you may have to slide the front seats far forward to fit some car seats.
500L Interior Quality
Most people expect a certain amount of style and panache when they climb into an Italian vehicle. The 500L certainly has an attractive interior, but it feels somewhat cheap because there are too many hard plastics and not enough high-quality materials.
500L Cargo Space
With all seats in use, the 500L has more than 22 cubic feet of room. That's a solid total – enough space for several pieces of luggage or the family golden retriever – but still less than some wagons provide. Fold the rear seats, and the 500L's 68 cubic feet of room is one of the best totals in the class.
500L Infotainment, Bluetooth, and Navigation
The 500L comes standard with a six-speaker audio system, Bluetooth, a USB port, and Fiat's Uconnect infotainment system with a 7-inch touch screen, Apple CarPlay, and Android Auto. Optional equipment includes a six-speaker Beats audio system, satellite radio, a dual-pane panoramic sunroof, and an upgraded Uconnect infotainment system with navigation.
Many class rivals have longer features lists than the 500L, but the features it provides are easy to use. That includes the Uconnect infotainment system, which has an easy-to-master interface and includes helpful connectivity features like Apple CarPlay and Android Auto.
For more information, read What Is Apple CarPlay? and What Is Android Auto? Then, see the Best Cars With Apple CarPlay and Best Cars With Android Auto.
500L Performance
500L Engine: Wait for It…
The 500L comes with a turbocharged four-cylinder engine that provides 160 horsepower. The engine offers ample passing power at higher speeds, but it feels underpowered at lower speeds due to noticeable turbo lag from a stop.
500L Gas Mileage: Another Bummer
The 500L gets 22 mpg in the city and 30 mpg on the highway, which are below-average numbers for the class. To make matters worse, the 500L requires premium gasoline.
500L Ride and Handling: Slow and Unsteady
Even for a wagon, the 500L feels a bit stodgy. This Fiat exhibits plenty of body lean if you take turns too quickly, and it doesn't make up for its clumsy handling by providing a smooth ride. You'll feel most of the bumps and road imperfections you drive over.
500L Reliability
Is the Fiat 500L Reliable?
The 2018 500L has an above-average predicted reliability rating of 3.5 out of five from J.D. Power.
Fiat 500L Warranty
Fiat covers the 500L with a four-year/50,000-mile limited warranty. Many cars in the class have similar warranty terms.
500L Safety
500L Crash Test Results
The 2018 Fiat 500L earns the Insurance Institute for Highway Safety's lowest possible score of Poor in its small overlap front crash test. However, it received a top score of Good in all other areas tested.
500L Safety Features
This Fiat comes standard with a rearview camera, and rear parking sensors are available. Many wagons offer more advanced driver assistance features than the 500L.
Which Fiat 500L Model Is Right for Me?
There are three Fiat 500L trims, all of which feature a 160-horsepower turbo-four engine, a six-speed automatic transmission, and front-wheel drive. Choosing the right trim really comes down to personal preference. The lowest and highest trims' prices are separated by less than $3,000, and almost every notable feature is offered in each trim. There are a few styling touches that differ between trim levels, but that's about it.
The 500L Pop has a base price of $20,995. Standard features include a rearview camera, a six-speaker audio system, Bluetooth, a USB port, and the Uconnect infotainment system with a 7-inch touch screen, Apple CarPlay, and Android Auto.
There are two option packages. The Convenience Group ($795) adds dual-zone automatic climate control and rear parking sensors. The Premium package ($1,795) adds the Convenience Group's features as well as a Beats audio system, satellite radio, and navigation.
The 500L Trekking has a starting price of $23,325. The Trekking trim comes with leather seats, heated front seats, a Beats audio system, satellite radio, and an upgraded Uconnect system with navigation. You can add the Convenience Group to this trim also.
The 500L Lounge starts at $23,895. The Lounge trim comes with almost every feature you can get in a 500L, including dual-zone automatic climate control and rear parking sensors. Because everything comes standard, there are no option packages for the Lounge.
Check out our U.S. News Best Price Program for great savings at your local Fiat dealer.
The Final Call
The 2018 Fiat 500L finishes near the bottom of our wagon rankings, and deservedly so. It falls short of the vast majority of class rivals in several areas, and its few positive traits don't overcome its many negatives. There are better wagon options out there.
Don't just take our word for it. Check out comments from some of the reviews that drive our rankings and analysis.
Read the full 2018 FIAT 500L review on U.S. News & World Report for more details, photos, specs and prices.
More from U.S. News & World Report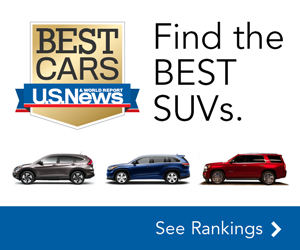 US News & World Report - Cars