2018 Honda Ridgeline: What You Need to Know

US News & World Report - Cars
6/8/2018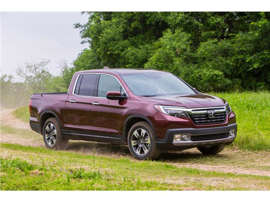 The 2018 Honda Ridgeline has a versatile bed, a smooth ride, and one of the nicest interiors in its class. Its well-rounded appeal results in the Ridgeline outranking nearly all other compact pickups. 
Is the Honda Ridgeline a Good Truck?
The Honda Ridgeline is an excellent truck, but it's not the most traditional. It can't tow as much as some rivals, but its standard V6 engine delivers strong acceleration and has adequate hauling capabilities. The Ridgeline also boasts one of the smoothest rides in the class. Inside, its cabin materials are more upscale than in other compact trucks, and two rows of spacious seats provide lots of passenger comfort. The Ridgeline stands out with numerous available tech features and other cool amenities, like in-bed speakers, a household power outlet, and a trunk with a drain plug. 
Should I Buy the Honda Ridgeline?
The Honda Ridgeline should be on your list of compact pickups, unless you need maximum off-road or towing capability. It has plenty of engine power, solid driving dynamics, and an elegant interior. All that comes at a price, however: The Ridgeline's MSRP is significantly higher than the rest of the class, so it's not a great choice for truck buyers on a limited budget.
If you're looking for a more straightforward truck that will also save you money, consider the Chevrolet Colorado or the Toyota Tacoma. Both vehicles can tow and haul more than the Ridgeline, and they cost thousands of dollars less. While the Colorado's interior quality stacks up fairly well against the Ridgeline's, the Tacoma is the best off-road truck in the class. Either of these rivals could be a good alternative to the Ridgeline, especially if utility and price are important factors.
Should I Buy a New or Used Honda Ridgeline?
Honda reintroduced the Ridgeline for the 2017 model year. The 2018 model is virtually identical to the 2017, though Honda did eliminate the RTS trim. Still, Ridgeline shoppers can potentially save some money by buying used. If you're interested in a used model, be sure to visit our overview of the 2017 Honda Ridgeline. Also, check out our Used Car Deals page to learn about savings and discounts on used vehicles.
We Did the Research for You: 26 Reviews Analyzed
We analyzed 26 Honda Ridgeline reviews – along with safety and reliability ratings, fuel economy estimates, and more – to help you decide if the 2018 Ridgeline is the right new car for you.
This overview uses applicable research and data from each year of the truck's current generation, which spans the 2017 and 2018 model years.
Why You Can Trust Us
U.S. News Best Cars has been ranking cars, trucks, and SUVs since 2007, and we have more than 75 years of combined experience in the automotive industry. To ensure our objectivity, our editorial staff doesn't accept expensive gifts or trips from automakers, and a third party handles all advertising on our site.
How Much Does the Honda Ridgeline Cost?
The Ridgeline's MSRP of nearly $30,000 is the highest in the compact pickup segment – by a lot. There are several higher Ridgeline trim levels as well. If you want a lot of features, you'll need to step up to the RTL, RTL-T, or RTL-E trims, which have prices of around $34,000 to $42,000. There's also the range-topping Black Edition, which starts at more than $43,000. Keep in mind that the base Ridgeline comes better equipped than the base models of most rivals. When competitors are similarly equipped to a base Ridgeline, their prices are much closer.
Check out our U.S. News Best Price Program for great savings at your local Honda dealer. You can also find excellent manufacturer incentives on our Honda deals page.
Honda Ridgeline Versus the Competition
Which Is Better: Honda Ridgeline or Toyota Tacoma?
The Ridgeline delivers a great ride on paved roads, but if you're looking for an off-roading pickup, it's hard to top the Toyota Tacoma. Otherwise, the choice between these two depends on your other priorities. With a base price that's about $5,000 less than the Ridgeline's, the Tacoma comes standard with a touch-screen infotainment system, which is an option in the Honda. While the Ridgeline has a smoother ride and a nicer interior than the Tacoma, the Toyota has better towing and hauling capacities. 
Which Is Better: Honda Ridgeline or Chevrolet Colorado?
The Chevrolet Colorado has a lower MSRP than the Ridgeline by about $10,000, and it's much better suited for hauling and towing purposes. The Colorado offers both four-cylinder and diesel engines, in contrast to the Ridgeline's lone V6. Still, the Chevy's diesel engine is the only powertrain option that gets better fuel economy than the Ridgeline. In terms of interior quality, these rivals are about equal. Chevy's infotainment system is more user friendly than the Ridgeline's, but the Honda offers more features that are better overall. Whether you're planning to use a truck primarily as a daily driver rather than a serious workhorse, the Ridgeline's comfortable ride and versatile bed will serve you well. However, if you're on a budget or want better hauling and towing ability, go with a Colorado. 
Which Is Better: Honda Ridgeline or Nissan Frontier?
The Nissan Frontier is the least expensive pickup truck in the class, but it earns a bottom-of-the-barrel ranking. Towing is about the only thing the Frontier is better at than the Ridgeline. Aside from that, the Ridgeline has more engine power, better fuel efficiency, and a higher maximum payload. It also has a calm ride, a much nicer interior, and a longer list of available features. The Ridgeline is an all-around better vehicle than the Frontier, and it's well worth the extra money.
Ridgeline Performance
Ridgeline Engine: Punchy and Quick
The Ridgeline features a 280-horsepower V6 engine mated to a six-speed automatic transmission. Acceleration is good around town and at highway speeds, and the transmission works well with the V6.
Ridgeline Gas Mileage: As Efficient As Any (Except a Diesel)
The Honda Ridgeline gets 19 mpg in the city and 26 mpg on the highway, which are slightly better estimates than most V6-equipped rivals get. However, they lag behind the ratings of rivals' turbodiesel engines.
Compared to the Chevy Colorado's V6, you'll spend about $200 less on fuel each year with the Ridgeline. However, the Colorado's turbodiesel engine will save you about $50 per year compared to the Honda's V6.
Ridgeline Ride and Handling: Like Riding on Air
While other trucks come standard with rear-wheel drive and offer four-wheel drive, the Ridgeline comes with front-wheel drive and offers all-wheel drive. It rides like a car or crossover SUV, and its ride is the smoothest in the class. Even large bumps in the road are absorbed with ease, since the Ridgeline eschews the tough body-on-frame construction of other trucks. Additionally, this front-wheel Honda has good carlike agility on winding roads.
Ridgeline Off-Road Performance
The Ridgeline has all-wheel drive instead of four-wheel drive, but it does just fine away from the pavement. It rides comfortably over uneven terrain, and it offers an Intelligent Traction Management system that lets you select a drive mode to match the terrain you're on.
Ridgeline Towing Capacity
The Ridgeline can tow up to 5,000 pounds and haul up to 1,580 pounds. Though this Honda isn't as capable as class rivals, it still has ample power to easily pull a small boat or ATV. But take note that the Ridgeline's ride quality deteriorates while loaded up (most trucks ride more smoothly while towing and hauling).
Ridgeline Interior
How Many People Does the Ridgeline Seat?
The Ridgeline features a five-seat crew cab that's among the roomiest in the class. Both rows of seats have plenty of space even for tall riders, and the front seats remain supportive even on long drives.
Ridgeline and Car Seats
There are three full sets of LATCH car-seat connectors. The lower anchors are set a little too deep in the seat, and the tether anchors are hard to find. Once you figure out where the anchor points are, however, the Ridgeline's LATCH system is relatively easy to use.
Ridgeline Interior Quality
This Honda's cabin leaves little to complain about. It's well-designed, well-appointed, and quiet, and it's arguably the nicest interior in the class.
Ridgeline Cargo Space
The Ridgeline has plenty of interior storage space and several unique bed features. The bed is wide enough to fit 4-foot-wide items between the wheel wells, there's a dual-action tailgate, and there's an in-bed trunk (with a drain in case you want to use the trunk as a cooler at a tailgate). Inside, there's enough room under the rear seats for a set of golf clubs, and the rear seats flip up to provide space for larger items like a television or a mountain bike.
Ridgeline Infotainment, Bluetooth, and Navigation
The Ridgeline's standard features include push-button start and a seven-speaker audio system with a USB port, Bluetooth, and a 5-inch center stack display screen. Available features include satellite radio, a moonroof, a truck-bed audio system, and a HondaLink infotainment system with an 8-inch touch screen, navigation, Android Auto, Apple CarPlay, Pandora compatibility, and Siri Eyes Free.
While the many available features – including the smartphone connectivity options – are nice, the infotainment system can be frustrating. The touch screen has a leg up on many others because you can operate it while wearing gloves, but that doesn't make the confusing interface any easier to use.
For more information, read What Is Apple CarPlay? and What Is Android Auto? Then, see the Best Cars With Apple CarPlay and Best Cars With Android Auto.
Ridgeline Reliability
Is the Honda Ridgeline Reliable?
The 2018 Ridgeline has an above-average predicted reliability rating of four out of five from J.D. Power.
Honda Ridgeline Warranty
Honda covers the Ridgeline with a three-year/36,000-mile warranty and a five-year/60,000-mile powertrain warranty. Other compact trucks have similar warranties.
Ridgeline Safety
Ridgeline Crash Test Results
The 2018 Honda Ridgeline received a perfect five-star overall crash test rating from the National Highway Traffic Safety Administration. The truck also aced every individual crash test at the Insurance Institute for Highway Safety, which named it a 2018 IIHS Top Safety Pick. 
Ridgeline Safety Features
A rearview camera comes standard in this Honda. Available active safety features include Honda LaneWatch (a blind spot camera), blind spot monitoring, rear cross traffic alert, front and rear parking sensors, and the Honda Sensing suite of driver assistance technologies, which includes collision mitigation braking, lane departure warning, forward collision warning, lane keep assist, road departure mitigation, and adaptive cruise control.
Which Honda Ridgeline Model Is Right for Me?
The 2018 Honda Ridgeline has six trims. All models come with a five-seat crew cab, a V6 engine, and an automatic transmission. As you'll see below, the higher trims offer considerably more features than the lower trims, but, as you'd expect, they also cost more.
The RTL is the best choice if you want a few nice features without spending too much money. If your budget is more flexible, then the RTL-E is a great choice. It comes with almost every feature you can get in a Ridgeline, including many driver assistance features not found in class rivals.
The Ridgeline RT is the base trim, and it has a starting MSRP of $29,990. The RT offers little beyond the standard features, and it's the only Ridgeline trim not available with all-wheel drive. However, you can add rear parking sensors for $500 and a CD player for $310.
Honda Ridgeline Sport
The Ridgeline Sport starts at $33,390. In addition to the base features, the Sport comes with tri-zone automatic climate control and remote engine start. You can add rear parking sensors and a CD player for the same price as in the RT. The Sport also lets you add a heated steering wheel for $500 and all-wheel drive for $1,900.
Honda Ridgeline RTL
The Ridgeline RTL has a starting MSRP of $34,870. The RTL comes with leather upholstery, heated front seats, and a power-adjustable driver's seat. It has the same available features as the lower trims.
Honda Ridgeline RTL-E
The Ridgeline RTL-E starts at $41,920. It comes standard with plenty of features not found in the lower trims, including standard all-wheel drive, an in-bed audio system, satellite radio, navigation, Apple CarPlay, Android Auto, an 8-inch infotainment touch screen, a moonroof, lane keep assist, adaptive cruise control, blind spot monitoring, a heated steering wheel, and more.
In between the RTL and RTL-E lies the Ridgeline RTL-T, which starts at $37,000. As you might guess, it has more features than the RTL but isn't as well-equipped as the RTL-E.
Honda Ridgeline Black Edition
The Ridgeline Black Edition tops the lineup. It has a starting price of $43,420 and comes with the same features as the RTL-E trim. However, the Black Edition offers styling touches like black edition exterior trim, black alloy wheels, and special edition leather seats that are unavailable in other trims.
Check out our U.S. News Best Price Program for great savings at your local Honda dealer. You can also find excellent manufacturer incentives on our Honda deals page.
The Final Call
The 2018 Honda Ridgeline ranks among the elite compact pickup trucks, and it's easy to see why. This truck has a powerful-yet-efficient V6 engine, a spacious cabin, and plenty of available tech features. It also leads the pack in terms of interior quality, ride quality, and bed versatility. This isn't a perfect vehicle, but it checks just about every box you'd want in a compact pickup truck.
Don't just take our word for it. Check out comments from some of the reviews that drive our rankings and analysis.
Read the full 2018 Honda Ridgeline review on U.S. News & World Report for more details, photos, specs and prices.
More from U.S. News & World Report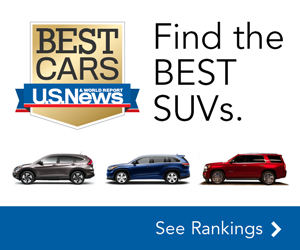 US News & World Report - Cars