2018 Nissan Leaf: What You Need to Know

US News & World Report - Cars
2/1/2019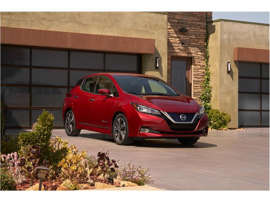 The fully-redesigned all-electric 2018 Nissan Leaf adds horsepower, new technology, and an extended range that make it more attractive than the previous generation. However, the Leaf sits in the bottom third of its class due in part to its bland styling and unexciting performance. 
Is the Nissan Leaf a Good Car?
The 2018 Leaf is a good car that improves upon the previous generation. It has plenty of cargo space, and it's easy to drive, with quick pickup and solid handling. It also has an excellent range (151 miles). In fact, it beats out rivals like the Volkswagen e-Golf, Kia Soul EV, and Hyundai Ioniq.
Should I Buy the Nissan Leaf?
You may want to crunch a few numbers before you purchase a 2018 Nissan Leaf. The Leaf is among the priciest vehicles in the compact car class, but this EV has an available tax credit of up to $7,500. If you qualify for this, you could wind up spending less than the price of a Toyota Prius. For more information on how this electric car tax credit works, click here.
Other crucial factors to consider are range and charging. On a single charge, the Leaf can go 151 miles, which is sufficient for the average commuter. A 120-volt connection takes a long time to charge the Leaf, but an available Quick Charge package reduces that time to as little as 40 minutes. Still, if you would like an EV that you can take on an occasional road trip, you may want to find a vehicle with a lengthier range. For example, the Chevrolet Bolt EV has one of the longest electric ranges out there (238 miles on a single charge).
Should I Buy a New or Used Nissan Leaf?
The 2018 Nissan Leaf marks the start of a new generation, which means that previous models are significantly different. For 2018, Nissan adds 40 horsepower to the Leaf's electric motor, totaling 147 horsepower. In addition, its all-electric range has increased from 107 miles to 151 miles. The 2018 Leaf also has more driver assistance features, like a standard rearview camera and automatic emergency braking. There's also a ton of optional advanced safety features – such as a 360-degree camera system, rear cross traffic alert, and blind spot monitoring – that you can't get in earlier models.
If you decide you can do without these upgrades and prefer to save money by purchasing from the previous generation, visit our Used Car Deals page to learn about savings and discounts on used vehicles.
We Did the Research for You: 17 Reviews Analyzed
Our goal is to make shopping for your next car as easy as possible. You'll find everything you need to know about the Leaf in our comprehensive overview. It combines concrete data (like range estimates and cargo space dimensions) with 17 professional Nissan Leaf reviews.
Why You Can Trust Us
At U.S. News & World Report, we rank the Best Jobs, Best Hospitals, and Best Colleges to guide readers through some of life's most complicated decisions. We've been writing car reviews since 2007, backed by a team with more than 75 years of combined automotive experience. To keep favoritism out of the picture, we maintain a separate advertising team and decline expensive gifts and trips from car companies.
How Much Does the Nissan Leaf Cost?
For 2018, prices for a new Nissan Leaf start at $29,990. That's one of the lowest MSRPs for a battery electric car; rivals like the Chevy Bolt EV and Tesla Model 3 will take a bigger bite out of your wallet. Some shoppers may also be eligible for federal, state, or local tax credits available for electric vehicles.  
Check out our U.S. News Best Price Program for great savings at your local Nissan dealer. You can also find excellent manufacturer incentives on our Nissan deals page.
Nissan Leaf Versus the Competition
Which Is Better: Nissan Leaf or Chevrolet Bolt EV?
The Chevrolet Bolt EV sits near the top of both our compact car rankings and our list of the best hybrid and electric cars. The Bolt EV has better acceleration and more athletic handling than the Leaf. Its longer driving range (238 miles) allows for more frequent road trips. The Bolt EV also comes standard with Android Auto and Apple CarPlay (optional in the Leaf). However, the Bolt EV costs a lot more than the Leaf. Even with the available tax credit, it costs around $30,000 ($37,495 without), which is close to the price of the Leaf without its available $7,500 tax credit. Still, if you can swing the higher price, choose the Bolt EV.
Which Is Better: Nissan Leaf or Hyundai Ioniq?
You can get the Hyundai Ioniq in three different versions: battery electric, hybrid, and plug-in hybrid. Though the Ioniq Electric's all-electric range (124 miles) is shorter than the Leaf's, it's a more well-rounded vehicle. With a lengthier new car warranty, more standard features (such as Apple CarPlay), and a roomier back seat, the Ioniq is the winner here.
Which Is Better: Nissan Leaf or BMW i3?
Opting for the luxury BMW i3 over the non-luxury Leaf will cost you nearly $15,000 more. However, the BMW gives you a high-grade interior fit with eco-friendly materials and more standard features. That said, you can add a rich array of optional features to the Nissan, including high-tech safety features and an enhanced audio system. Additionally, the Leaf has a longer all-electric range. For most shoppers, the Leaf is the better choice.
Leaf Interior
How Many People Does the Leaf Seat?
You can seat five people inside the Leaf – just note the middle passenger in the back will have to straddle a hump in the floor. The cushioning and amount of space are pleasant in both rows, even for larger travelers. However, you'll get more rear legroom with a Chevrolet Bolt EV or Hyundai Ioniq Electric.
Leaf and Car Seats
The Leaf has a full set of LATCH child-seat connectors in both outboard rear seats and an upper tether in the middle seat. The Insurance Institute for Highway Safety gave the system a Marginal rating (the second-lowest possible) for its ease of use. The lower anchors are set too deep in the seat and can be confused with other hardware.
Leaf Interior Quality
The Leaf's cabin is agreeable, but quite basic. With so much attention paid to the battery and range – and the need to keep prices low – styling and materials come up short. The interior features lower-grade materials like hard plastics, lacks a telescoping steering wheel, and only has one USB port.
Leaf Cargo Space
The Leaf is a great choice if you plan to frequently fill up the cargo area. This hatchback has 23.6 cubic feet of cargo space in the back – one of the largest in our compact car rankings. Folding down the 60/40-split rear seats will get you 30 cubic feet of space.
Leaf Infotainment, Bluetooth, and Navigation
The 2018 Leaf comes standard with Bluetooth, satellite radio, and a 5-inch color display. Niceties like Apple CarPlay, Android Auto, a larger infotainment screen, and navigation are also available. For more information, read What Is Apple CarPlay? and What Is Android Auto? Then, see the Best Cars With Apple CarPlay and Best Cars With Android Auto.
Still, what most people are buzzing about is the optional ProPilot Assist. This semiautonomous system can keep you in your lane and manage the throttle and brakes, even in stop-and-go traffic. Another "wow" feature is linked to the upgraded infotainment system; it lets you charge the battery, monitor your car's charging status, and turn on the climate control system from your phone.
Leaf Performance
Leaf Engine: Energetic EV
Acceleration rates see a marked improvement with the new Leaf generation. Whether you are taking off from a stop or need extra oomph to overtake a slower vehicle, the Leaf feels lively. This is partly thanks to its 147-horsepower electric motor, which is more powerful than the previous model's. Heavy-footed drivers should keep in mind that even though you can have a spirited jaunt in the Leaf, these escapades will deplete the lithium-ion battery pack faster and shorten expected range.
Leaf Gas Mileage: Very Efficient
For 2018, the Nissan Leaf can drive approximately 151 miles on a single charge. That's a longer range than the BMW i3 or Volkswagen e-Golf offers. The Leaf also gets an EPA-estimated 112 mpg-e, which is good for an all-electric vehicle. Recharging the Leaf's lithium-ion battery pack takes 35 hours at 110 volts, or 7.5 hours at 220 volts. 
Leaf Ride and Handling: Livelier Than Before
Nissan has also successfully improved the way the front-wheel-drive Leaf handles. With steering that's more responsive and a suspension system that does a better job of controlling body movements, the 2018 Leaf feels more engaging to drive. All models come with the all-new e-Pedal – Nissan-speak for the throttle. When you ease up on the acceleration pedal, the regenerative brake slows the car, effectively allowing for one-pedal driving.
Leaf Reliability
Is the Nissan Leaf Reliable?
The 2018 Leaf has a predicted reliability rating of three out of five from J.D. Power. That is average for the auto industry as a whole.
Nissan Leaf Warranty
Nissan covers the Leaf with a three-year/36,000-mile limited warranty, a five-year/60,000-mile powertrain and electric vehicle system warranty, and an eight-year/100,000-mile lithium-ion battery warranty.
Leaf Safety
Leaf Crash Test Results
The Insurance Institute for Highway Safety gave the 2018 Leaf a Good rating (the best possible) for its rear crash test. As of this writing, the National Highway Traffic Safety Administration has not evaluated the Leaf.
Leaf Safety Features
A rearview camera and automatic emergency braking come standard in the 2018 Leaf. ProPilot Assist – a semiautonomous system that can steer, accelerate, and brake for you – is available through add-on packages. Additional available safety features include adaptive cruise control, an Around View Monitor, a blind spot monitoring system, rear cross traffic alert, a driver drowsiness monitor, automatic high beams, lane keep assist, and pedestrian detection added to the automatic emergency braking system.
Which Nissan Leaf Model Is Right for Me?
Every Leaf model comes with the same electric motor and battery pack, and Nissan offers no options to increase your power or range. When it comes to interior amenities and advanced safety features, shoppers can choose from three trim levels (S, SV, and the range-topping SL), and a handful of packages are available.
The entry-level Leaf S is outfitted with essentials like Bluetooth, a rearview camera, and satellite radio. If you want an infotainment system that can do much more, we recommend stepping up to the Leaf SV. Its interface expands entertainment options significantly by connecting with many apps on your smartphone (via Android Auto and Apple CarPlay). Treats like a navigation system, adaptive cruise control, and voice-activated commands also add a dose of convenience.
The base Leaf S ($29,990) comes with a 5-inch infotainment display, four speakers, Bluetooth, satellite radio, a proximity key, push-button start, a rearview camera, and automatic emergency braking.
Additional standard features in the $32,490 Leaf SV include the NissanConnect infotainment interface, a 7-inch infotainment display, navigation, Apple CarPlay, Android Auto, six speakers, HD Radio, voice-activated commands, and adaptive cruise control.
Leather seats are included in the top-of-the-line Leaf SL ($36,200), as are heated front seats, an eight-way power driver's seat, a 7-speaker Bose premium audio system, an Around View Monitor, a blind spot monitoring system, rear cross traffic alert, and a driver drowsiness monitor.
Check out our U.S. News Best Price Program for great savings at your local Nissan dealer. You can also find excellent manufacturer incentives on our Nissan deals page.
The Final Call
The all-new generation of the Nissan Leaf may look much like the original, but this electric car is noticeably improved for the 2018 model year. Nissan expanded the range to roughly 150 miles, which means you can drive the Leaf farther than most other EVs. With its performance improvements, spacious cargo area, and comfortable cabin, the Leaf is also suitable for daily use.
Don't just take our word for it. Check out comments from some of the reviews that drive our rankings and analysis.
Read the full 2018 Nissan Leaf review on U.S. News & World Report for more details, photos, specs and prices.
More from U.S. News & World Report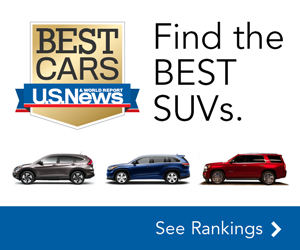 US News & World Report - Cars