2019 Buick Cascada: What You Need to Know

US News & World Report - Cars
8/9/2018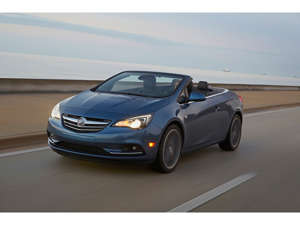 The 2019 Buick Cascada underwhelms on many fronts, which is why you'll find it near the bottom of our luxury small car rankings. Nearly every class rival is more athletic and more upscale.
The 2019 Buick Cascada is ranked:
Is the Buick Cascada a Good Car?
No, the Buick Cascada isn't that good of a car, especially compared to the competition. The Cascada's engine fails to impress and gets poor fuel economy. The ride grades out all right – this is best thought of as a cruising car – but handling leaves plenty of room for improvement. Speaking of needing improvement, the interior feels low-rent compared to rivals, the seats lack support, and the technology is outdated.
Should I Buy the Buick Cascada?
No, you should not buy the Cascada. There are nearly two dozen vehicles in our luxury small car rankings, and this Buick trails almost all of them. Nearly every competitor brings more to the table than this car. Better options include class rivals like the Audi A5 and even nonluxury competitors like the Ford Mustang and Chevrolet Camaro.
Should I Buy a New or Used Buick Cascada?
The 2019 Cascada is part of a generation that began with the vehicle's U.S. debut for the 2016 model year. There are no changes for 2019. The 2018 model saw navigation become a standard feature, and a Sport Touring trim was added for 2017. Otherwise, the Buick Cascada remains mostly unchanged.
You can save money and get a very similar car by shopping for an older Cascada. Visit our overviews of the 2017 Buick Cascada and 2018 Buick Cascada if you're interested in a used model. Also, check out our Used Car Deals page to learn about savings and discounts on used vehicles.
We Did the Research for You: 21 Reviews Analyzed
Our car reviews include everything you need to know before heading to the dealership. We combine the opinions of the automotive press with quantifiable data like crash test results and reliability ratings to form a complete picture of every vehicle we rank.
This review uses applicable research and data from all model years of the current Cascada generation, which runs from 2016 to 2019.
Why You Can Trust Us
U.S. News Best Cars has been ranking vehicles since 2007, and our team has more than 75 years of combined experience in the automotive industry. Our car reviews are objective. To keep them that way, our editorial staff doesn't accept expensive gifts or trips from automakers, and a third party handles all the advertising on our site.
How Much Does the Buick Cascada Cost?
The Cascada's base price is just above $33,000, making it one of the least expensive cars in the luxury small car class. There are two higher trims, but even the top Sport Touring trim (starting at around $37,000) is less than the base price of some rivals.
Check out our U.S. News Best Price Program for great savings at your local Buick dealer. You can also find excellent manufacturer incentives on our Buick deals page.
Buick Cascada Versus the Competition
Which Is Better: Buick Cascada or Audi A5?
The Audi A5 finishes near the top of our luxury small car rankings, and it's superior to the Cascada in virtually every way. It's more powerful, more agile, and more fuel-efficient. While the Cascada doesn't feel that luxurious inside, the A5 features arguably the nicest cabin in the class. The Audi's seats are more comfortable and supportive than the Buick's, and the German sedan offers more infotainment and driver assistance features. The Cascada's only advantages are that it offers a bit more cargo space and costs much less than the A5 convertible (the A5 Cabriolet starts at around $50,000). Still, the Audi is worth the extra money.
Which Is Better: Buick Cascada or Ford Mustang?
Though the Ford Mustang is a sports car and the Cascada is listed as a luxury car, the Mustang features arguably the more upscale interior. The Ford offers more tech features and has more-comfortable seats, though its rear seats are borderline unusable. Performance-wise, there's no comparison, as the Mustang blows the doors off the Cascada. To top it off, the entry price for a Mustang convertible is about $1,700 less than the Buick.
Which Is Better: Buick Cascada or Chevrolet Camaro?
Like its long-time rival, the Mustang, the Chevrolet Camaro is a sports car through and through. It features an attractive cabin, though it feels a bit more utilitarian than the Cascada's cabin. The Camaro offers comfortable seats and more trunk space than the Cascada, though the Buick has more usable rear seats. The Camaro is the hands-down winner in every aspect of performance, however, and convertible models carry a slightly lower starting price than the Cascada.
Cascada Interior
How Many People Does the Cascada Seat?
The Cascada seats two people up front and two in the back. The front seats are roomy enough for most people, and even the back seats offer a passable amount of legroom. The rear seats are tough to access, however, and all the seats lack enough support to remain comfortable on long drives.
Cascada and Car Seats
There are two full sets of LATCH car-seat connectors.
Cascada Interior Quality
Inside, the Cascada doesn't live up to the standards set by rivals. Not only does it lack the opulent feel of a luxury car, it lacks the build quality as well.
Cascada Cargo Space
Though it provides an average amount of cargo space for the class, many rivals offer more-convenient cargo solutions than the Cascada. Still this Buick gives you more than 13 cubic feet of trunk space with the top up, which is enough room for roughly 10 shopping bags. Put the top down, and space drops to just under 10 cubic feet.
Cascada Infotainment, Bluetooth, and Navigation
This Buick convertible features a power soft top that lowers in just 17 seconds. Standard tech offerings include Buick's IntelliLink infotainment system, a 7-inch touch screen, a Wi-Fi hot spot, navigation, a USB port, Bluetooth, satellite radio, and a seven-speaker audio system.
The Cascada's tech features are a mess from top to bottom. For starters, there are too many physical buttons. The touch screen uses an aging interface and is difficult to reach from the driver's seat. Finally, the Cascada lacks features like Apple CarPlay and Android Auto that you can get in many class rivals.
Cascada Performance
Cascada Engine: Slow Is the New Fast
The Cascada's powertrain doesn't have the energetic feel of many competitors' powertrains. The 200-horsepower turbo-four engine doesn't feel underpowered per se, but it doesn't move the car with any urgency. The six-speed automatic transmission makes things worse, as it always seems to be hunting for the correct gear.
Cascada Gas Mileage: More Disappointment
Nearly every class rival gets better gas mileage than the Cascada, which earns 21 mpg in the city and 29 mpg on the highway. Despite coming with all-wheel drive, the rival Audi A5 will save you about $250 per year in gas money compared to the Cascada.
Cascada Ride and Handling: A Sunday Cruiser
This Buick is definitely a car for a Sunday driver. It isn't nimble or responsive, and there's a lot of body roll on winding roads. The ride is decent for the most part, though you'll feel bumps more often than you should in a luxury car.
Cascada Reliability
Is the Buick Cascada Reliable?
The 2019 Cascada is part of a generation that typically earns a predicted reliability rating of four out of five from J.D. Power. That's a good rating in general (the industry average is three out of five), and it's a better rating than many class rivals earn.
Buick Cascada Warranty
Buick covers the Cascada with a four-year/50,000-mile bumper-to-bumper warranty and a six-year/70,000-mile powertrain warranty.
Cascada Safety
Cascada Crash Test Results
The 2019 Cascada earns a five-out-of-five-star overall crash test rating from the National Highway Traffic Safety Administration.
Cascada Safety Features
The Cascada comes with a rearview camera and rear parking sensors. Front parking sensors, forward collision alert, lane departure warning, and rain-sensing windshield wipers are available.
Which Buick Cascada Model Is Right for Me?
The Cascada comes in three trims: 1SV, Premium, and Sport Touring. Every trim features a 200-horsepower turbo-four engine, a six-speed automatic transmission, and front-wheel drive.
Features-wise, the only extras you get from the higher trims are driver assistance technologies like forward collision alert and lane departure warning, along with access to a broader palette of paint colors. If you can live without those, you'll do just fine sticking with the base 1SV trim. If you do want those extra features, you'll only pay about $3,000 more to jump up to the Premium trim.
The base Cascada 1SV has a base price of $33,070. It comes with leather upholstery, heated front seats, Buick's IntelliLink infotainment system, a 7-inch touch screen, navigation, a USB port, Bluetooth, satellite radio, a seven-speaker audio system, a rearview camera, rear parking sensors, dual-zone automatic climate control, a heated steering wheel, and a Wi-Fi hot spot.
The Cascada Premium starts at $36,070. In addition to the 1SV's features, the Premium comes with front parking sensors, forward collision warning, and lane departure warning.
The Cascada Sport Touring has a starting price of $37,070. Its features list mirrors the Premium's, though the Sport Touring adds sporty upgrades like a flat-bottom steering wheel and alloy sport pedals.
Check out our U.S. News Best Price Program for great savings at your local Buick dealer. You can also find excellent manufacturer incentives on our Buick deals page.
The Final Call
The 2019 Buick Cascada doesn't make a great impression. It feels old, and it lacks the energetic performance and upscale feel of many other luxury small cars. That's why the Cascada finishes near the bottom of our class rankings. Unless you're just looking for a relaxing cruiser and don't mind the outdated technology, you're better off looking at alternatives like the Audi A5, Ford Mustang, or Chevy Camaro.
Don't just take our word for it. Check out comments from some of the reviews that drive our rankings and analysis.
Read the full 2019 Buick Cascada review on U.S. News & World Report for more details, photos, specs and prices.
More from U.S. News & World Report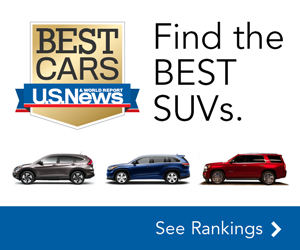 US News & World Report - Cars