Nissan Takes Us By Surprise And Builds Leaf Convertible

motor1
5/25/2018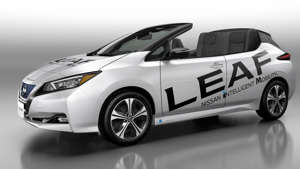 Thankfully, it will remain purely as a one-off affair.
Well, it's safe to say no one saw this coming. As real as yesterday's weird Honda Civic Type R Pickup Truck, the Nissan Leaf Open Car is what happens when you take the electric five-door hatchback and chop off its roof along with the rear doors. Why in the world would Nissan do such a thing? To celebrate a pretty important sales milestone at home in Japan where deliveries of the pure electric hatch have reached the nice round number of 100,000.
Brought to you by the same company behind the hugely controversial Murano CrossCabriolet, the droptop Leaf made its debut today in Tokyo where approximately 100 people got together to talk about setting up a "zero-emissions society." Nissan is being coy on details regarding the targa-styled roof (if it even has one) and about the other changes the hatchback has gone through to become a topless EV.
Check out a much more interesting Leaf-based concept:
Aggressive-Looking Nissan Leaf Nismo Concept Debuts In Tokyo
We do know it will strictly remain a one-off concept as Nissan mentions it does not have any plans of turning the droptop Leaf into a production model - not that people would rush into a dealer to get one anyway…
Aside from being a production hatchback and a conceptual cabriolet, the Leaf is also a sedan (to some extent) when you take into account China is getting a Sylphy Zero Emissions with the Leaf's guts. It was unveiled exactly a month ago at the Beijing Motor Show as Nissan's first electric car made in China for China.
Sooner or later, the Leaf will also have a crossover counterpart in the form of a road-going version of the IMx Kuro concept. An exact date hasn't been provided by the company regarding the model's market launch, but we do know it will be out "in a few years."
Source: Nissan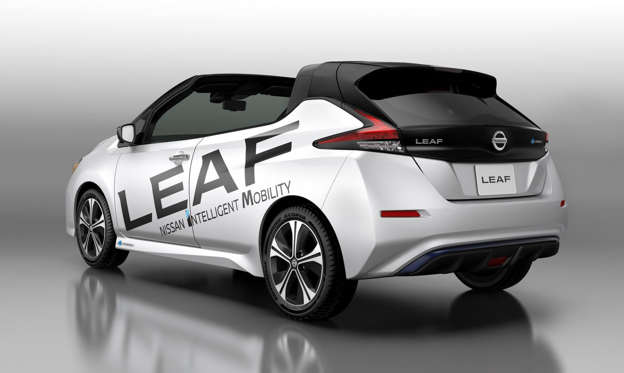 Nissan Leaf Open Car
© Motor1.com