How to Choose the Right Car Tires

Consumer Reports
10/7/2016

Buying car tires is easy. It's finding the right ones for your car that can be difficult.
Research
Get it wrong, and you can hobble your car's performance and its ability to tackle any type of weather.
Since car tires usually need to be replaced every three or four years, here's a refresher course on how to make sure you're getting the right ones.
Most car tires fall into three main types: all-season, summer, and winter. Most people buy all-season tires because it's easier and cheaper than buying one set for the winter and another for summer.
All-season car tires deliver a good, well-rounded performance but are never outstanding in any way. Summer tires deliver on handling and dry/wet braking, but they have dismal snow traction. By contrast, winter tires have outstanding snow traction but just fair braking ability on cleared roads. 
Within each car tire category, there is a range of performance, as our tests routinely remind us. To see the basic differences in tire types, look at the chart below.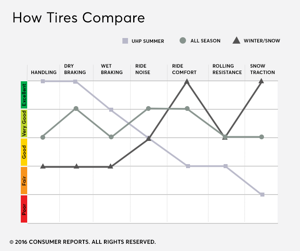 As you can see, no single tire type is outstanding in all conditions.
So how do you find the best tires for your car? Follow these three steps: 
What Size Do You Need?
First, consult your owner's manual or the placard on the driver's side door jamb to find the recommended tire measurements. The label will look something like this: P215/60R16 94T.
The first part of the label—P215/60R16—refers to the tire's various size measurements such as width and diameter. The 94 indicates the load index, which is how much weight each tire can support. Finally, the T is the speed rating, which is the tire's maximum speed in relation to the load index.
You should match the tire's size measurements, but you have some flexibility to go higher with the load index and speed rating.
For more on how to read a tire label, go to our tire buying guide. 
What Type of Tire Do You Need?
Many retail websites will give you a listing of all tires available in your size. But in many cases, you'll need to dig deeper to match the speed rating. The list below can help ID your tire type.
All-season tires come in S- and T-speed ratings. Known for good all-weather grip and long mileage, these are commonly fit to mainstream cars and SUVs.
Performance all-season tires come in H- and V-speed rating on many newer cars, especially those with enthusiast appeal or upgraded wheels. They tend to have better cornering grip than S- and T-speed rated all-season tires, but performance tires may not wear as long.
Ultra-high-performance all-season and summer tires typically come in ZR-, W-, and Y-speed ratings for sports cars and performance sedans. Differentiating between all-season and summer tires can be challenging and may require going to a manufacturer's website to find out the details. One clue to tell them apart: A summer tire would not have an M&S (Mud & Snow) designation on the sidewall.
All-season and all-terrain truck tires naturally come in large sizes and are designed for the hauling and towing duties of light-duty pickups and SUVs. All-terrain tires generally have a more aggressive tread pattern to aid off-road traction. A tip is that many all-terrain tires will have "A/T" or "All Terrain" right in the model name.
Winter/snow tires are easily identified by a mountain and snowflake symbol displayed on the sidewall of the tire. Plus the tread looks busier than all-season tires with lots of slits, known as sipes. When shopping, be sure to buy winter tires in sets of four to optimize braking and handling.
What Are Your Priorities in Selecting a Tire?
Our research shows that people often choose a direct replacement tire when the car is still relatively new. But as the car ages, consumers become more inclined to switch to another model based on performance or price.
If you're looking to make a switch, be sure to check our extensive tire ratings, especially if you're seeking a model with maximum tread life and all-weather grip.
Many manufacturers have websites to help consumers choose the right tire. Online retailers like TireRack.com and Discountiredirect.com have simple-to-use vehicle selectors. Some sites like RightTurn.com go further, giving consumers personalized choices and an all-in-one price including installation at a local retailer.
We have had good success with most online retailers we buy from. But many local tire dealers, big-box stores, and tire-company-owned retailers can offer good deals, too. So shop around once you have made your tire choice.  
More from Consumer Reports:
Best used cars for $25,000 and less
Consumer Reports has no relationship with any advertisers on this website. Copyright © 2006-2016 Consumers Union of U.S.