Fuel Economy and Driving Range

Car and Driver
6/20/2018
Fuel Economy and Driving Range Rating:

The Macan's EPA ratings are very similar to those of its competitors, although a few rivals have better numbers on the highway. The Macan did slightly better than expected in our real-world highway tests.
What's New for 2018?
Since the Macan lineup has the same powertrains and identical EPA estimates, we don't expect its real-world fuel economy to differ. Still, we haven't tested the base engine or the 360-hp GTS on our fuel loop.
2017 Porsche Macan
The Macan's entry-level turbocharged 2.0-liter powertrain earns respectable EPA ratings, but several of its competitors stretch close to the 30-mpg mark, and those may be better choices for fuel-conscious buyers. The twin-turbo 3.0-liter V-6 that powers S and GTS trims is only slightly less efficient than the Macan's smallest engine, despite offering nearly 100 extra horsepower. The V-6 earns the same EPA ratings in tuned-up GTS format as it does in the S trim.
Fuel Economy Ratings Compared, Porsche Macan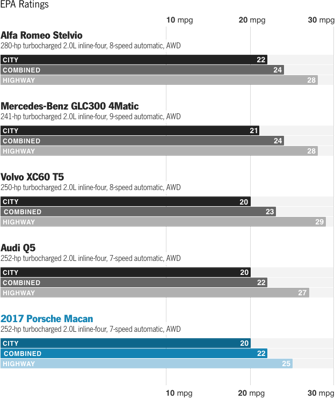 Fuel Economy Ratings Compared, Porsche Macan S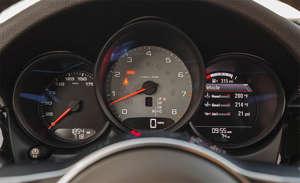 We've devised our own fuel-economy test in an attempt to replicate how most people drive on the highway. Our procedure entails a 200-mile out-and-back loop on Michigan's I-94 highway. We maintain a GPS-verified 75 mph and use the cruise control as much as possible to mimic the way many drivers behave during long trips.
So far, we've only tested a Macan S with its twin-turbo V-6. It outperformed the EPA's rating by 1 mpg, and its large fuel tank means that the Macan S has close to a 500-mile highway cruising range, approaching the range offered by the Audi SQ5, which was much more efficient in our tests.
Test Results: Highway Fuel Economy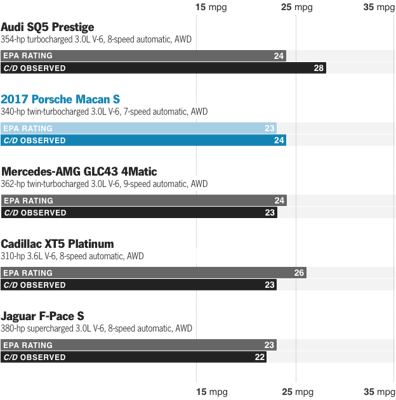 Test Results: Highway Range