Which Brands Make the Best Tires?

Consumer Reports
7/9/2018

When it comes to tire recommendations, there are several go-to brands that regularly rise to the top. To determine how the leaders truly compare, we have calculated a brand score by averaging the overall scores of the tested models (the scale ranges from 0 to 100). This data comes from our extensive tire test program, which provides detailed ratings on 150 tire models from more than 25 brands.
Research
The tires factored into these scores come from all rated categories, including all-season and performance all-season car tires, ultra-high-performance (UHP) all-season and summer tires, all-season and all-terrain truck tires, winter/snow tires for cars and trucks, and performance winter/snow tires.
We have excluded tire brands where we have tested fewer than three tires. The final scores here reveal just how competitive the market is, with scant difference between the leaders. Working through the data is a reminder that although brand perception can be a useful aid, it is more important for you to understand how the tires rank in a given category and to consider how a tire model performs. (Learn how to choose the right tires for your car.)
Our tests measure performance in braking, comfort, handling, hydroplaning, noise, snow traction, and other important areas. Plus we can also predict the tread life in miles based on our extensive treadwear test program. Combined, this information can help you find the best tires for your car.
To earn a Consumer Reports recommendation, a tire must have impressed our engineers in testing and be an exemplary overall performer in its class.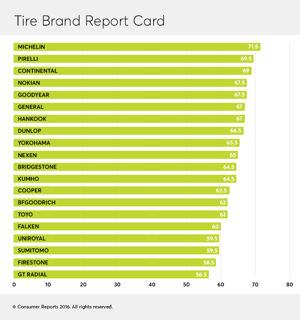 MICHELIN Score: 71.5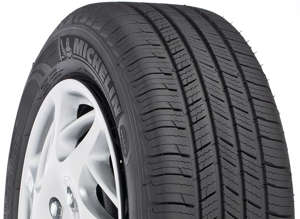 Founded in 1891, Michelin first introduced the radial tire, and the company continues to be a pioneer in tire technologies. Michelin tires are at or near the top of our ratings in every category they are represented in, and all are recommended models. All-season, all-terrain, and summer tires offer a good blend of grip, handling, and long tread life within their classes. Winter/snow tires offer outstanding snow traction and grip to stop on ice. Michelin tires tend to be pricey, but they have high value when you factor in long tread life. All Michelin replacement tires have treadwear warranties, including winter/snow and summer tires, an advantage over most competitors.  
Recommended Michelin Tires
PIRELLI Score: 69.5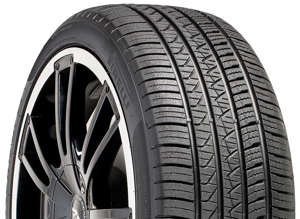 Under new owner ChemChina, Pirelli continues to promote its high-performance-tire heritage. In Consumer Reports' testing, the Pirelli ultra-high-performance and performance tires earn top marks for their balance of grip and handling. All-season models have good tread life and perform well in most weather conditions.  
Recommended Pirelli Tires
CONTINENTAL Score: 69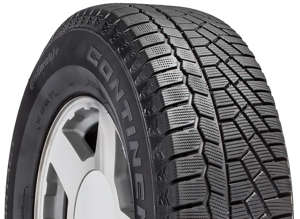 Most Continental tires score high in their respective categories. Stopping grip on dry and wet roads is impressive across the board, along with a good mix of handling and comfort. Tread life falls a bit short of best in class, but this is often offset by attractive pricing. We are eagerly waiting to test Continental's new UHP summer tire, the ExtremeContactSport, and a new truck all-terrain tire, the TerrainContact A/T.
Recommended Continental Tires
NOKIAN Score: 67.5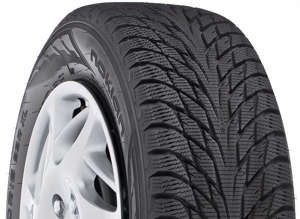 Nokian is a smaller regional tire marketer in the U.S. that specializes in winter/snow tires, but one of their highest-scoring tires is the zLine UHP summer tire. Nokian's dedicated winter/snow tires can capably tackle severe weather. For drivers who want one tire that can do it all, there are the WR G3 and WR G3 SUV all-weather tires that offer a good combination of snow traction and grip over clear roads.  
Recommended Nokian Tires
GOODYEAR Score: 67.5
Goodyear tires are generally rated toward the top in most popular categories. In particular, all-weather performance is a strong suit for all-season and all-terrain models. The UHP tires provide tenacious grip and responsive handling. Adding to their value, Goodyear tires wear well based on CR's treadwear test.
Recommended Goodyear Tires
By no means are these the only brands whose tires are recommended. Illustrating just how competitive the market is, Consumer Reports also recommends models from BFGoodrich, Bridgestone, Cooper, Falken, General, Hankook, Toyo, and Yokohama.
Before choosing a tire, be sure to check its performance. We can not only tell you how it compares to its key rivals in braking, comfort, handling, hydroplaning, noise, and snow traction, but we can also predicted the tread life in miles based on our extensive treadwear test program.
More from Consumer Reports:
Best used cars for $25,000 and less
Consumer Reports has no relationship with any advertisers on this website. Copyright © 2006-2016 Consumers Union of U.S.