2012 Cadillac Escalade: What You Need to Know

US News & World Report - Cars
1/5/2016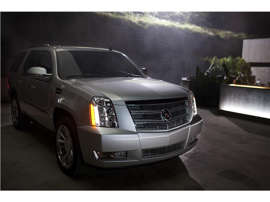 The automotive press agreed that the 2012 Cadillac Escalade has a plush, luxurious interior, a smooth ride, a powerful V8 engine and lots of cargo space for the class.
The 2012 Cadillac Escalade is ranked:
Reviewers said the 2012 Cadillac Escalade's standard V8 engine delivers quick acceleration at any speed. The Escalade comes standard with a six-speed automatic transmission and rear-wheel drive. All-wheel drive is available. The 2012 Escalade is offered in both standard and long-wheelbase (ESV) body styles. The 2012 Escalade Hybrid and 2012 Escalade EXT SUT are reviewed separately. According to the EPA, the Escalade gets up to 14/18 mpg city/highway, which is mid-pack for the class. Test drivers agreed that both the Escalade and Escalade ESV have a smooth ride. They said the Escalade handles well for a truck-based SUV, especially with the available Magnetic Ride Control suspension system. Many also liked the Escalade's firm brake pedal and some added that its steering offers good feel and response.
Automotive journalists were impressed with the build quality, rich materials and luxurious ambiance of the 2012 Cadillac Escalade's cabin. The Escalade seats seven in three rows, though models that have a second-row bench seat instead of captain's chairs can seat eight. Reviewers noted that the first two rows of seats are spacious, but complained that the third row is short on legroom and has to be removed if you want to expand the cargo area. The standard Escalade has a maximum of 108.9 cubic feet of cargo space, which is very large for the class. The long-wheelbase ESV Escalade has 137.4 cubic feet of cargo space. Standard features in the 2012 Escalade include a power liftgate, leather upholstery, front seats that are heated, cooled and power-adjustable, tri-zone automatic climate control, navigation, a USB port, a 10-speaker Bose stereo system, satellite radio, a rearview camera and Bluetooth. Available features include a rear-seat entertainment system and blind spot monitoring. The Cadillac Escalade won our 2012 Best Luxury Large SUV for the Money and 2012 Best Luxury Full-Size SUV for Families awards.
Other SUVs to Consider
Reviewers agreed that the 2012 Mercedes-Benz GL-Class handles well for a large SUV and has a beautiful, richly appointed interior. Unlike the Escalade, the GL-Class' second- and third-row seats fold flat into the floor in order to maximize the available cargo space.
Test drivers were impressed with the 2012 Infiniti QX56's powerful V8 engine, which they said is responsive and delivers rapid acceleration. They added that its sophisticated, well-built interior has an executive, top-shelf feel.
Read the full 2012 Cadillac Escalade reviewon U.S. News & World Report for more details, photos, specs and prices.
More from U.S. News & World Report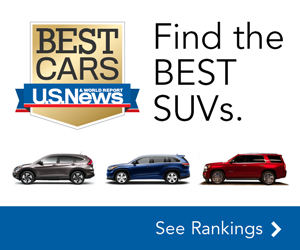 US News & World Report - Cars