2013 Cadillac Escalade: What You Need to Know

US News & World Report - Cars
2/26/2018
Automotive journalists said that the 2013 Cadillac Escalade offers ample V8 power and a composed ride, and it has lots of cargo space for the class.
The 2013 Cadillac Escalade is ranked:
Most critics said the 2013 Escalade's standard V8 engine provides plenty of power at any speed. The Cadillac Escalade comes standard with an automatic transmission and rear-wheel drive, but all-wheel drive is available. According to the EPA, the 2013 Escalade gets up to 14/18 mpg city/highway, which is pretty good for the class. The 2013 Cadillac Escalade Hybrid has a V8 engine and two electric motors, and it gets 20/23 mpg city/highway, which is excellent for the class. Most test drivers said the Escalade has secure handling considering its size, especially when equipped with the available Magnetic Ride Control suspension. The 2013 Cadillac Escalade also received praise for its comfortable, composed ride.
According to automotive journalists, the interior of the 2013 Cadillac Escalade is upscale and features mostly top-shelf materials, with just a few pieces of lower-quality plastic in out-of-the-way areas. Some reviewers wrote that the first two rows of seating in the Escalade are comfortable, but others wished there was more legroom. Auto writers agreed that the third-row seats are too small for adults. The base 2013 Escalade has one of the largest cargo areas in the class, and the longer ESV model is even more cavernous. However, the third-row seats must be removed to maximize cargo space, and critics complained that they are heavy. Standard features include leather upholstery, heated and cooled front seats, a 10-speaker Bose surround-sound audio system, navigation, Bluetooth, a USB port, a rearview camera, rear parking sensors and tri-zone automatic climate control. Available features include a rear-seat entertainment system, a sunroof, blind zone monitoring and heated and cooled cup holders.
Other SUVs to Consider
The 2013 Mercedes-Benz GL-Class has good cargo space for the class, and it's available with a power-folding third-row seat. The diesel-powered GL350 gets better highway fuel economy than the Escalade Hybrid. Test drivers said the GL-Class has a smooth ride and handles with greater agility than most 2013 large SUV rivals.
The 2013 Lexus GX comes standard with a power-folding third-row seat. It also gets decent fuel economy for a V8-powered SUV, and critics said it has excellent traction on coarse, slippery roads.
Read the full 2013 Cadillac Escalade reviewon U.S. News & World Report for more details, photos, specs and prices.
More from U.S. News & World Report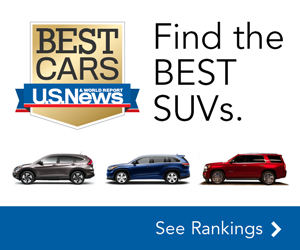 US News & World Report - Cars