2013 Lexus GS: What You Need to Know

US News & World Report - Cars
1/17/2018
A great reliability rating, superb safety scores, and ample acceleration are a few of the reasons you may want to consider a high-ranking used 2013 Lexus GS as your next car. 
The 2013 Lexus GS is ranked:
Is the 2013 Lexus GS a Good Used Car?
A used 2013 GS is an excellent choice in the luxury midsize car class. It offers a well-crafted interior with high-grade materials and has no problem tackling sharp turns. However, it has high ownership costs and a tricky infotainment system.
Used 2013 Lexus GS Performance and Interior
A 306-horsepower V6 engine paired with a six-speed automatic transmission comes standard in the 2013 Lexus GS 350. The base engine feels powerful pulling away from a dead stop. The transmission is responsive, but its sporty rev-matching feature is only available in manual mode. Steering is precise, body lean is minimal, and ride quality is smooth. Additionally, its brakes have good stopping power. Rear-wheel drive is standard, though some used models come with all-wheel drive. This Lexus delivers an EPA-estimated 19 mpg in the city and 28 mpg on the highway.
The 2013 Lexus GS 350 seats five in two rows. Supple leather upholstery comes standard, which is complemented by wood trim. This Lexus has an attractive interior, but rivals like the Mercedes-Benz E-Class have higher-quality materials. The luxury midsize GS has a respectable amount of space in the first and second rows, but foot room is constrained in the rear. Forward visibility is good, but rear visibility is slightly limited. A standard rearview camera alleviates the problem when backing up. There are two full sets of LATCH car-seat connectors on the rear outboard seats and an upper tether anchor on the middle seat.
The GS 350 has a long standard features list, including a sunroof, dual-zone climate control, 10-way power-adjustable front seats, satellite radio, HD Radio, a USB port, and a 12-speaker audio system. An 8-inch infotainment display is standard, and some models feature a navigation system with a larger 12.3-inch screen. Both screens have sharp graphics, but they're operated by a mouse controller that makes it difficult to select specific menu options, especially when the car is in motion. You may find some used models equipped with a 2013 GS with heated and cooled front seats, a heated steering wheel, upgraded leather seats, and a Mark Levinson 17-speaker premium audio system.
Read more about GS interior »
Used 2013 Lexus GS Prices
Used 2013 Lexus GS 350s range from about $23,900 in the base trim to around $24,500 with all-wheel drive. Prices fluctuate depending on the vehicle's condition, mileage, and demand.
See the Best Used Car Deals »
We Did the Research for You: 23 Reviews Analyzed
To give you a complete overview of the 2013 GS – and make your car-shopping experience easier – we analyzed 23 Lexus GS reviews alongside reliability ratings, safety scores, and more.
Why You Can Trust Us
U.S. News Best Cars has been ranking and reviewing vehicles for a decade, and our crew has more than 75 years of combined experience in the auto industry. To ensure our objectivity, we do not accept expensive gifts from carmakers, and an external company manages the ads on our site.
How Reliable Is the 2013 Lexus GS?
The 2013 GS has a perfect reliability rating of five out of five from J.D. Power. A few other cars in the class have the same rating, including the Lexus GS Hybrid, Lexus ES, Lexus ES Hybrid, and Lincoln MKZ.
See GS reliability scores »
How Safe Is the GS?
The 2013 Lexus GS 350 was not crash tested by the National Highway Traffic Safety Administration. The Insurance Institute for Highway Safety gave the GS its highest rating of Good in four crash tests and named it a 2013 Top Safety Pick.
Every GS model has a rearview camera and brake assist, and some models come with rain-sensing windshield wipers, a night vision system, blind spot monitoring, a head-up display, parking assist, lane departure warning, lane keep assist, a pre-collision system, and adaptive cruise control.
See GS safety scores »
Is the 2013 GS the Best Model Year to Buy?
The 2013 Lexus GS marks the first year of a new generation, so older model years don't benefit from the 2013's updated interior and exterior styling, additional trunk space, and revised steering and suspension systems. The 2014 GS adds a standard eight-speed automatic transmission that has smoother shifts than the 2013 GS' standard six-speed automatic. The main improvement in the 2015 GS is its updated infotainment system. If you don't care about the more fuel-efficient transmission or improved infotainment system, stick with the 2013 model to save some money.
Compare the 2013, 2014, and 2015 GS »
Which Used Lexus GS Is Right for Me?
The Lexus GS comes in one feature-filled trim. It includes an 8-inch infotainment system, a sunroof, and a 12-speaker audio system. When the GS was new, it was available with a few packages and stand-alone options. This means you may find some used models equipped with heated and cooled front seats or a 12.3-inch infotainment system with navigation.
The GS has the highest reliability rating possible, but you may still want to consider a certified pre-owned model for added peace of mind. For its certified pre-owned vehicles, Lexus extends its original new-car warranty to cover six years or unlimited mileage. Lexus puts its CPO vehicles through a 165-point inspection. Additional benefits like towing and roadside assistance may be available, so read the Lexus warranty page carefully. The model's original sale date determines whether or not it is eligible for the CPO program.
Read more about certified pre-owned vehicles »
Read more about the Lexus certified pre-owned program »
2013 Lexus GS and Other Cars to Consider
Which Is Better: 2013 Lexus GS or 2013 Lexus ES?
The 2013 Lexus ES is another luxury midsize car with comfortable and supportive seats, a high-quality interior, and an exceptional reliability rating of five out of five. Unlike the GS 350, the ES suffers from numb handling and imprecise steering. The ES does, however, have more rear-seat legroom, a larger trunk area, and lower ownership costs. Still, the GS is the better-rounded vehicle in the end.
Which Is Better: 2013 Lexus GS or 2013 BMW 5 Series?
The 2013 BMW 5 Series has a higher fuel economy rating, sportier handling, and lower ownership costs than the GS. That said, it has a lower reliability rating of 3.5 out of five, offers inferior safety scores, and doesn't come with standard leather upholstery. Go for the GS.
Which Is Better: 2013 Lexus GS or 2013 Audi A6?
With leather upholstery, wood trim, and aluminum accents, the 2013 Audi A6 has one of the nicest interiors in the luxury midsize car class. Additionally, it has excellent fuel efficiency and slightly more athletic handling than the GS. Both vehicles have similar safety ratings, but the GS has a higher reliability rating and 95 more horsepower than the A6. The GS is the better sedan.
Compare the GS, ES, and 5 Series »
Read the full 2013 Lexus GS reviewon U.S. News & World Report for more details, photos, specs and prices.
More from U.S. News & World Report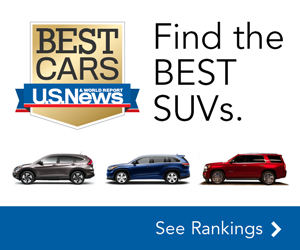 US News & World Report - Cars