2017 Audi R8: What You Need to Know

US News & World Report - Cars
9/11/2018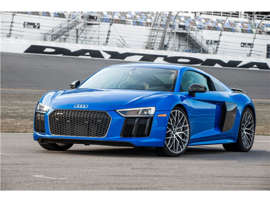 The 2017 Audi R8 is a fun and fast luxury sports car with world-class handling and a swanky, high-tech cabin. However, its poor predicted reliability rating and high ownership costs push it to the back of the class.
Is the 2017 Audi R8 a Good Used Car?
The 2017 Audi R8 is a "take it or leave it" luxury sports car. It's sure to turn heads, and its lively acceleration will certainly push you back in your seat. Inside the R8's stunning cabin, you'll find the finest materials and finishes. Audi's driver-centered virtual cockpit is new for 2017. This high-resolution instrument display looks futuristic and is highly customizable.
The R8 has just one engine, however, and it's not available with a manual transmission. That's sure to disappoint drivers who want to take the reins completely. The list of safety features is short, and gas mileage is subpar, even in this thirsty class. Add in a high price tag, and it's easy to see why there are much better options in the class than the R8.
Why You Can Trust Us
Our used car rankings and reviews are based on our analysis of professional automotive reviews, as well as data like crash test scores, reliability ratings, and ownership expenses. We researched 10 Audi R8 reviews to help you decide if it's the right used car for you.
The U.S. News Best Cars team has been ranking cars, trucks, and SUVs since 2007, and our staff has a combined 75 years of automotive industry experience. To ensure our impartiality, our staff never takes expensive gifts or trips from car companies, and an outside team handles the advertising on our site.
How Much Is the 2017 Audi R8?
Based on more than 20 listings for the 2017 Audi R8 on our site, the average price is $164,500. That's significantly higher than most rivals' average prices, and some rivals can cost half as much. The R8's ranges from $137,900 to $210,000. Your final price depends on the model you choose, as well as its condition, mileage, location, and features.
How Much Does the 2017 Audi R8 Cost to Own?
The 2017 Audi R8's five-year estimated costs for gas, insurance, maintenance, and repairs total to about $36,400, which is typical for a luxury sports car.
Is It Better to Buy a Used or New Audi R8?
Pricing for a 2018 Audi R8 starts at $138,700 and tops out north of $212,000. You'll potentially save a little money with a used model, but prices are fairly similar throughout both lineups. In this case, buying new is probably the better choice. For 2018, Android Auto and Apple CarPlay became standard. New models also have a new-car warranty.
The R8 is one of the most expensive cars in the class. Most new luxury sports cars cost less, meaning you can still get a great car and save significantly. The 2018 Porsche 911 (starting at $91,000) is an excellent alternative to the 2017 R8. It has just about everything you would expect of a luxury sports car: a perfect predicted reliability rating, exceptional handling, muscular engines, and a ritzy interior. You can save even more money with the 2019 Chevrolet Corvette (starting at $55,495), which has one of the most powerful engine lineups in the class. Its large trunk and comfortable seats also make it more practical for everyday use.
How Reliable Is the 2017 Audi R8?
The 2017 R8 has a below-average predicted reliability rating of 2.5 out of five from J.D. Power.
2017 Audi R8 Recalls
As of this writing, the 2017 Audi R8 has no reported recalls.  
See more information on Audi R8 safety recalls »
Which Model Year of the Audi R8 Is Best?
Audi fully redesigned the R8 for 2017, and it features several noteworthy upgrades that make it a better pick than previous model years. Audi introduced its high-tech virtual cockpit instrument display. It shows a wealth of information directly in front of the driver, and it creates a sleek dashboard layout that eliminates the buttons found in previous models. The German automaker also introduced the potent R8 V10 Plus model for 2017. The R8 was on a production hiatus for the 2016 model year. While the 2015 R8 could save you some money, the 2017 model's improvements make it worth the splurge.
Which Used Audi R8 Model Is Right for Me?
The 2017 Audi R8 coupe has two trims: V10 and V10 Plus. Choosing the right Audi R8 comes down to how much power you need and how much money you're willing to spend. The base Audi R8 V10 is the more practical option. It comes with more amenities and carries a lower price. If you'd rather have more power, go for the V10 Plus model.
Certified Pre-Owned Audi R8 Warranty
Certified pre-owned vehicles provide used car shoppers with protections against some problems that may arise when purchasing used. Audi's CPO program provides an average level of coverage, based on our analysis. CPO programs from other brands like Lexus and Mercedes are more robust.
Audi CPO vehicles receive the balance of the original four-year/50,000-mile new-car warranty, then enjoy an additional one-year/unlimited mileage comprehensive warranty. The two warranties differ in important ways, and there may be additional services like roadside assistance, so read the Audi's warranty page carefully. Audi CPO models must pass an inspection covering 300-plus points.
How Safe Is the R8?
The Audi R8 has not been crash tested by the Insurance Institute for Highway Safety or the National Highway Traffic Safety Administration. This is not unusual for a sports car due to the costs associated with testing.
The R8 comes standard with automatic high beams, rain-sensing windshield wipers, a rearview camera, and front and rear parking sensors. Unlike most rivals, the R8 doesn't offer any additional safety features like blind sport monitoring and adaptive cruise control.
2017 Audi R8 Versus the Competition
Which Is Better: 2017 Audi R8 or 2017 Porsche 911?
If you're put off by the Audi R8's high price tag, you should consider the 2017 Porsche 911. The 2017 911's average price is still high for the class, but it's about $41,600 lower than the 2017 R8's average price. Not only will you save money with the 911, you'll get a better luxury sports car overall. The 911 has remarkable handling, several dynamic engines, a posh interior, and a higher predicted reliability rating than the R8. The 911 is also available in three body styles: coupe, Cabriolet, and Targa.
Which Is Better: 2017 Audi R8 or 2017 Nissan GT-R?
Like the R8, the 2017 Nissan GT-R was fully redesigned. Compared to previous model years, the 2017 GT-R delivers better handling and has a stronger turbocharged V6 engine. While the GT-R has potent engines that produce exhilarating acceleration, its performance doesn't quite match the supercar level of the R8. The GT-R is likely to cost less than the R8 up front, though its cheap-feeling cabin feels out of place for a luxury sports car.
2017 Audi R8 Performance
How Does the 2017 Audi R8 Drive?
The 2017 Audi R8 comes with a 5.2-liter V10 engine, all-wheel drive, and a seven-speed automatic transmission (a manual transmission is not available). In the standard R8, this powertrain yields 540 horsepower and has a top speed of 199 mph. The R8 V10 Plus has a retuned version of the same engine out 610 horsepower and can reach 205 mph. The V10 model has four drive modes (Comfort, Auto, Dynamic, and Individual). The V10 Plus model adds a Performance mode. The R8's smooth transmission comes with paddle shifters on the steering wheel. With either engine, the R8 puts down authoritative power, and plenty of it.
The R8 has a composed, smooth ride. Its precise steering, powerful brakes, and standard all-wheel drive helps it maintain control and road grip when whipping through corners. The V10 uses a magnetic suspension system that quickly reacts to changing road conditions, while the V10 Plus model replaces this system with a fixed suspension for a more engaging ride.
Does the 2017 Audi R8 Get Good Gas Mileage?
The R8 returns14 mpg in the city and 22 mpg highway, which are some of the lowest estimates in the luxury sports car class.
2017 Audi R8 Interior
How Many People Does the 2017 Audi R8 Seat?
The Audi R8 seats two in a driver-centered cabin that has modern styling, attractive finishes, and quality materials. The heated, 18-way power-adjustable seats (standard in the V10, available in the V10 Plus) are comfortable and upholstered in Nappa leather. The R8 has enough space for tall adults, but the car's low roofline limits outward visibility and makes entry and exit difficult. The V10 Plus model comes standard with supportive shell-type seats that have a fixed backrest angle.
2017 Audi R8 Features
Standard features include Audi's MMI interface, navigation, a 13-speaker Bang & Olufsen sound system, HD Radio, satellite radio, two USB ports, Bluetooth, automatic climate control, a Wi-Fi hot spot, a proximity key, and push-button start.
Unlike most cars, the R8's infotainment screen is a 12.3-inch display located directly in front of the driver. Dubbed the virtual cockpit, this system combines the driver's gauges with infotainment details like maps and music. While this layout keeps the center stack clean and button-free, the passenger will have a hard time accessing cabin controls. The driver controls the interface with buttons on the steering wheel, or by using a touch knob that includes handwriting recognition technology.
2017 Audi R8 Dimensions
Audi R8 Cargo Space
The R8 is a midengine car, so there's no rear trunk. You can place cargo behind the seats or in the front trunk. That amounts to 8 cubic feet of space combined, which is typical for a luxury sports car.
2017 R8 Length and Weight
The 2017 Audi R8 is nearly 14.5 feet long. The V10 has a curb weight of 3,737 pounds, while the V10 Plus weighs in at 3,627 pounds.
Where Was the 2017 Audi R8 Built?
Audi assembled the 2017 R8 in the Germany.  
Read the full 2017 Audi R8 review on U.S. News & World Report for more details, photos, specs and prices.
More from U.S. News & World Report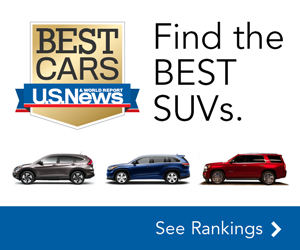 US News & World Report - Cars