2017 Chevrolet Equinox: What You Need to Know

US News & World Report - Cars
8/7/2018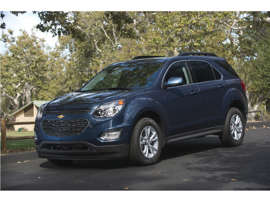 The 2017 Chevrolet Equinox sits in the top third of the compact SUV class. It features a comfortable, placid ride and an excellent predicted reliability rating. However, handling is dull, the base engine is weak, and there are few available features.
Is the 2017 Chevrolet Equinox a Good Used SUV?
The 2017 Chevrolet Equinox is a good compact SUV. Its spacious interior and flexible rear seats make it a great choice for families. The ride itself is comfortable and quiet, and the Equinox receives some of the highest predicted reliability and safety scores in the class. No vehicle is perfect, though. The Equinox's handling is dull, and its base engine is underpowered. There's a lot to like, but there are lots of good SUVs in this class. Shop around before committing to this Chevy.
Why You Can Trust Us
Our used car rankings and reviews are based on our analysis of professional automotive reviews, as well as data like crash test scores, reliability ratings, and ownership expenses. We researched 59 Chevrolet Equinox reviews to help you decide if it's the right used car for you.
The U.S. News Best Cars team has been ranking cars, trucks, and SUVs since 2007, and our staff has a combined 75 years of automotive industry experience. To ensure our impartiality, our staff never takes expensive gifts or trips from car companies, and an outside team handles the advertising on our site.
How Much Is the 2017 Chevrolet Equinox?
Our site has nearly 2,200 listings for the 2017 Chevrolet Equinox. Prices range from $17,700 to $26,500, with the average list price sitting at $21,100. Your final price will depend on the model you choose, as well as its condition, mileage, location, and features.
How Much Does the 2017 Chevrolet Equinox Cost to Own?
For a used 2017 Chevrolet Equinox, estimated five-year costs for gas, insurance, maintenance, and repairs come out to about $25,200. That's on the high end for the class. The same expenses for the Mazda CX-5 are projected to be $23,100; for the Honda CR-V, they're $20,940.
Is It Better to Buy a Used or New Chevrolet Equinox?
Pricing for a 2018 Chevrolet Equinox starts at $23,580 – about $2,400 more than the average list price of a 2017 Equinox. That isn't a lot of additional cash considering that the 2018 model is fully redesigned and includes a host of new standard features, like Android Auto, Apple CarPlay, a proximity key, push-button start, and Chevy's Teen Driver system. The 2018 Chevy Equinox is also smaller and lighter than its predecessor, and it gets slightly better gas mileage. If the new model is within your budget, it's the superior option.
If the 2018 Equinox isn't in your price point, but you still want a new vehicle, there are quite a few options priced similarly to a used 2017 Equinox. The 2018 Hyundai Tucson starts at $22,550 and delivers a comfortable ride and great safety and predicted reliability ratings.
If you're willing to drop down a class to subcompact SUVs – and don't mind losing some cargo space and second-row legroom – you'll find a number of choices that may suit your needs. The 2018 Honda HR-V starts at $19,670. It has an adult-friendly second row and a flexible cargo space. The 2018 Hyundai Kona (starting at $19,500) has less cargo and passenger space, but its driving dynamics are superb. The 2018 Mazda CX-3 is also sporty, and it starts at $20,110.
Which Model Year of the Chevrolet Equinox Is Best?
The 2017 Chevrolet Equinox is the last model year of a generation that launched in 2010. You can save money by shopping for a 2015 Equinox. It's the first model that came with standard OnStar and a 4G LTE Wi-Fi hot spot. Otherwise, it's the same as the 2016 and 2017 Equinox models.
How Reliable Is the 2017 Chevrolet Equinox?
The 2017 Chevrolet Equinox earns a predicted reliability rating of 4.5 out of five from J.D. Power. That score is among the best in the industry.
2017 Chevrolet Equinox Recalls
As of this writing, the 2017 Chevrolet Equinox has no reported recalls.  
See more information on Chevrolet Equinox safety recalls »
Which Used Chevrolet Equinox Model Is Right for Me?
Four trims are available: L (base), LS, LT, and Premier. The base Chevrolet Equinox L comes with a 7-inch touch screen, Bluetooth phone connectivity, OnStar, and a Wi-Fi hot spot with 4G LTE. To get available all-wheel drive, upgrade to the Chevrolet Equinox LS. It also comes with satellite radio, but there are few other standard add-ons.
Because of the lower trims' underpowered engines and limited optional features, most shoppers should select a higher trim level. The Chevrolet Equinox LT is a great value, has an available V6 engine, and offers more options than lower trims. In fact, if you want advanced safety features beyond the standard rearview camera, the Chevy Equinox LT is the lowest trim available with them.
The top-of-the-line Chevrolet Equinox Premier adds leather upholstery, heated front seats, automatic climate control, and a power driver's seat. However, it still doesn't come with features like a navigation system or an upgraded stereo, which most rivals include as standard in the top trim level.
Certified Pre-Owned Chevrolet Equinox Warranty
Even with the Equinox's solid predicted reliability score, a certified pre-owned model is worth considering. Chevrolet's CPO program is one of the best among competing brands, though GMC's and Buick's are just as appealing. For its certified pre-owned vehicles, Chevy extends the original new-car powertrain warranty to six years or 100,000 miles and provides a one-year/12,000-mile bumper-to-bumper limited warranty. Chevrolet CPO vehicles must pass a 172-point inspection. Additional benefits like towing and roadside assistance may be available, so read Chevy's warranty page carefully.
How Safe Is the Equinox?
The 2017 Chevrolet Equinox has a strong safety score for the class. It earned a Good rating (the best possible) in Insurance Institute for Highway Safety crash testing. In National Highway Traffic Safety Administration evaluations, the 2017 Equinox received four (out of five) stars for overall safety. It earned four stars in frontal and rollover crash tests, and five stars in the side crash test.
A rearview camera comes standard. Available features include blind spot monitoring, rear parking sensors, rear cross traffic alert, forward collision alert, and lane departure warning.
2017 Chevrolet Equinox Versus the Competition
Which Is Better: 2017 Chevrolet Equinox or 2017 Hyundai Tucson?
The Hyundai Tucson is one of the highest-rated compact SUVs in our rankings. In addition to its quiet, roomy interior and strong safety and predicted reliability scores, it has a few advantages over the Equinox. Among them is it's available Apple CarPlay and Android Auto smartphone integration, which the Equinox doesn't introduce until the 2018 model year. The Tucson also has better gas mileage than the Equinox, as well as more composed handling.
Which Is Better: 2017 Chevrolet Equinox or 2017 Mazda CX-5?
In terms of performance, there are few options within the class that are as fun to drive as the smooth-riding, agile-handling Mazda CX-5. It also gets better fuel economy and has more driver assistance features than the Equinox. Inside, its handsome cabin features a user-friendly infotainment system and spacious back seats. However, the Equinox might be a more practical option for families, due to its higher predicted reliability rating and lower average list price. It also has more cargo capacity than the CX-5, though many competitors' cargo holds top the Equinox's storage space.
2017 Chevrolet Equinox Performance
How Does the 2017 Chevrolet Equinox Drive?
The 2017 Equinox is powered by a 182-horsepower 2.4-liter four-cylinder engine and a six-speed automatic transmission. There is sufficient power for local travel, but acceleration feels sluggish on the highway. The stronger available 301-horsepower 3.6-liter V6 engine is better-suited for highway speeds. Front-wheel drive is standard and all-wheel drive is available.
The Chevy Equinox has a smooth, comfortable ride. When turning corners, however, its steering is dull and detached.
Does the 2017 Chevrolet Equinox Get Good Gas Mileage?
The base Equinox gets typical EPA-estimated gas mileage for the class: 21 mpg in the city and 31 mpg on the highway. Fuel economy drops to 17/24 mpg city/highway with the available six-cylinder engine.
2017 Chevrolet Equinox Interior
How Many People Does the 2017 Chevrolet Equinox Seat?
The 2-row Chevrolet Equinox seats five on cloth upholstery. The Equinox has more interior space than many rivals, and its front seats provide all-day comfort. There's ample legroom in the rear, and the seats slide and recline for additional comfort and flexibility.
The cabin is fairly attractive and well-designed, though its materials aren't as high-quality as rivals'. The center stack is within close reach of the driver, but its abundance of buttons results in a cluttered dashboard.
How Many Car Seats Fit in the 2017 Chevrolet Equinox?
Each of the rear outboard seats in the Equinox has a complete set of LATCH connectors for installing child safety seats. The IIHS gave the Equinox a rating of Acceptable (the second-highest rating) for the system's ease of use.
2017 Chevrolet Equinox Features
Standard features include a USB port and an audio system with a 7-inch touch screen, Bluetooth phone connectivity, and OnStar with 4G LTE and a built-in Wi-Fi hot spot. Available features include automatic climate control, a power sunroof, remote start, an eight-speaker Pioneer sound system, Bluetooth audio, satellite radio, smartphone app integration, a Chevrolet MyLink infotainment system, and a navigation system.
The Equinox's infotainment system can be slow to respond to inputs, but it's easy to use and allows you to organize on-screen menus to your liking.
2017 Chevrolet Equinox Dimensions
Chevrolet Equinox Cargo Space
Behind its second row, the Equinox has 31.5 cubic feet of cargo space. That space expands to 63.7 cubic feet with the second row folded. That's below average for the class, as most competitors offer more than 70 cubic feet of overall cargo space.
2017 Equinox Length and Weight
The 2017 Chevrolet Equinox is about 15.7 feet long. Its curb weight ranges from 3,764 pounds to 4,168 pounds, depending on the trim and powertrain.
Where Was the 2017 Chevrolet Equinox Built?
Chevrolet built the 2017 Equinox in Canada and Tennessee.
Read the full 2017 Chevrolet Equinox review on U.S. News & World Report for more details, photos, specs and prices.
More from U.S. News & World Report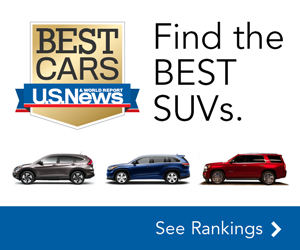 US News & World Report - Cars