2017 FIAT 500L: What You Need to Know

US News & World Report - Cars
8/7/2018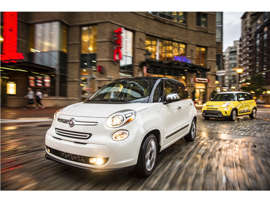 The Fiat 500L ranks near the bottom of the wagon class. While it provides ample space for passengers and cargo, it also has clumsy handling and low safety scores.
Is the 2017 Fiat 500L a Good Used Car?
The Fiat 500L is not a great option if you're shopping for a used wagon. Unless you're on a tight budget, you'll likely be happier with a rival wagon or hatchback. Most competitors offer higher fuel economy, more powerful engines, nimbler handling, more available safety features, and higher safety scores.
Why You Can Trust Us
We base our used car rankings and reviews on an analysis of data like crash test scores, reliability ratings, and total ownership costs, as well as expert reviews. We researched and analyzed 30 Fiat 500L reviews to give you a complete picture of its strengths and weaknesses.
The U.S. News Best Cars team has been ranking cars since 2007, and our staff has more than 75 years of combined experience in the automotive industry. To ensure our impartiality, we don't accept pricey gifts or trips from car companies, and an outside company handles the advertising on our site.
How Much Is the 2017 Fiat 500L?
Based on dozens of listings on our site, you can expect to pay between $13,900 and $20,000 for this wagon. The average list price is $16,300. Keep in mind that prices vary depending on the vehicle's mileage, condition, location, and features.
How Much Does the 2017 Fiat 500L Cost to Own?
Expenses for fuel, insurance, maintenance, and repairs for the Fiat 500L will cost you around $23,000 over five years. That's slightly above average for a used wagon. For example, the 2017 Subaru Outback will cost around $22,350 for those same expenses over five years, while the Toyota Prius V's costs are around $20,900.
Is It Better to Buy a Used or New 500L?
Fiat refreshed the 500L for the 2018 model year. The 2018 Fiat 500L (MSRP: $20,995) does poorly in our rankings. In fact, its overall score is lower than that of the 2017 model. Still, it received updated exterior styling and a revamped interior. A rearview camera and a 7-inch touch-screen Uconnect infotainment system with Apple CarPlay and Android Auto compatibility became standard as well. If these changes aren't important to you, opt for an older model to potentially save thousands of dollars. You might even find a fully loaded 2017 500L for less money than the base level 2018 wagon.
Read about the new Fiat 500L »
The 2018 Fiat 500L is the most affordable model in its class, meaning there aren't any other new wagons that can compete with it – or with the 2017 Fiat 500L's average list price. No new SUVs can match its price, either. You'd have to move to the compact car class to find anything in the same neighborhood pricewise. The 2018 Kia Soul (MSRP: $16,200) is a fine hatchback and a better overall car than the Fiat. It offers poised handling and more overall passenger space than the 500L. The Soul can't match the Fiat's cargo capacity, but it still offers one of the largest cargo holds in its class.
Which Model Year of the Fiat 500L Is Best?
The 2017 500L is part of a generation that launched for the 2014 model year. For the 2017 model year, Fiat discontinued the manual transmission in all 500Ls. It also simplified the trim levels from five to three, meaning numerous features were shuffled. There were no major updates to the 2016 model. If your heart is set on this car, consider an older model to save money without sacrificing many features.
How Reliable Is the 2017 Fiat 500L?
The 2017 500L has a predicted reliability rating of three out of five from J.D. Power. That's about average for the automotive industry.
2017 Fiat 500L Recalls
As of this writing, no recalls have been issued for the 2017 Fiat 500L.
See more information on Fiat 500L safety recalls »
Which Used Fiat 500L Model Is Right for Me?
Fiat offers the 2017 500L in three trims: Pop, Trekking, and Lounge. The 500L Pop trim comes with alloy wheels, cloth upholstery, a 60/40-split-bench seat in the rear, air conditioning, a leather-wrapped steering wheel, a six-speaker stereo, USB and aux ports, and a 5-inch touch screen. The Trekking trim adds larger aluminum wheels, fog lights, leather upholstery, heated front seats, a Beats premium audio system, satellite radio, a navigation system, and a larger 6.5-inch touch screen. Shoppers interested in active safety features should look to the Fiat 500L Lounge trim. It has dual-zone automatic climate control, a 115-volt power outlet, power-adjustable front seats, a rearview camera, and rear parking sensors. A sunroof is available. The lower trims offer packages containing many of the features found in higher trim levels.
Certified Pre-Owned Fiat 500L Warranty
A certified pre-owned 500L may help you feel more secure in your purchase. For its certified pre-owned vehicles, Fiat extends the original new-car powertrain warranty to six years or 80,000 miles. There are restrictions related to coverage, so read the Fiat warranty page carefully.
How Safe Is the Fiat?
The Insurance Institute for Highway Safety awarded the 2017 Fiat 500L the highest score of Good in four crash tests. However, the wagon received the lowest rating of Poor in the small overlap front test. The National Highway Traffic Safety Administration has not conducted crash tests on this Fiat.
No active safety features come standard in the 500L. A rearview camera and rear parking sensors are the only available driver assistance technologies. Many rivals offer other advanced safety features, such as forward collision warning and adaptive cruise control.
2017 Fiat 500L Versus the Competition
Which Is Better: 2017 Fiat 500L or 2017 Fiat 500X?
The Fiat 500X can't match the cargo capacity of the 500L, but in most other respects, it's the better vehicle. It has more advanced safety features available, higher fuel economy, an elegant interior, higher safety and predicted reliability scores, and more overall passenger space (though rear-seat riders in the 500L will enjoy more legroom). On average, the 500X is about $1,800 more expensive, but if that's within your budget, then the 500X may be worth considering.
Which Is Better: 2017 Fiat 500L or 2017 Subaru Outback?
The Fiat 500L's main selling point over most rivals is its affordable price. On average, it's around $11,500 cheaper than the Subaru Outback. However, the Outback is the better wagon. Even with its standard all-wheel drive (which isn't even available with the Fiat), the Outback still has higher fuel economy than the 500L. It offers even more space for passengers and cargo. The Outback's cabin is lined with soft-touch materials, and it offers several driver assistance technologies as options. If it's within your budget, go for the Outback. We named the Outback our 2017 Best Wagon for Families.
2017 500L Performance
How Does the 2017 Fiat 500L Drive?
The 2017 Fiat 500L comes with a 160-horsepower inline-four-cylinder engine and 184 pound-feet of torque. A six-speed automatic transmission and front-wheel drive are standard. All-wheel drive is not available.
The turbocharged engine offers decent acceleration for city driving, but it feels weaker at highway speeds. Its brakes are strong and offer plenty of stopping power. However, its steering doesn't offer much feedback, and ride quality suffers on uneven pavement.
Does the 2017 Fiat 500L Get Good Gas Mileage?
The 500L earns an EPA-estimated 22 mpg in the city and 30 mpg on the highway. That's below-average among wagons.
2017 500L Interior
How Many People Does the 2017 500L Seat?
The Fiat 500L seats five on cloth upholstery. Leather seats, heated front seats, and power-adjustable front seats are all available. The seats are generally comfortable, and there's even enough room for adults in the back. The cabin is stylish, but there are a number of hard plastics and low-end materials that cheapen the overall feeling.
How Many Car Seats Fit in the 2017 Fiat 500L?
The 500L has two full sets of LATCH connectors for securing child seats.
2017 Fiat 500L Features
A six-speaker stereo, a CD player, Bluetooth, USB and aux ports, and a 5-inch touch screen are standard equipment for the Fiat. Dual-zone automatic climate control, the Uconnect infotainment system with a 6.5-inch touch screen, navigation, a rear-seat armrest with a cup holder, a premium sound system, a rearview camera, and rear parking sensors are all available.
Many rivals offer more standard features. However, its Uconnect infotainment system is user-friendly. The touch screen is responsive, but there are redundant buttons and knobs for those who'd prefer not to use it.
2017 Fiat 500L Dimensions
Fiat 500L Cargo Space
The 2017 Fiat 500L offers 22.4 cubic feet of cargo space behind the rear seats. Its maximum cargo capacity is 68 cubic feet. That's one of the highest capacities among wagons and hatchbacks.
2017 500L Length and Weight
The 2017 Fiat 500L is just over 13.9 feet long. It has a curb weight of 3,254 pounds.
Where Was the 2017 Fiat 500L Built?
Fiat assembled the 500L in Serbia.
Read the full 2017 FIAT 500L review on U.S. News & World Report for more details, photos, specs and prices.
More from U.S. News & World Report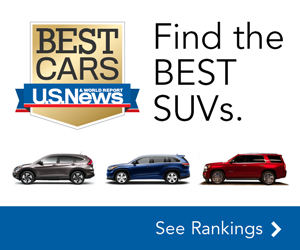 US News & World Report - Cars