2017 Kia Niro: What You Need to Know

US News & World Report - Cars
8/7/2018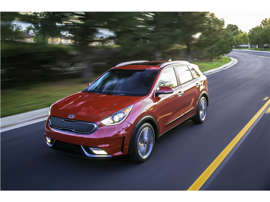 The 2017 Kia Niro sits in the top third of the subcompact SUV class. Its hybrid powertrain gives it surprisingly brisk acceleration. The Niro also has an upscale interior with plenty of passenger space, but its cargo space is below the class average.
Is the 2017 Kia Niro a Good Used SUV?
The 2017 Kia Niro is a good, highly fuel-efficient subcompact SUV. Unlike other hybrids, its brakes aren't grabby, and its automatic transmission is quieter than the whiny transmissions found in many rival hybrids. The Niro also has good crash test scores and an excellent predicted reliability rating.
Why You Can Trust Us
We do not base our used car rankings and reviews on our personal opinions. Instead, we collect information like safety and reliability reports, total cost of ownership estimates, and the views of the automotive press. We analyzed 8 professional evaluations for this 2017 Kia Niro review to help you make an informed buying decision.
Our experienced team of writers, editors, and analysts has been ranking and reviewing the best cars, trucks, crossovers, and SUVs since 2007. We remain unbiased by refusing pricey gifts and trips from auto manufacturers and employing an independent agency to manage the advertising on our site.
How Much Is the 2017 Kia Niro?
There are 149 listings on our site for the 2017 Kia Niro. Prices range from $19,400 to $27,600, with the average list price sitting at $23,300. The price you pay depends on the vehicle's condition, mileage, features, and location.
How Much Does the 2017 Kia Niro Cost to Own?
Five-year costs for gas, insurance, maintenance, and repairs for the 2017 Kia Niro are estimated to be $19,668. That's well below average for the subcompact SUVs segment.
Is It Better to Buy a Used or New Niro?
The only reason to buy a 2018 Kia Niro is to get its available plug-in hybrid powertrain. Otherwise, there are no differences between the 2017 and 2018 models. The 2018 Niro starts at $23,340, which is very close to the 2017 Niro's average list price of $23,300. However, many 2017 Niro models are better equipped than the base 2018 Niro. Stick with the used model to get more bang for your buck.
Several new subcompact SUVs have starting prices that are lower than the 2017 Kia Niro's average used price. Some of the higher-ranked examples are the 2018 Hyundai Kona, the 2018 Mazda CX-3, and 2018 Honda HR-V. However, none of these can match the Niro's fuel economy.
Which Model Year of the Kia Niro Is Best?
Kia introduced the Niro as a 2017 model. For 2018, the Niro gained an available plug-in hybrid version. Unless you want this new powertrain, consider a used model to save money without sacrificing any features.
How Reliable Is the 2017 Kia Niro?
The 2017 Kia Niro has an above-average predicted reliability rating of four out of five from J.D. Power.
2017 Kia Niro Recalls
As of this writing, the 2017 Kia Niro has two open recalls. One deals with a clutch actuator that might leak oil and cause a fire. The second recall is for a potential loss of power steering assist. Make sure a Kia dealer has addressed these recalls before buying a used Niro.
See more information on Kia Niro safety recalls »
Which Used Kia Niro Model Is Right for Me?
The 2017 Kia Niro comes in five trims: the FE, LX, EX, Touring Launch Edition, and Touring. The base FE comes with the UVO infotainment system, a 7-inch touch screen, a six-speaker sound system, Bluetooth, a USB port, Apple CarPlay, Android Auto, and satellite radio. The LX adds push-button start.
The FE should meet the needs of most people, but the EX is a good alternative. It adds a suite of active safety features, rear USB port, partial leather trim, and heated front seats.
For even more features, check out the Touring Launch Edition. It adds a surround-sound eight-speaker audio system, a 10-way power-adjustable driver's seat with lumbar support, and the upgraded Kia UVO infotainment system with an 8-inch touch screen and a voice-command navigation system.
The top-tier Touring builds off the lower trims and adds a sunroof, front and rear park assist, leather upholstery, driver's memory settings, ventilated front seats, and a heated steering wheel.
Certified Pre-Owned Kia Niro Warranty
A certified pre-owned Kia offers more benefits than a typical used model. However, Kia's CPO program isn't as robust as programs from Chevrolet, Honda, and Toyota, according to our analysis. Kia's certified pre-owned vehicles receive the balance of the original 10-year/100,000-mile new-car powertrain warranty, plus a one-year/12,000-mile Platinum warranty for non-powertrain parts. Additional benefits like towing and roadside assistance may be available, so read the Kia warranty page carefully.
How Safe Is the Niro?
The Insurance Institute for Highway Safety gave the 2017 Kia Niro its top score of Good in all crash tests conducted. The National Highway Traffic Safety Administration did not evaluate the 2017 Niro.
A rearview camera comes standard in the 2017 Niro. Available active safety features include blind spot monitoring, lane change assist, rear cross traffic alert, front and rear park assist, adaptive cruise control, automatic emergency braking, lane departure warning, and forward collision warning.
2017 Kia Niro Versus the Competition
Which Is Better: 2017 Kia Niro or 2017 Honda HR-V?
Although the 2017 Honda HR-V has sportier handling than the 2017 Niro, the Kia has more standard features, much better fuel economy, and slightly higher safety and predicted reliability ratings than the HR-V. Between these two subcompact SUVs, the Niro is the better pick.
Which Is Better: 2017 Kia Niro or 2017 Toyota Prius?
The 2017 Toyota Prius is a hybrid compact car that offers slightly better fuel economy and more cargo space than the Niro. On the other hand, the Niro has stronger acceleration on the highway and more standard features, like dual-zone automatic climate control, satellite radio, Apple CarPlay, and Android Auto. Go with the Niro.
Which Is Better: 2017 Kia Niro or 2017 Kia Sportage?
The 2017 Kia Sportage is a compact SUV that offers a larger cargo bay and – unlike the Niro – available all-wheel drive. Both SUVs have similar passenger space, but the Niro is a better SUV overall. It hustles up to highway speed quicker than the Sportage, despite having less horsepower and delivering considerably better fuel economy.
2017 Niro Performance
How Does the 2017 Kia Niro Drive?
The 2017 Niro comes with a four-cylinder engine and an electric motor that produce a combined 139 horsepower. The electric motor provides instant torque, giving this Kia peppy acceleration from a stop. A standard dual-clutch six-speed automatic transmission provides smooth shifts, and it's much quieter than the noisy continuously variable transmissions found in many hybrids.
The front-wheel-drive Niro has good composure around turns, along with responsive steering and a comfortable ride. The regenerative brakes – which help recharge the batteries – aren't grabby like they are in many hybrids.
Does the 2017 Kia Niro Get Good Gas Mileage?
The Kia Niro FE model achieves the best fuel economy in the lineup, at 52 mpg in the city and 49 mpg on the highway. The base Niro returns 51/46 mpg city/highway, while the Niro Limited has a rating of 46/40 mpg city/highway.
2017 Niro Interior
How Many People Does the 2017 Niro Seat?
The Kia Niro seats five on standard cloth upholstery. A four-way power-adjustable driver's seat comes standard. Upgrades include leather upholstery, heated and cooled front seats, a 10-way power-adjustable driver's seat with lumbar support, and driver memory settings. The Niro's comfortable and supportive seats have plenty of room, even for taller passengers.
How Many Car Seats Fit in the 2017 Kia Niro?
The 2017 Kia Niro has two sets of lower anchors in the rear outboard seats and three top tether anchors.
2017 Kia Niro Features
Standard features includes a six-speaker sound system, Bluetooth, a USB port, and Kia's UVO infotainment system, which has a 7-inch touch screen, Apple CarPlay, Android Auto, and satellite radio.
Available features include a rear USB port and a Harman Kardon surround sound eight-speaker audio system. There's also an available upgraded infotainment system with an 8-inch touch screen, real-time traffic conditions, and a voice-command navigation system.
The easy-to-use UVO system has an organized, logical layout. Redundant physical knobs and buttons are a welcome touch for those who prefer traditional controls over a touch screen (even with available voice-activated commands). The responsive touch screen has crisp graphics.
2017 Kia Niro Dimensions
Kia Niro Cargo Space
The Niro has 19.4 cubic feet of cargo space with the rear seats up, and 54.5 cubic feet with them folded.
2017 Niro Length and Weight
The 2017 Kia Niro is 14.3 feet long. The Niro's curb weight ranges from 3,106 pounds to 3,274 pounds. Its gross vehicle weight rating ranges from 4,079 to 4,255 pounds.
Where Was the 2017 Kia Niro Built?
Kia assembled the 2017 Niro in South Korea.
Read the full 2017 Kia Niro review on U.S. News & World Report for more details, photos, specs and prices.
More from U.S. News & World Report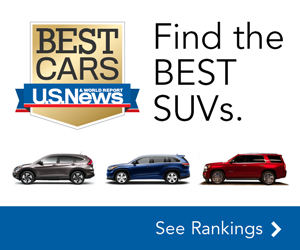 US News & World Report - Cars