2018 Audi R8 – Interior and Passenger Space

Car and Driver
8/16/2018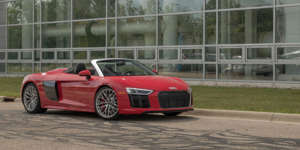 Interior and Passenger Space Rating:
Minimalism never felt so luxurious. Relocating the infotainment display that usually resides high in the center of the dashboard to the instrument cluster provides a refreshingly simple layout and lets the beautifully sculpted sport seats and high-resolution digital gauge cluster take center stage in the R8's cockpit.
What's New for 2018?
Research the Audi R8 on MSN Autos | Find an Audi R8 near you
The only interior update for 2018 is two different trims: The V10 models receive dark-gray high-gloss trims, while V10 Plus models get carbon-fiber inserts.
Otherwise, the R8's cabin remains the same as last year's car. For details about the interior of the 2017 Audi R8, see our in-depth review.
Front-Seat Passenger Space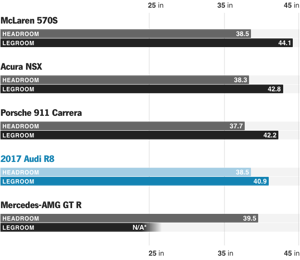 Interior Sound Level
To measure a vehicle's interior quietness, we use a sound meter to take two measurements at the height of the driver's ear while traveling at 70 mph. We then average the results. As illustrated by the graphic below, decibels are a logarithmic unit, so a rating of 60 decibels isn't 1.5 times the sound pressure of 40 decibels; it is 10 times the sound pressure.

Test Results: Interior Sound Levels at 70 mph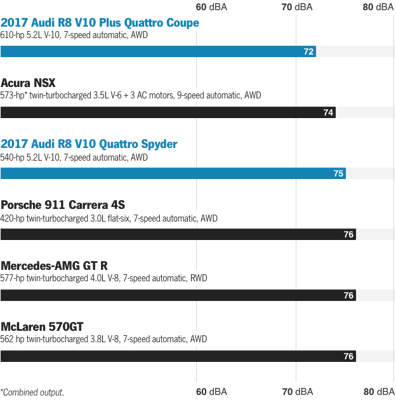 Roof pillars protect occupants in a rollover crash, but they also create blind spots. We determine visibility by measuring the location and width of each pillar using an H-Point Machine and a laser beam (surrogates for a driver and eyeball, respectively). Front and rear visibility are calculated by subtracting the viewable area blocked by the pillars from a perfect 180-degree score.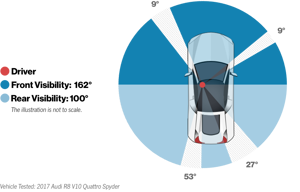 The R8's cabin is largely unchanged for 2018. For details about the interior of the 2017 Audi R8, see our in-depth review.

Continue Reading:
• 2018 Audi R8 Overview
• Engine and Transmission
• Fuel Economy and Driving Range
• Performance and Driving Impressions
• Interior and Passenger Space
• Audio and Infotainment
• Cargo Space and Storage
• Exterior Design and Dimensions
• Safety and Driver Assistance
• Warranty and Maintenance Coverage
• Video Overview: Interior, Infotainment, Cargo Space