2018 Audi R8 – Performance and Driving Impressions

Car and Driver
8/16/2018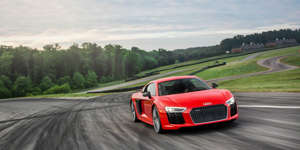 Performance and Driving Impressions Rating:

With 10 cylinders pounding away behind the cabin, the R8-especially in high-performance V10 Plus guise-is one of the quickest cars for sale today. All-out handling, however, is not its forte. The chassis seems tuned more for long-distance comfort than high-g flogging, leaving the R8 less confident on serpentine pavement than some of its Olympic rivals.
What's New for 2018?
Research the Audi R8 on MSN Autos | Find an Audi R8 near you
Despite slightly lower horsepower ratings than last year's lineup, we expect performance of all-wheel-drive R8s to be similar to the cars we tested most recently. A rear-wheel-drive variant is new for 2018; although that RWS model weighs less, Audi claims slightly slower acceleration times than its Quattro-enabled stablemates.
Test Results: Acceleration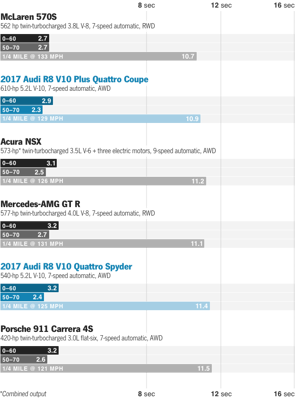 Test Results: Maximum Cornering Capability
Test Results: Maximum Braking Capability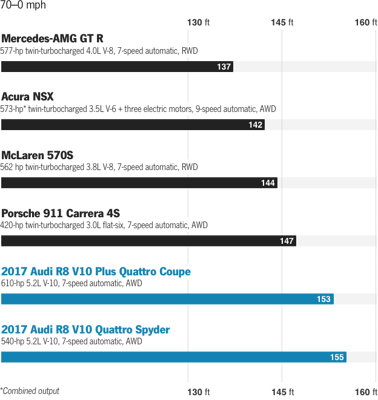 Lightning Lap Performance
A zero-to-60-mph time will tell you how quick a car is; its skidpad performance will reveal its steady-state grip; its stopping distances will illustrate how competent its brakes are. However, there is no test that better combines all these objective metrics than a flat-out lap of a challenging road course, which is exactly why we developed our annual festival of speed, Lightning Lap.
Every year, we convene the hottest cars we can get our hands on and gather at Virginia International Raceway, outside Alton, Virginia. VIR's Grand West course is 24 turns spanning 4.1 miles of pure automotive torture. To turn an exceptional lap, a car must be fast, handle brilliantly, and brake with authority. We started this tradition in 2006, and our all-time leaderboard lives here.
The chart below illustrates the lap times of our test car, along with selected competitor vehicles and the year in which each participated in Lightning Lap. For more details on how the R8 performed, click here.
Test Results: Lightning Lap Times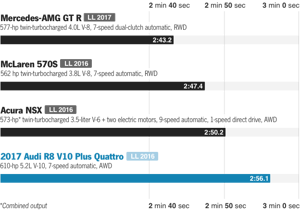 The all-wheel-drive R8 models see no performance enhancements for 2018. For details about the performance of the 2017 Audi R8, see our in-depth review.

© Michael Simari - Car and Driver Performance and Driving Impressions   
Continue Reading:
• 2018 Audi R8 Overview
• Engine and Transmission
• Fuel Economy and Driving Range
• Performance and Driving Impressions
• Interior and Passenger Space
• Audio and Infotainment
• Cargo Space and Storage
• Exterior Design and Dimensions
• Safety and Driver Assistance
• Warranty and Maintenance Coverage
• Video Overview: Interior, Infotainment, Cargo Space