2018 Lexus RX – Interior and Passenger Space

Car and Driver
8/9/2018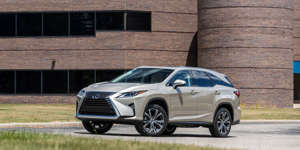 Interior and Passenger Space Rating:

As with its exterior, the RX's interior boasts a bold styling theme and complements it with a comfortable driving position and upscale features. Both front and rear seats in the regular two-row model are spacious, adult friendly, plush, and supportive.
What's New for 2018?
Research the Lexus RX on MSN Autos | Find a Lexus RX near you
Opt for the new RX350L or RX450hL and you'll find a pop-up third row of seats in the extended cargo area. These seats offer little space for adults. In fact, kids may also find it to be a squeeze even with the second-row seats moved all the way forward. The RX L models' stretched bodywork does open up more cargo volume, though, and the third-row seat folds flat via a power-operated mechanism. The hybrid RX450h can now be equipped with the Premium package, which adds interior niceties such as memory settings for the driver's seat and steering wheel, wood and leather trim, and a rear-armrest storage compartment for $1100.
First-Row Passenger Space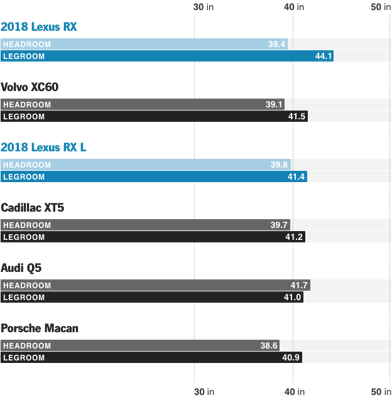 Second-Row Passenger Space
Third-Row Passenger Space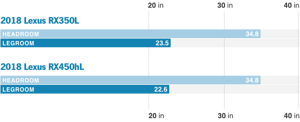 Roof pillars protect occupants in a rollover crash, but they also create blind spots. We determine visibility by measuring the location and width of each pillar using an H-Point Machine and a laser beam (surrogates for a driver and eyeball, respectively). Front and rear visibility are calculated by subtracting the viewable area blocked by the pillars from a perfect 180-degree score.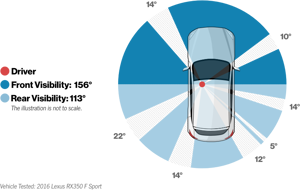 Other than the new stretched RX L models and a few tweaks to interior options, the rest of the RX's cabin is unchanged. For more information, you can read our in-depth review of the 2017 Lexus RX.

Continue Reading:
• 2018 Lexus RX – Overview
• Engine and Transmission
• Fuel Economy and Driving Range
• Interior and Passenger Space
• Performance and Driving Impressions
• Audio and Infotainment
• Cargo Space and Storage
• Exterior Design and Dimensions
• Safety and Driver Assistance
• Warranty and Maintenance Coverage
• Video Overview: Interior, Infotainment, Cargo Space